Evacuation orders can't keep up as fires get faster and hotter — with deadly results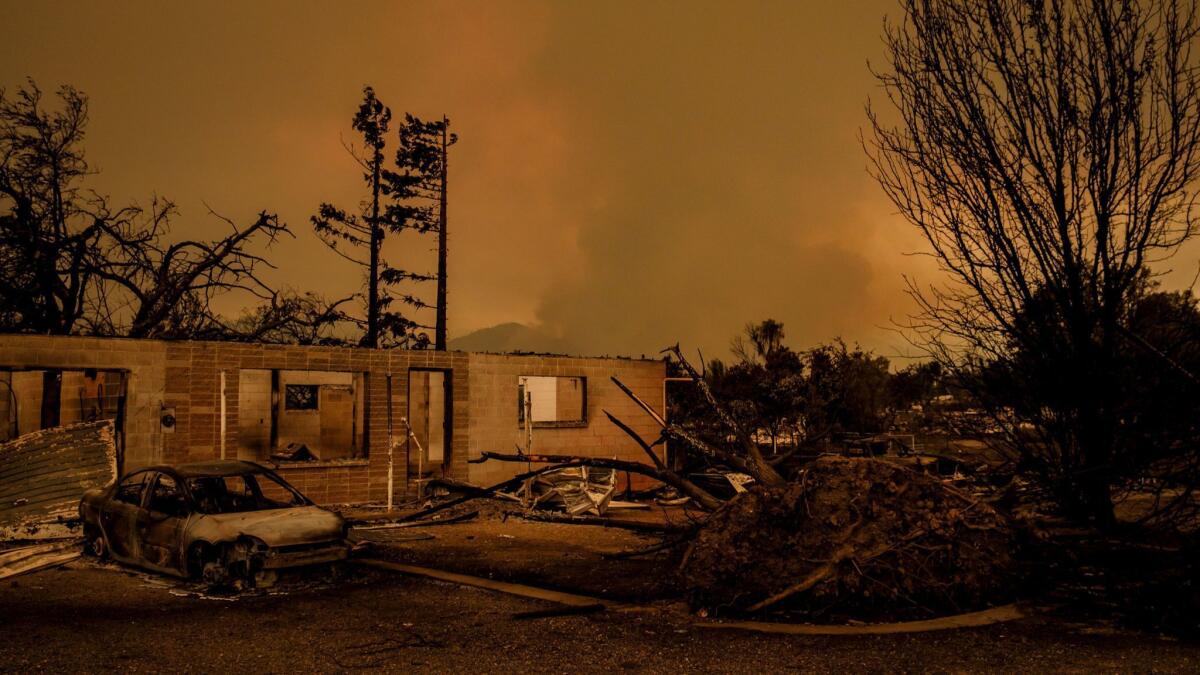 Reporting from Redding, Calif. —
It was Thursday evening when the Carr fire barreled out of the foothills and took aim at this city, with hot winds launching embers well ahead of the main blaze and engulfing neighborhoods along bends in the Sacramento River.
When the flames approached western Redding, Shasta County officials issued mandatory evacuation orders. But those warnings may not have reached everyone amid the chaos. A woman and her two great-grandchildren were trapped in their home when the fire hit. She placed a wet blanket on the kids and huddled over them, but that was no match for the Carr fire. All three died.
Authorities said they did everything they could to alert residents to the coming danger — using social media, reverse 911 calls and public announcements. But, officials acknowledged, there may have been shortfalls given the ferocious nature of the fire that night.
"It's highly possible they didn't get a notification," said Sherry Bartolo, operations manager for Shasta County's emergency dispatch system. "In my 38-year career, I've never had anything that was that devastating to my staff. Now I know what Napa and Santa Rosa and those agencies went through. I couldn't imagine it until I went through it."
A grim year of loss
The four civilian deaths in the Carr fire — including a man Sunday with serious medical problems whose family said he was unable to get out without assistance — add to an unprecedented year of loss.
With temperatures ever warming and blazes burning faster and hotter, California has never recorded a more destructive fire year: More than 10,000 homes have been lost and dozens of people killed since October. More than 40 died that month when fires swept through wine country, sparking debate about why the government could not do more to warn people in the path of the flames. Similar concerns were voiced in January, when mudslides killed more than 20 in Montecito, an area primed for devastation after the Thomas fire burned through a month before.
Officials and experts say California needs to figure out how to improve its emergency alert system.
"This is not a perfect world, but people like me think there's a way to lessen the loss of life," said Richard Rudman, vice chair of California's Emergency Alert System. "We need an overall learning strategy so everyone is reading out of the same playbook."
RELATED: Did you evacuate for a California wildfire? Tell us what you took with you »
Officials are still assessing the evacuation process for the Redding fire, but the disasters in wine country and Santa Barbara County revealed serious flaws in the warning systems. A state report released last year found that Sonoma County emergency managers failed to use all means possible to warn residents during October's deadly fire siege. Evacuation orders went to only a fraction of the residents, and managers quickly lost track of the fast-moving blazes, leaving entire communities in the dark about their danger.
A Times investigation of the fire response found problems that included a lack of coordination among various agencies and vendors, the use of outdated landline lists to send the emergency calls and serious flaws with a federal cellphone alert system. In the wake of the disasters in Sonoma and Santa Barbara counties, lawmakers have pushed for reforms, including mandates that authorities use up-to-date warning systems and a plan to automatically enroll residents in emergency notification systems, leaving it to residents to opt out.
When the Carr fire moved toward Redding, authorities sent out updates through reverse 911 calls — a method that has proved unreliable in the past — as well as text messages to residents who had subscribed to the county's emergency warning system. When they had time, authorities posted the latest news to social media. The county used Amber Alert-style messages three times, records show.
Didn't go as planned
But not everything worked out as planned. A citywide evacuation order was issued for Shasta Lake, though only the community of Summit City on the town's west side was notified, authorities said.
Farther south, along Quartz Hill Road in Redding, Ed Bledsoe said he never got word that he and his family were supposed to flee. Not long after he left his home to run errands July 26, he got a frantic call from his wife back in their trailer. The fire was fast approaching her and their great-grandchildren, and they begged Bledsoe to come back to rescue them.
But he was too late.
The fire, driven by gale-force winds and feeding on timber dried out by days of triple-digit temperatures, overwhelmed Bledsoe's neighborhood. His family was lost.
Elizabeth Barkley, acting commander of the California Highway Patrol's Northern Division, was at the intersection of Placer Street and Buenaventura Boulevard when the fire shifted its direction to the northwest. Officials began mass evacuations about 7 p.m., she said, and she raced door-to-door imploring people to leave. Traffic was sent out of the city on wrong-way lanes. Dispatchers began fielding 911 calls for rescues.
Officials left one flag at the front of homes where residents agreed to leave and two flags if they didn't or if no one was home, said Shasta County Undersheriff Eric Magrini. Bledsoe's property was too badly scorched Wednesday to determine if it had been visited.
"I know we were in that area conducting evacuations. We had saturated that area, everybody was leaving," Magrini said. "It was very chaotic. But we were managing the chaos at the time."
'I've never seen anything like it'
But he also stressed that the area was faced with an unprecedented situation. "If you told me a week ago that this fire in the French Gulch area was going to downtown Redding, I would've called you a liar," Magrini said. "I've never see anything like it. I hope I never see anything like it again."
The Bledsoes lived in a hideaway kind of neighborhood, in oak-and-hill country of northwest Redding.
Their property, like many others in the area, was large and decorated with vintage farming equipment fronting a slender two-lane road.
The night the fire arrived, its embers quickly leapfrogged from house to house as the oak trees that gave them cool shade this time of year became fuel.
Several structures on the property were reduced to piles of twisted metal siding, brick and metal bed springs and shattered pottery.
Among the few things unscathed by the firestorm were half a dozen basketballs and kickballs — some of them decorated with silver stars — stacked beneath a tree. A few feet away, a 10-speed bicycle leaned against the skeletal remains of a shade tree.
There was a burned-out hulk of a pickup truck, and a roof collapsed to the ground. Geese, roosters and chickens waddled through the rubble.
The areas hardest hit by natural disasters in the state last year relied mostly on third-party companies to handle their emergency messaging and operated on a subscriber-based model that has little success reaching the majority of the public. If residents want to be safe during an emergency, Rudman said, public agencies need to clearly communicate where the disaster is located and residents need to take them seriously.
"When these things happen in the middle of the night — social media, emergency alerts — short of knocking on your door, those may not work," he cautioned. "And lives will be lost."
Being faced with the unexpected is something Butte County Sheriff Kory Honea knows about. Last year, he was given about an hour's notice to evacuate the county when authorities feared a structure at the Oroville Dam was going to fail and flood the town.
"No matter how much you prepare, there's always the possibility that there will come along an event that outpaces your resources," Honea said. "The best plan often doesn't survive first contact. You've got to be prepared for the situation to change."
Since then, the county has revamped its entire evacuation process, setting up safety zones and giving residents specific meeting points.
"These kinds of potential mega-disasters seem to be happening with greater frequency, and law enforcement, fire, EMS and our public safety agencies I think have to look at public safety in a much broader context," Honea said. "When I first got into this business, I thought my job was to enforce the law, investigate crimes and arrest criminals. But it's so much broader than that."
Sahagun reported from Redding, and Serna from Los Angeles. Times staff writer Alene Tchekmedyian contributed to this report.
Sign up for Essential California for news, features and recommendations from the L.A. Times and beyond in your inbox six days a week.
You may occasionally receive promotional content from the Los Angeles Times.