More than 60 deaths in fires, floods expose weaknesses in California's emergency planning
Over 160,000 acres have been destroyed in northern California fires.
A reckoning on public preparedness long in the making is underway in California after a year that saw unprecedented death, destruction and loss from disasters set off by extreme weather.
Though California has long experienced natural disasters tied to weather, the last year recorded a staggering human toll — more than 40 dead in wine country fires and more than 20 in Santa Barbara County mudslides.
The disasters revealed gaping holes in the state's county-controlled warning systems — a mix of services from multiple vendors, subscriber programs with low participation rates, outdated landline lists, and a federal cellphone alert system so imprecise some emergency managers are afraid to use it. Public warnings failed to reach most of those in harm's way, or understated the risk.
California emergency managers have released a critical review faulting Sonoma County emergency managers for failing to use all means possible to warn residents in October's deadly fire siege. Evacuation orders went to only a fraction of the residents in limited areas, and managers quickly lost track of the fast-moving blazes, leaving entire communities in the dark about their danger.
But they warn that the weaknesses found in Sonoma County are not unique, and it is time for the state to wade into what has historically been a local matter.
"Some are better. Some are worse," said Mark Ghilarducci, director of the Office of Emergency Services, the state's disaster agency. "We have seen a lot of inconsistencies."
State Sen. Mike McGuire (D-Healdsburg), whose wine country district was hit hard by the October fires, is pushing legislation that would mandate up-to-date warning systems. And Senate Democrat Hannah-Beth Jackson, from fire- and mud-ravaged Santa Barbara County, promises a bill that would override state privacy laws to automatically enroll residents in emergency notification systems, leaving it to residents to opt out.
"We have to do a statewide movement on preparedness, response and recovery," said James Gore, Sonoma County's chairman. "We don't have to be quaking in our boots that Armageddon is coming, but what we do have to do is get on our toes and manage into our future."
The county last month received an independent report from the state Office of Emergency Services that found its ability to alert and warn its constituents before and during October's deadly firestorm was "uncoordinated and included gaps, overlaps and redundancies," exacerbated because administrators at the central emergency management center were cut off from commanders on the fire lines, and were unaware of how quickly the danger was spreading, and where.
"During the early hours of the disaster, the county lacked reliable, timely and coordinated situational awareness as to the scale, size and scope of the fire's growth, character, and movement," the report stated. Among significant changes Ghilarducci seeks is giving incident commanders a greater role in alerting the public.
But most of the state review is focused on Sonoma County's failure — as fires swept over mountain ridges in the middle of the night and into sleeping suburbs — to use the national Wireless Emergency Alert system to broadcast loud warnings to every cellphone in reach of a tower. Sonoma Emergency Manager Chris Helgren, who was removed from the job days before release of the critical state review, said he was afraid a mass alert would trigger mass evacuations and block the narrow roads that firefighters needed to access.
Other disaster-struck counties also opted to not send mass cellphone warnings and relied instead on private vendor systems. In addition, The Times found, public warnings were delayed or underplayed. In Mendocino County, dispatchers held up alerts for a supervisor to drive in from home to eyeball the fires firsthand, and public warning sirens at a volunteer fire station were never sounded. In Napa County, only a small percentage of the population was registered to received the county's warnings, and firefighters went door-to-door trying to wake sleeping residents. In Santa Barbara County, emergency managers ignored the danger shown on their own in-house risk maps and told residents living in high-danger zones they were only under a voluntary "watch."
Public anger over the failures has charged the debate.
"People didn't die from the smoke. People didn't die from the fire. People died because they didn't know something was coming," said Joseph Solis, a former 911 dispatch employee and police officer in Sebastopol. A friend and his daughter died in the Sonoma County fires. Solis' brother and family barely escaped, and they lost their home.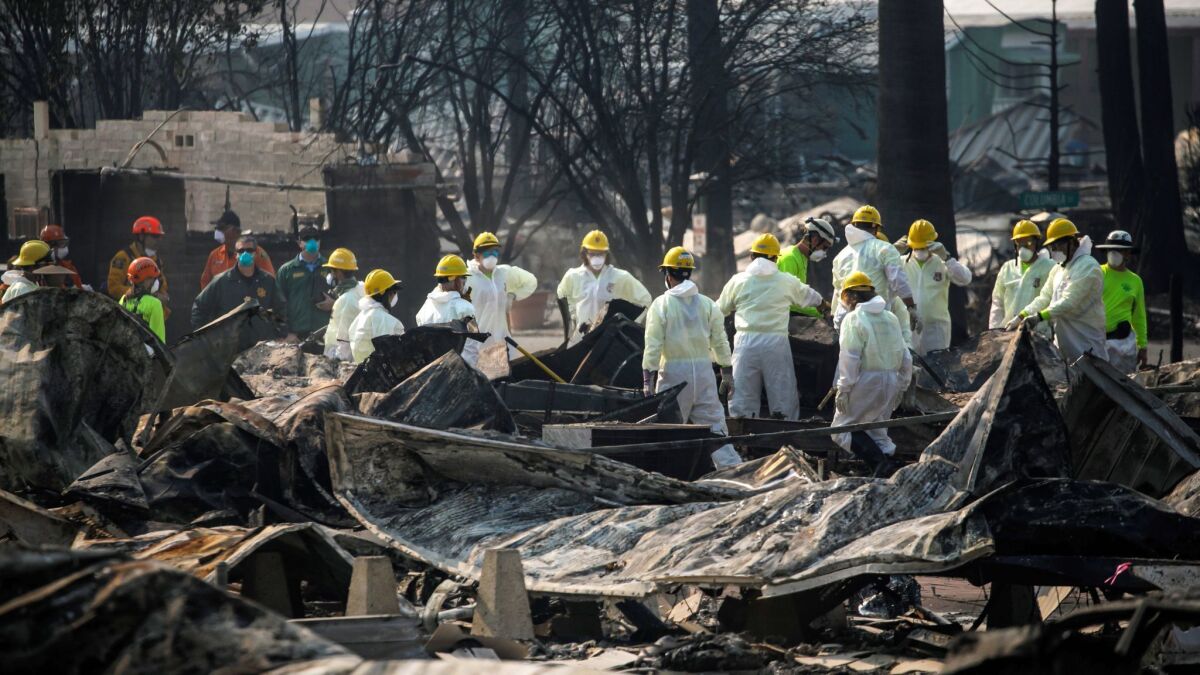 The state review said Sonoma County officials decided long before the fires not to trust the WEA system, even as they agreed to pay $14,500 for a private vendor to add WEA capability to the county's automated phone dialing system.
Without explicitly naming Helgren, the state report and Ghilarducci blamed Sonoma County emergency management for failing to keep up with technical improvements to the cellphone alert system and accused it of relying on private vendors for information on the alert system's capabilities.
"This was a misconception, I guess I would say, on the part of the policymakers and the leaders there, that it wasn't worth, from their opinion at the time, of investing in the effort to incorporate [the national alerts] into their system," Ghilarducci said.
However, he and other state officials were unable to cite the specific advancements to those systems. Requirements for increased message length and precise targeting of who gets those messages are not mandated to take place before 2019. Even then, coverage will be incomplete. Lobbyists for the cellphone carriers succeeded in persuading the Federal Communications Commission to relax the proposed rule to cover "100% of the target area" rather than 100% of the cell devices in that area, and to delay the rollout of Spanish-language alerts.
In the interim, emergency managers can request a targeted alert, but carriers can to default to a county-wide blast, a loophole that FCC records show was requested by lobbyists for the cellphone industry. Earlier this year, Sonoma County officials joined emergency managers across the country, and in California, voicing their concern.
"Improvements to WEA have yet to be enacted by the FCC and wireless carriers to render the system more practical.…" Sonoma County Board of Supervisors Chair Shirlee Zane wrote to the FCC on behalf of the county. "We need to be able to utilize WEA to alert only those who may be impacted to avoid the negative consequences of over-alerting people who are not the intended audience."
Sonoma County used its vendor services to send calls to a small population of residents who had registered in advance for warnings, as well as to landline numbers provided by telephone companies. The phone lists turned out to be outdated.
A Times analysis of the first warnings shows those calls reached less than 10% of the households in peril — and less than a third of even those calls were answered.
"Every year that landline [list] gets smaller," said Robert Lewin, director of Santa Barbara County's Office of Emergency Management.
Lewin also distrusts the WEA system and hesitated before using it in January when a once-in-200-year storm cell bore down on Montecito and dissolved the hillsides into a river of mud, debris and boulders, killing at least 21 people.
Drone video: Follow the path of January's Montecito mudslide from the mountains to the sea. (Video by Brian van der Brug/Los Angeles Times)
Authorities sent only one WEA message during the debris flow — just before 4 a.m. — because they were concerned about how well it could target a specific area and its effectiveness given its limited message length.
In a letter to the FCC dated Jan. 4, Lewin criticized the federally backed tools that operate under the Integrated Public Alert & Warning System as "seriously deficient."
The county instead relied on its subscription-based program in the days and hours ahead of the storm to send out information via thousands of texts, email and robocalls.
But the limited reach of those warnings and their failure to instill urgency in residents has other agencies looking inward to see if what they have in place is enough.
In Los Angeles County, emergency management officials recently tested their subscription-based program Alert LA County with a Topanga Canyon community group. Of the 3,779 phone numbers that opted into the system, about 13% did not connect. The system has the ability to send WEA notifications, but those aren't a "silver bullet," said Helen Chavez, assistant director of L.A. County's Office of Emergency Management.
She pointed out how the WEA notifications can create panic if mishandled, as they did in Hawaii in January when an emergency management employee intending to send a test message erroneously broadcast an alert saying the state was under a missile attack.
"It's one tool in the toolbox," she said.
In Santa Barbara County, only about 10% of residents were subscribers to that area's alert program, Aware and Prepare, when the January debris flow struck.
"We were using so many methods including social media, regular media, we were texting," Lewin said. "It'd be pretty hard not to know that something was going on."
But according to the county's own estimates, only about 15% of residents in the mandatory evacuation zone left the area. The ones who stayed received their first WEA notification from the county after the storm and debris flow had already hit. The county didn't even attempt to use the emergency broadcast system that hits TVs and radios because it's so unreliable, Lewin said.
The county took a markedly different approach on Thursday when a rainstorm rolled in.
Not only did it launch evacuations on a broader scope than it did in January, it sent out a WEA message before 2 p.m. — an estimated 12 hours before the storm was forecast to arrive — telling people an evacuation was underway and that they should visit the county website for more information.
At the state level, Office of Emergency Services officials will look to fill what they call "unintentional gaps" in public warnings, said Kelly Huston, deputy director of crisis communications for the agency. The decision marks a change for an office that previously left public warnings to the locals.
"We're going to be checking with the counties to be more sure they have capabilities to issue the alerts they need. The whole thing has raised up the issue statewide," Huston said.
Southern California residents saw a taste of that last fall when the state used its own WEA authority to send a seven-county alert warning residents of wildfire conditions so extreme the National Weather Service's normal "red flag" warning was broadcast as "purple."
The message went out in the evening, when residents were most likely to be home and able to tune in to local television or radio for more information. It served the purpose of preparing them, too, to receive local blasts from their county in the middle of the night should there be a fire, Huston said.
Ghilarducci said fire weather warnings in particular deserve more attention, "a signal that everyone should put their head up and pay attention to what's going on."
"This is a lesson learned for everybody," he said. "If you get a red flag condition and you are in an area with small roads and a lot of trees and a high-fire area, that requires action — whether you are an individual or a government entity."
For breaking California news, follow @JosephSerna on Twitter.
The stories shaping California
Get up to speed with our Essential California newsletter, sent six days a week.
You may occasionally receive promotional content from the Los Angeles Times.