A $15-billion mystery: Who's to blame for California's most destructive fire?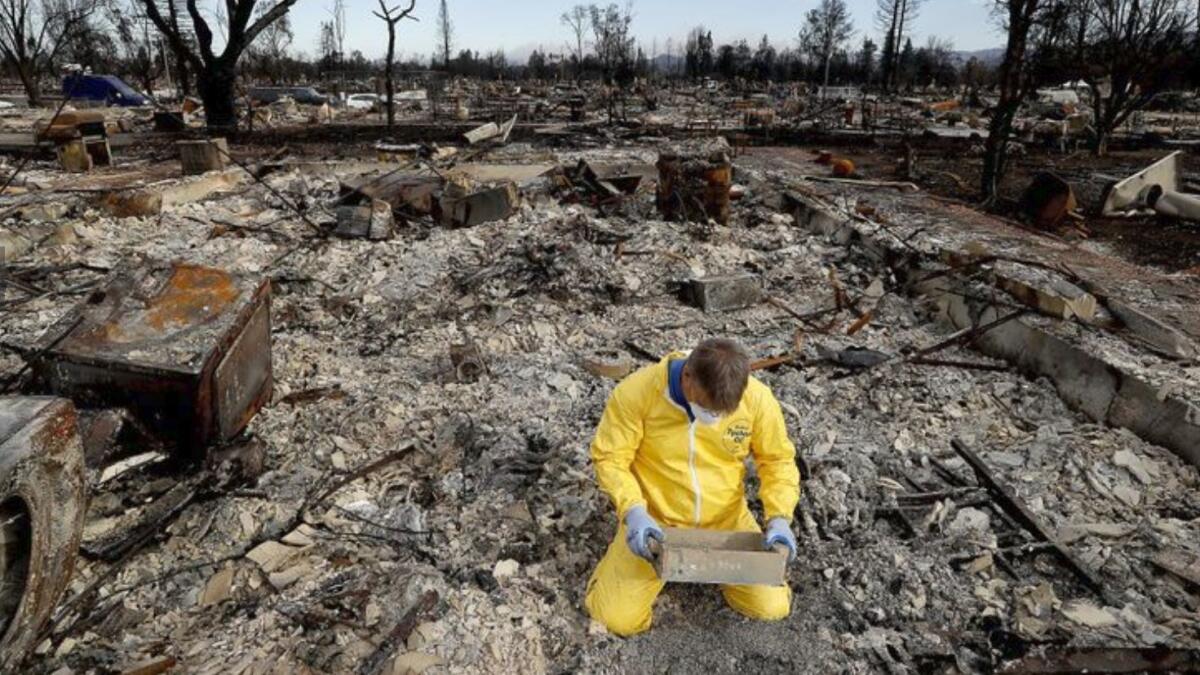 Wind gusts topping 70 mph rattled a hot Sunday night last October in the northern foothills of Calistoga in the Napa Valley.
The unusually powerful winds were dangerous enough. But then a fire started in those hills and raced toward Santa Rosa. Within hours, whole neighborhoods were on fire. By the time it was fully contained weeks later, the Tubbs fire was the most destructive in state history, killing 22 people and destroying more than 5,000 homes.
For nearly a year, investigators have been trying to answer one question: What caused the fire?
The answer will have huge implications for residents who lost their homes and are trying to rebuild, insurers faced with massive claims and, perhaps most importantly, to Pacific Gas & Electric.
Wall Street estimates the utility giant faces up to $15 billion in liabilities from this and other fires that devastated California's wine country last year. It has raised the possibility of bankruptcy if it cannot get some relief.
Investigators have already linked PG&E lines to some of the other October fires, including the Atlas fire that killed 6 people and destroyed 400 homes, and the Redwood Valley fire that killed nine and destroyed 500 structures.
But the Tubbs was by far the worst. According to Fitch Ratings, that fire alone may ultimately account for up to two-thirds of wildfire-related damages.
The California Department of Forestry and Fire Protection has been painstakingly retracing the fire's path of destruction and collecting evidence trying to determine how it started and who is to blame.
Cal Fire spokesman Scott McLean said the investigation has been slow in part because of the level of devastation in the area.
Winds in the blaze's first hours carried embers across hillsides and from home to home, creating multiple ignition points that investigators have to map out. That will help them create a timeline for the fire.
They have to study the fuel types it burned through, the topography it spread across and what the weather was like as it did it, McClean said.
Investigators have used drones and aerial photography to help put together a comprehensive picture of the fire and gathered evidence on the ground to figure out how it started. Despite the agency announcing months ago the causes for most of the fires that started that October weekend, McLean gave no indication of when the Tubbs fire cause would be announced or if it would be anytime soon.
"They have to review everything and anything that presents itself," he said.
Early on in the investigation, focus turned to electric equipment that fire investigation seized at 1128 Bennett Lane in Calistoga. There was speculation the equipment was the cause of the fire and that it belonged to PG&E. Some plaintiff attorneys have alleged that PG&E failed to properly trim trees near power lines and that the winds might have sent branches falling onto equipment, sparking the blaze.
But a court filing from PG&E last year indicated the equipment was owned by an unidentified private party, not the utility. Moreover, the filing claimed, it did not appear that PG&E equipment in that area had burned.
Attorney Jim Frantz, whose firm the Frantz Law Group represents more than 1,100 claims tied to the October fire siege, including hundreds from the Tubbs fire, disputed the utility's conclusion.
"I know that fire like the back of my hand," Frantz said. "We believe it's complete and utter BS when they talk about a private wire causing that fire."
Cal Fire declined to comment on the assertion.
Almost immediately after the October fire siege began, focus turned toward PG&E equipment as a potential culprit.
Attorney Steven Campora filed a lawsuit on behalf of two Napa County residents who lost their home in the Atlas fire. In it, he claims the utility has a "longstanding corporate culture of favoring profits over public safety" that leads to large-scale disasters like the October fire siege and resulted in the San Bruno gas pipe explosion in 2010.
"They put in power lines — they don't insulate them. They don't put them underground. They put in wood poles instead of metal ones to save money in the beginning," Campora said.
In more than a dozen of last year's wine country fires, investigators found that PG&E equipment either started the fires or contributed to their spread after the equipment came into contact with trees or brush. In three fires, Cal Fire determined PG&E violated public resources codes regarding vegetation clearance around their equipment.
But the origin of the Tubbs fire remains a mystery.
The utility maintains that its programs leading up to the fires met state standards.
"We're not going to speculate about the Tubbs fire. More broadly, what I can tell you is that the loss of life, homes and businesses in these extraordinary wildfires is simply heartbreaking, and we remain focused on helping communities recover and rebuild," said PG&E spokeswoman Lynsey Paulo.
But with the investigation still ongoing, the utility has moved to shore up its financial position as lawsuits have piled up. PG&E halted dividend payments to shareholders late last year, then wrote down $2.5 billion in pre-tax charges for wildfire liabilities. It warned consumers and lawmakers that if it was going to have to pay under the state's unusual inverse condemnation laws that holds utilities financially liable if their equipment played a role in a fire — even when maintained prudently under state laws — the company could face bankruptcy.
To that end, lawmakers last month ratified Senate Bill 901, which is awaiting the governor's signature. Dubbed a "PG&E bailout" by critics, the law allows the company to borrow money for its 2017 wildfire costs while using money collected from ratepayers to pay back the loan. The amount ratepayers would be on the hook for would come after PG&E underwent a financial "stress test" to determine how much it could pay and still remain solvent.
"The last thing we want is a utility company to be unable to pay their victims 100% of what they lost, because they deserve that," said Frantz, who supports the legislation.
In light of the utility's role in the other fires and with the Tubbs investigation looming, the Moody's rating agency downgraded PG&E's credit rating this month.
"The rating downgrade reflects the potential exposure to significant future wildfire-related costs from California's continued application of inverse condemnation that could be mitigated by cost recovery tools outlined in the recently passed SB901, however, the uncertainty of how this framework will be implemented by state regulators remains," the agency said.
The outcome of the Tubbs fire investigation is being watched closely beyond Northern California.
Many of California's most destructive fires have been fueled by powerful winds, which in some cases have caused power lines to snap off and spark blazes.
Southern California Edison said last week it hopes to spend $582 million for a series of improvements to its electrical grid to reduce the fire risk, a move that would likely would mean higher bills for ratepayers.
Sign up for Essential California for news, features and recommendations from the L.A. Times and beyond in your inbox six days a week.
You may occasionally receive promotional content from the Los Angeles Times.