'This is what the future looks like': Heat wave stokes fears of power outages and fires
Mountain biker Guillermo Salazar of Reseda wipes sweat from his forehead while taking a break from riding amid temperatures in the 90s at San Vicente Mountain Park in Los Angeles.
(Allen J. Schaben / Los Angeles Times)
A surfer wipes out at the Wedge in Newport Beach.
(Wally Skalij / Los Angeles Times)
As beachgoers watch the waves at the Wedge in Newport Beach, a boy executes a back flip off the sand berm.
(Wally Skalij / Los Angeles Times)
A windsurfer catches a wave at Cabrillo Beach in San Pedro, where temperatures reached into the 80s.
(Luis Sinco / Los Angeles Times)
A woman walks past the fountain at Exposition Park, where temperatures reached into the 90s on Tuesday.
(Luis Sinco / Los Angeles Times)
Lisa Rotunno shares water with her horse, Lexi, during a daily walk in their Chatsworth neighborhood. Normally, she would be riding, but decided it was too. hot
(Myung J. Chun / Los Angeles Times)
Two women stroll through Marina Bay during the heat wave that is scheduled to last through Thursday.
(Maria Alejandra Cardona / Los Angeles Times)
Isabel Gonzalez, 11, of Los Angeles, participates in Junior Lifeguard training at Celes King III Swimming Pool in Los Angeles. The eight-week summer program offered through the city of Los Angles allows youths 10-17 to improve their swimming skills and learn basic water rescue, first aid and snorkeling techniques.
(Gary Coronado / Los Angeles Times)
Instructor Devin Mora, right, keeps an eye on students during Junior Lifeguard training at Celes King III Swimming Pool in Los Angeles.
(Gary Coronado / Los Angeles Times)
Summer crowds converge on Newport Beach, where temperatures reached into the 80s. Hot and dry weather is expected to peak in Southern California on Wednesday, with the mercury topping triple digits in many inland areas.
(Luis Sinco / Los Angeles Times)
Beachgoers are reflected in the mirrored windows of a lifeguard station in Newport Beach.
(Luis Sinco / Los Angeles Times)
Mountain biker Guillermo Salazar, of Reseda, wipes sweat from his forehead while taking a break from riding amid temperatures in the 90's at San Vicente Mountain Park in Los Angeles Tuesday, July 24.
(Allen J. Schaben / Los Angeles Times)
A child rides the surf aboard an inflatable flamingo at Newport Beach.
(Luis Sinco / Los Angeles Times)
Shadows are cast as the sun begins to set and children cool off at Sunset Beach. An excessive heat warning for the Los Angeles area has been issued as Southern California faces its second major heat wave this summer.
(Frederic J. Brown / AFP/Getty Images)
Children play beside a lifeguard tower as sunset approaches at Sunset Beach.
(Frederic J. Brown / AFP/Getty Images)
When a blistering heat wave struck the Southland earlier this month, the region's electric grid was so overwhelmed that more than 100,000 customers in Los Angeles had at some point lost power. Some went days without electricity.
Now, as Southern California endures another round of scorching heat that forecasters expect will shatter daily records in some areas on Wednesday, utility officials are hoping to avoid similar chaos by staffing extra workers and imploring residents to ease up on their thermostats to give the aging power system a chance to cool down.
"It's similar to running your car at 100 mph, nonstop," said Los Angeles Department of Water and Power spokesman Joe Ramallo, referring to those who blast their air conditioning day and night. "Eventually, you're going to have some problems. Distribution equipment is like that — it needs a break."
Southern California Edison, which brings power to much of the region, is also urging people to reduce their electricity use during peak hours. State officials have issued a Flex Alert, calling on the public to turn off unnecessary lights and hold off on running major appliances until late in the evening Wednesday.
Forecasters predict daytime highs will reach between 90 and 102 degrees in the coastal plains and between 98 and 108 in the valleys. Desert areas could hover around 110 degrees, said Stuart Seto, a weather specialist with the National Weather Service.
Public health officials in Riverside County reported six heat-related deaths this month. Most of those who died were elderly, including a 91-year-old from Riverside who died of prolonged heat exposure in a home without cooling measures, said Jose Arballo Jr., spokesman with the Riverside University Health System.
"Plan somewhere to go if you have to go, if you lose power," Seto said.
As temperatures spiked Monday, about 3,800 customers — most in Beverly Grove — temporarily lost power. By midday Tuesday, Ramallo said only a few dozen people were reporting problems.
While additional DWP crews will be available Wednesday to jump on any outages, the utility is also taking steps to address the grid problems in the long term, which could involve planned power outages in residential neighborhoods.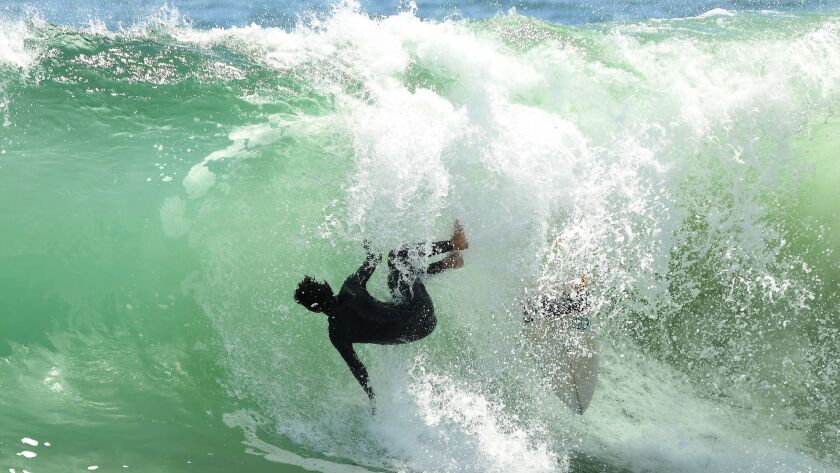 Dan Barnes, director of power transmission and distribution, said the utility already does some planned outages for replacing equipment, but usually keeps electricity flowing to Angelenos as it replaces old cables by switching to another cable while work is underway. Shutting off the power would help crews get the work done more quickly, he said.
Ramallo said the planned outages could begin after this series of summer heat waves in neighborhoods across the city where electrical upgrades are already planned. The outages would last about five hours, and residents would get as much as a week's notice. If the weather turned out to be too hot, the department would cancel the planned outage.
The utility also wants the city to loosen restrictions that prevent its crews from working in the street during "peak traffic hours" in the morning and afternoon. Those rules leave workers with little time to get the work done, said DWP General Manager David Wright.
"We can work between 9 and 3, but a half-hour for traffic control and a half-hour for a lunch … that's like five hours of work," he told the Board of Water and Power Commissioners at a meeting Tuesday.
Wright said the utility also needs to encourage residents to prepare for power outages, especially if they have medical needs that require electricity, by buying a small generator or a phone charger that runs on solar power. Those devices could be crucial in an earthquake or other emergency, he said.
Wright told the board that extreme temperatures are not going away. "This is what the future looks like for us," he said. "We are seeing real extremes in the way of what we're having to deal with."
Throughout the region Tuesday, people did what they could to stay cool.
Leticia Castro sat in the shade of a tree on the patio of a music center, watching her 7-year-old daughter do exercises as part of a summer camp. She doesn't have air conditioning at home, so she feels suffocated there when it's hot.
"I try to take her to the beach," Castro said. "I'm always looking for free events we can go to, or go to Crenshaw mall where there's A.C."
For Lourdes Vargas, a housekeeper in South L.A., the air conditioning gives her headaches, but the heat makes working uncomfortable.
"I sweat and sweat, and sometimes that causes eye infections," she said. "There's also more heat from the vacuum."
Soaring temperatures also come with a higher risk of wildfires, officials said. Parts of Yosemite National Park — including the main tourist draw Yosemite Valley — were closed Tuesday as the Ferguson fire continued to rage. Park officials said Highway 140, El Portal Road, Glacier Point Road and Arch Rock Entrance are all closed.
The fire, which has claimed the life of one firefighter and injured several others, has burned more than 37,000 acres southwest of Yosemite and is now 26% contained, officials said. The fire was sending huge amounts of smoke into the Yosemite Valley as more than 3,000 fire personnel battled the blaze, aided by dozens of water-dropping helicopters, water trucks and bulldozers.
Fire crews are encountering steep, rugged terrain. One particularly precarious area where the fire is burning was named the "Devil's Gulch" many years ago by the area's first explorers, fire information officer Rob Deyerberg said.
The terrain is "only a place where the devil would live," Deyerberg said. "We will not put firefighters down in the worst places. That's where they build their lines, develop their plans of where can we catch this fire on our terms."
Times staff writer Angel Jennings contributed to this report.
---
The stories shaping California
Get up to speed with our Essential California newsletter, sent six days a week.
You may occasionally receive promotional content from the Los Angeles Times.