'It's all going to burn:' Man accused of setting Holy fire was a well-known troublemaker, neighbors say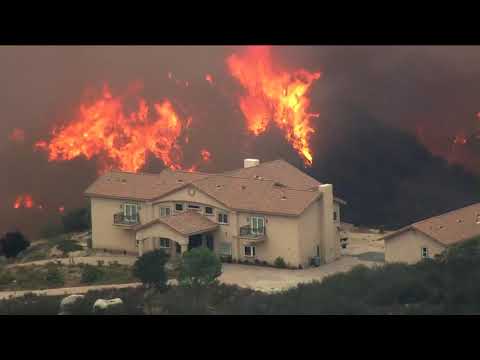 Raw clips from the Holy fire, which began Monday in Orange County and burned more than 10,236 acres through the Cleveland National Forest and into Riverside County.
Mike Milligan had poor reception in the Holy Jim canyons and foothills when his phone buzzed with a confusing text message: "911 call sheriff."
The sender was a longtime Trabuco Canyon resident named Forrest Gordon Clark, an eccentric figure well-known in the tight-knit community as a troublemaker with a temper who had long clashed with his family and neighbors.
Concerned, the chief of the Holy Jim Volunteer Fire Department dialed Clark's number, but the call failed.
Moments later, Milligan said, another text from Clark came through: "It's all going to burn like you planned."
Nearly three weeks later, Clark, 51, was taken into custody on a charge of arson, accused of setting the blaze now known as the Holy fire.
The massive wildfire erupted Aug. 6 in Holy Jim Canyon, tearing through more than 22,000 acres of bone-dry chaparral and brush in the Cleveland National Forest that hadn't burned in decades. Thousands of residents and campers had to run for their lives, while more than 1,000 firefighters mounted an aggressive attack against the blaze. At least a dozen cabins were reduced to rubble.
Authorities quickly concluded that the fire was an act of arson. Flames spread so rapidly and intensely — fed by what Milligan called a substantial accelerant — that fire crews were forced to initially retreat, unable to save a handful of cabins near where it ignited.
Then, about a half-mile away, the cabin of a neighbor with whom Clark had long feuded caught fire, Milligan said. There was no wind, Milligan said, so it couldn't have been a flying ember.
"It's fairly obvious how things evolved," Milligan said.
Milligan said that Clark, a devout Christian, would berate his neighbor because their religious views were at odds. Sometimes, Clark stood outside the neighbor's cabin quoting Bible verses. The neighbor, Milligan said, would argue back, or run his generator at night to irritate Clark. At one point, Milligan said, the neighbor accused Clark of cutting his water line.
Court records and interviews with Clark's neighbors revealed years of unsettling behavior that earned the 51-year-old man a reputation as aggressive and moody. He was the "weird guy with the long hair who would chase you" if you didn't steer clear, said Trabuco Canyon resident Gage Wegner.
Like many in the community, Clark was a hermit, he said.
"A lot of those people are recluses and pull away from society," Wegner said.
"They got to lock him up for life," said David Snyder, a regular at the Trabuco General Store, a popular pit stop among visitors.
Carrie Braun, spokeswoman with the Orange County Sheriff's Department, said deputies have dealt with Clark since 2006, when neighbors reported theft and vandalism incidents that they suspected were linked to him. She said deputies never linked him to the crimes.
In 2012, Clark's brother filed a restraining order request on behalf of himself and his mother, alleging that Clark shoved him and spat in his face. Everett Clark, of Irvine, wrote that his brother had smashed his potted plants, threatened to shoot his dog, slashed his shoes with a knife and threw his prescription medicine in the toilet, according to the request.
"He does small hateful things to me all the time," Everett Clark wrote.
Clark's family did not appear for a court hearing on the request, and the matter was dropped, according to court records. Everett Clark could not be reached for comment.
More recently, Braun said, Orange County sheriff's deputies were called to Forrest Clark's cabin on July 23 in response to a report that he was acting erratically. They placed him on a psychiatric hold after determining he was a danger to himself or others, she said.
Milligan said he has little sympathy.
"Forrest is an extremely intelligent person, and honest to God, he does have psychological issues, but he knows what's he's doing," Milligan said. "When somebody comes after him, he responds not normally by walking away or negating it or forgetting about it. He lashes out."
Sometimes Clark would disappear for months, he said. Most recently, Clark was gone for about a year, working as a driver for a ride-sharing company, Milligan said. He said it was peaceful when Clark was away.
Before he was arrested, Clark granted an interview to a journalist from the video news service OnScene TV, saying he had no idea how the Holy fire started.
"I was asleep, I had two earplugs in," he said.
In the rambling interview, Clark told the cameraman that he'd been up for more than 20 days after visiting Mission Hospital in South Orange County and that gangs were after him.
"I need to get on a TV so if I die, at least you know who did it," he said.
The interviewer tried to steer the conversation back to the blaze.
"I need to know where we are, what the hell's going on around us, what the helicopters are for?" the interviewer said.
Clark shrugged his shoulders.
"I just woke up, dude, I got burned!" he said, pointing to a wound on his shoulder. "My stuff was all on fire. I ran out and my hoses were disconnected."
When deputies confronted Clark on Tuesday, he stripped off his camouflage shorts so that he was naked, said Braun, the Sheriff's Department spokeswoman.
He faces six felony charges, including aggravated arson, arson of an inhabited property and criminal threats. Authorities have not said why or how they believe Clark set the fire.
At his first court appearance in Santa Ana on Friday, Clark had several outbursts, calling the charges against him a lie. His arraignment was postponed until this Friday.
"He needs to go to jail for the rest of his life," Milligan said.
Sign up for Essential California for news, features and recommendations from the L.A. Times and beyond in your inbox six days a week.
You may occasionally receive promotional content from the Los Angeles Times.