Huntington Beach police headquarters is falling apart while the city weighs what to do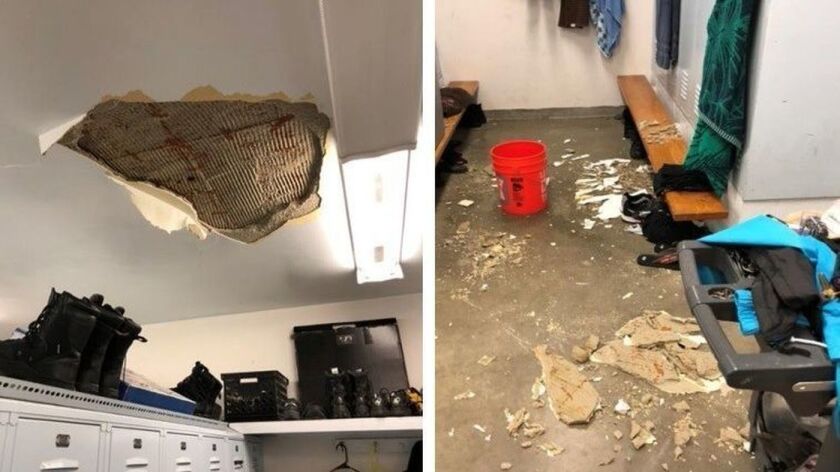 Huntington Beach's police headquarters is falling apart.
The original plumbing is decaying. The electrical system is overloaded. Portable fans are the norm for ventilation. Part of the ceiling in the men's locker room has collapsed three times. The list goes on.
During a study session this week, the City Council and police officials mulled three options for addressing the deterioration of the nearly 50-year-old building.
For about $23.5 million, police could remain in the current building next to City Hall on Main Street while it is refurbished for 12 months. Some employees would be displaced temporarily during the process.
For about $55 million, police could move to a new building, though a potential location hasn't been selected.
Or the current building could stay as is.
The next step in the process could be another study session or a formal proposal for a project.
Tustin-based architectural firm Westberg-White, which was hired this year to evaluate the structure, recommended modernizing over starting from scratch because it would cost less than half as much.
"We think we can continue to exist in the current building; we just need a better design," said Police Capt. Brian Seitz, who described the facility as used "beyond max capacity."
The department has more than 430 employees and volunteers, Seitz said.
Plans to address the facility's deficiencies began in 2008 but were shelved during the recession because of a lack of funding, said Police Chief Robert Handy.
Talks began again last year when police and city staff held weekly meetings and toured five local police agencies.
The department's headquarters was built in the early 1970s, when it served 239 mostly male employees. It was designed to have a fourth floor, Seitz said, but building codes now would make that addition "structurally unsound."
A closet and bathroom were modified into a locker room for 96 female employees. It has two sinks and showers, which can't be used simultaneously because of drainage issues.
The men's and women's locker rooms lack proper plumbing and ventilation. Seitz said damp conditions prompt employees to store sweat-soaked items outside their lockers to air-dry for their next shift.
The 911 Communications Center isn't up to industry standards, Seitz said — it's small and cramped during peak season. Staff often is placed in overflow rooms during busy periods such as the U.S. Open of Surfing and the Fourth of July.
Councilwoman Barbara Delgleize said it was "worse than I thought."
Mayor Pro Tem Erik Peterson said the "whole situation needs an upgrade."
"There's lots of buildings out there younger than this one that are heavily used that aren't in this condition," Peterson said. "I'm not pointing fingers, but something should've been done years ago, especially mechanically."
Vega writes for Times Community News.
---
The stories shaping California
Get up to speed with our Essential California newsletter, sent six days a week.
You may occasionally receive promotional content from the Los Angeles Times.