L.A. federal judge rules that a key tool in Trump's immigration crackdown effort is illegal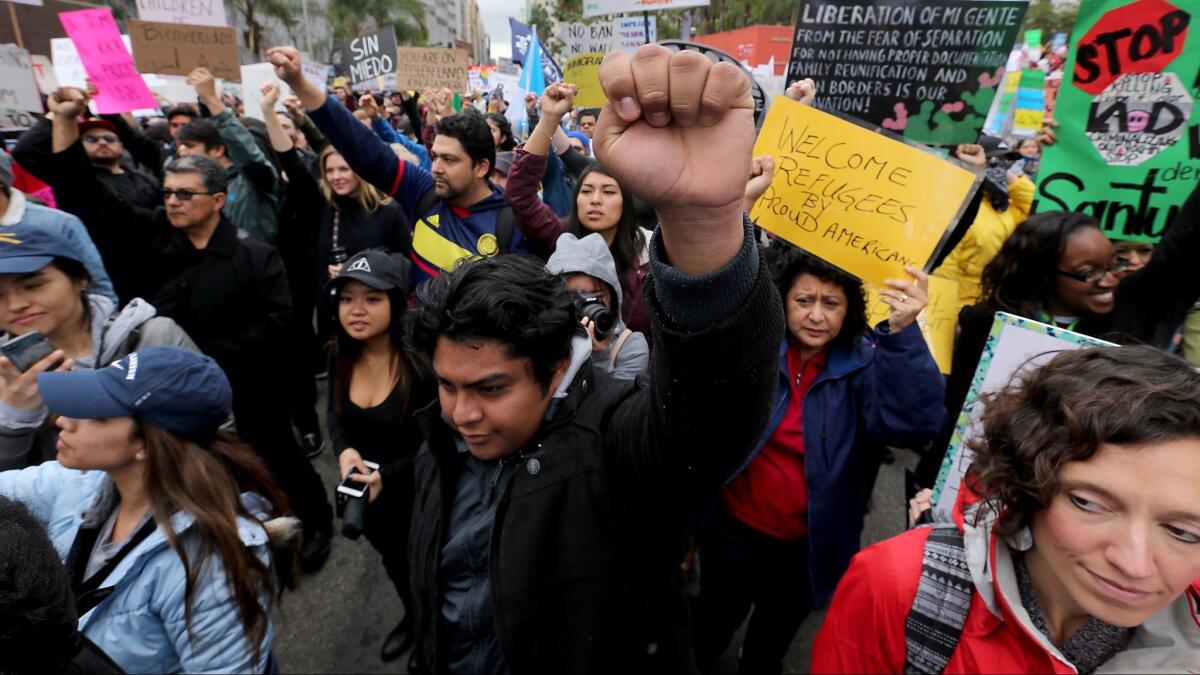 A federal judge in Los Angeles has ruled that police departments violate the Constitution if they detain inmates at the request of immigration agents, marking the latest legal setback for the Trump administration's plans to identify and deport immigrants in the country illegally.
In his order issued Wednesday, U.S. District Judge Andre Birotte Jr. found that a now-defunct policy of the Los Angeles County Sheriff's Department violated the constitutional rights of inmates who were kept in custody at the behest of Immigration and Customs Enforcement officers.
Birotte's strongly worded order bolstered similar previous court rulings, which found police cannot legally honor such detainer requests from ICE.
"The LASD officers have no authority to arrest individuals for civil immigration offenses, and thus, detaining individuals beyond their date for release violated the individuals' Fourth Amendment rights," Birotte wrote.
The Sheriff's Department has not delayed releasing inmates on ICE's behalf since 2014 and none of California's 58 sheriffs are willing to fulfill the ICE requests. Police in other parts of the country, however, continue to hold inmates to allow ICE agents time to take them into federal custody for possible deportation. Judges elsewhere could look to this week's decision for guidance when deciding future cases.
In the 48-page ruling, Birotte found other old ICE and Sheriff's Department policies had run afoul of the Constitution as well.
Though many of the issues raised in the case have been addressed in previous cases or don't apply to new ICE and Sheriff's Department policies, Birotte's order bars either agency from returning to old practices and will add to the growing set of cases impeding Trump's plans to aggressively ramp up the number of deportations.
As part of the administration's plans, ICE officials have increased the number of detainer requests the agency issues to local police departments. And Atty. Gen. Jeff Sessions has tried to ratchet up pressure on local law enforcement agencies across the country that have refused to honor the detainer requests and cooperate with ICE in other ways.
"This is a significant ruling, especially considering the national debate around immigration and the efforts of the Trump administration to strong-arm localities to honor immigration detainers," said Jennie Pasquarella, an attorney with the American Civil Liberties Union, one of several groups involved in the lawsuit. "Here is yet another court saying that any police department that does go along with detainer requests can be held liable."
Under Birotte's order, an estimated 10,000 to 12,000 people who were improperly held in L.A. County jails on ICE detainers between 2010 and 2014 may be entitled to monetary awards, said Pasquarella.
Along with his finding that local police cannot legally hold people in custody at ICE's request, Birrotte ruled on other aspects of the detainer process.
He ruled, for example, that ICE was wrong to issue detainers for people who were born overseas but were not found in the massive databases federal agents rely on when determining a person's immigration status. ICE officials said in court filings that the agency stopped the practice in June 2015, although Pasquarella said she doubts the agency has changed its ways.
And an ICE practice of issuing detainers for people without a warrant when there was no evidence that the subject was a flight risk was illegal, the judge ruled.
Under the terms of the lawsuit, the ruling voids any pending detainer requests that were issued by ICE officials in Southern California. That designation is important since ICE officers working out of a facility in Orange County issue detainer requests to police departments in dozens of states around the country.
Birotte also concluded that the Sheriff's Department practice of booking people with ICE detainers into jail even if their bail had been set at less than $25,000 was improper, Birotte said. Typically, the department did not put someone with bail under that amount behind bars. The department said the policy was changed in 2014.
"For years, the Los Angeles County Sheriff's Department ... callously denied immigrants constitutional protections that universally apply to all other jail detainees — unjustifiably holding them without cause as prisoners," said Lindsay Battles, one of the attorneys involved in the case. "This decision holds law enforcement agencies accountable for their anti-immigrant abuse of their authority."
ICE and sheriff's officials declined to comment, citing the ongoing lawsuit.
The order came in a class-action lawsuit that challenges several aspects of detainer requests — electronic alerts that ICE officers commonly issue when a local police department has custody of someone ICE believes should be deported. The notices, among other things, ask police to keep targeted inmates beyond when they would otherwise be released in order to give ICE agents time to take custody of them.
The lawsuit, which combined two separate cases, is being waged by several groups and law firms and has been winding its way through the court since 2012. One of the original cases was filed by U.S. citizens who were in Los Angeles County jails when ICE wrongly issued detainers for them. The other was brought by immigrants challenging the Sheriff's Department's cooperation with ICE.
Finding that some issues needed to be hashed out in front of a jury, Birotte did not rule on all aspects of the case.
Twitter: @joelrubin
---
UPDATES:
4:40 p.m.: This article was updated with a comment from ACLU attorney Jennie Pasquarella and additional details about the ruling.
This article was originally published at 1:20 p.m.
Sign up for Essential California for news, features and recommendations from the L.A. Times and beyond in your inbox six days a week.
You may occasionally receive promotional content from the Los Angeles Times.