Lawyers try new legal tactic to free father detained by ICE in front of daughter
Romulo Avelica-Gonzalez was detained by ICE after dropping off his child at school.(June 5, 2017) (Sign up for our free video newsletter here http://bit.ly/2n6VKPR)
Lawyers for a father detained by immigration officials after dropping off his child at school are trying new legal tactics in hopes of winning his release.
They want to get the decades-old misdemeanor conviction that prompted his arrest wiped from his record, believing it will strengthen his case.
Romulo Avelica-Gonzalez, 49, a Mexican citizen who has lived in the United States for 25 years, has remained in immigration detention for more than three months. Immigration and Customs Enforcement agents pulled him over and detained him in Highland Park, six blocks from his 12-year-old daughter's Lincoln Heights school and minutes after he had dropped her off. Another daughter in the car with him, now 14, sobbed as she filmed the encounter. -
Avelica-Gonzalez at the time had two misdemeanor convictions. One was for a DUI in 2008. Another was for receipt of stolen property when a friend gave him a vehicle registration tag not issued by the Department of Motor Vehicles. Before 2015, immigrants living in California illegally were ineligible for driver's licenses, a requirement for registering a vehicle.
ICE officials cited a deportation order based on those convictions as the reason for picking him up.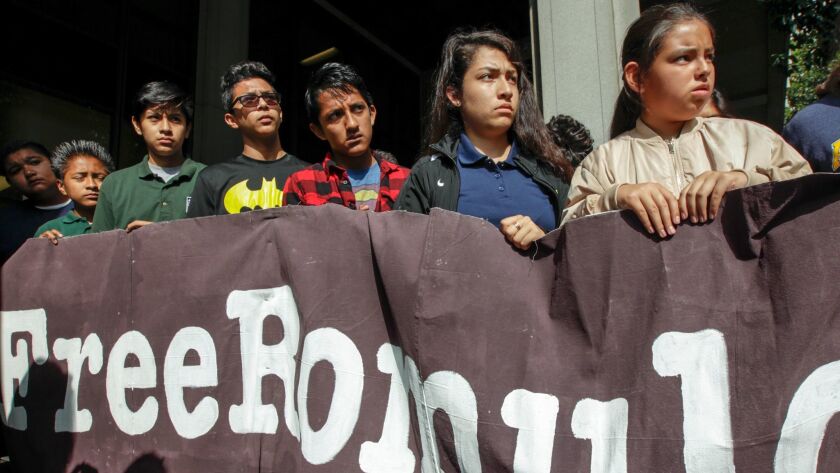 Some criminal convictions can place immigrants in deportation proceedings. But a new state law went into effect in January that allows immigrants to vacate their convictions if they weren't adequately advised at the time of their guilty or no contest pleas.
Avelica-Gonzalez's DUI conviction was vacated by a judge last month.
As for the stolen property conviction, immigration attorney Alan Diamante said that in 1998 Avelica-Gonzalez could have sought to plead guilty to a lesser charge such as registration violation — a regulatory offense — or to an infraction, had he been fully advised.
"I understand the public defender might not have known all the immigration consequences at the time," he said. "Nevertheless, my client … didn't understand the immigration consequences when he took that plea."
In a 77-page brief, City Atty. Mike Feuer said there is no legal basis or evidence to support Avelica-Gonzalez's request to vacate his conviction. The brief says the records show that the court informed Avelica-Gonzalez about the consequences of his plea and found that he understood them.
The "defendant himself attested by his initial and signature that he read and understood the admonition and all the consequences of his plea, including immigration," the brief says.
Steve Escovar, Avelica-Gonzalez's other attorney, said that in his DUI conviction, which was vacated, Avelica-Gonzalez tested just at or barely above the legal limit. He was not originally represented by an attorney, and the waiver form he filed was incomplete and inaccurate.
But Escovar said the city attorney's office intends to take Avelica-Gonzalez to trial to try to restore the conviction.
After he was arrested in 2008, Avelica-Gonzalez was placed in deportation proceedings. He applied for a cancellation of removal. But an immigration judge denied it in 2013, saying he was ineligible because of his conviction for receipt of stolen property.
In 2014, Avelica-Gonzalez filed paperwork for an appeal with someone he thought was an immigration attorney. The man ran off with Avelica-Gonzalez's paperwork and payment.
ICE agents didn't follow up on his deportation order until Feb. 28, as he dropped off his daughters at school. His attorneys then filed an emergency stay of removal, preventing his immediate deportation, with the U.S. 9th Circuit Court of Appeals. The court has not yet entered a decision.
Diamante, the immigration attorney, said his goal is to reopen Avelica-Gonzalez's case. If his DUI and receipt of stolen property convictions both get vacated, he said, then authorities should not fight his release — and if his deportation order is reversed, he could apply for a green card.
In a handwritten letter to supporters Friday, Avelica-Gonzalez said he deserves a chance to stay with his family in the country he loves.
"I wouldn't be able to live without my family in another place," he said.
Twitter: @andreamcastillo
ALSO
What we know about the mysterious 2009 killing of prominent South Bay attorney Jeffrey Tidus
Most private colleges take very few transfers. At USC, about 1,500 get a spot each year
Los Angeles CEO is accused of asking alleged drug dealer to kill former business associate
---
For reporting and exclusive analysis from bureau chief John Myers, get our California Politics newsletter.
You may occasionally receive promotional content from the Los Angeles Times.