Immigrants affected by government shutdown could wait years for new day in court
Alfredo and Claudia Valdez were an hour and a half into their drive from Bakersfield to a Los Angeles federal courtroom, brimming with expectation that a judge there would finally declare them legal United States residents.
It was early January, nearly two weeks into the partial federal shutdown. Alfredo's brother had flown in from Denver and his parents had driven from Palmdale for the occasion. A friend, a co-worker and a former manager had taken the day off work to speak as witnesses on his and Claudia's behalf.
The couple were aware of the shutdown, but because they live so far away, they couldn't risk the court reopening and missing their morning hearing. After a phone call to his lawyer confirmed that the court was still shuttered, a dejected Alfredo turned the car around.
Last Friday, President Trump agreed to temporarily reopen the government, including immigration courts, for three weeks while lawmakers continue negotiations on funding for border security. The agreement affords a temporary truce in a partisan fight that has paralyzed Washington.
But for people such as the Valdez family, caught up in a serpentine court system already overwhelmed with backlogged cases, the shutdown derailed a lengthy process that could take weeks or months to get back on track.
"Me and my wife, we were trying to get past this nightmare of waiting," he said.
The shutdown has not only resulted in thousands of canceled court hearings but also generated chaos for everyone involved in the immigration system.
Most judges were furloughed, and those who remained worked without pay. Lawyers canceled flights for out-of-town hearings and, absent direction from the Justice Department, continued to meet filing deadlines imposed by courts that weren't open to accept them. Dozens of immigrants n showed up at courthouses every day, some unaware of the shutdown, many simply to prove that they didn't intentionally skip their hearing.
With more than 76,000 pending cases as of November, Los Angeles already had the nation's second-largest immigration court backlog, according to the Transactional Records Access Clearinghouse at Syracuse University. Across the country, more than 800,000 cases were pending, a figure that has swollen from a low of fewer than 125,000 in 1999.
Every week of the shutdown added 20,000 cancellations to the backlog. By Jan. 11, more than 9,000 court cases were canceled in California alone.
Meanwhile, about 300 of the nation's nearly 400 immigration judges were furloughed, said Ashley Tabaddor, president of the National Assn. of Immigration Judges.
Immigration court schedules are split between hearings for detained and released immigrants. Tabaddor said hearings for detained immigrants, which make up less than 10% of the entire docket, continued during the shutdown and were being overseen by judges who weren't getting paid.
Morale among judges was already at historic lows before the shutdown, said Tabaddor, who is based in Los Angeles. In October, the Justice Department implemented a quota system tied to performance evaluations under which immigration judges are expected to complete 700 cases a year to receive a "satisfactory" rating. She said the DOJ had not provided guidance about whether those quotas would be waived once the government fully reopened.
"Each day, it becomes exponentially more difficult to get back up to speed in a short timeframe," she said. "What I understand right now is there are piles and piles of filings that are just sitting there. The first thing we're going to have to do is dig ourselves out from under the mountain of paperwork."
Kathryn Mattingly, a spokeswoman at the Executive Office for Immigration Review, which oversees immigration courts, said Monday that she could not immediately provide any information.
Lawyers were also frozen by the shutdown. Sabrina Damast, an L.A.-based immigration lawyer, said she continued sending case documents to the court and to lawyers for the Department of Homeland Security even though she assumes the paperwork isn't being reviewed. She worries that some of those documents will get lost in the shuffle.
Damast checkedd on the status of the shutdown every morning so that she could tell her clients whether to show up to court. Many had already requested the time off work and made childcare and transportation arrangements.
"The irony is, for all of Donald Trump's enforcement, those people who are criminals or repeat violators or the 'bad guys' — they're getting just as many delays as everybody else," she said.
One recent morning, around two dozen people stood outside the downtown L.A. immigration court. Inside, security guards informed them that the court was closed. Many took photos of a notice taped near the elevators stating that cases would "be reset for a later date after funding resumes."
Ashley Ramirez was supposed to have a court hearing that day for her asylum petition. The 29-year-old said she fled Guatemala after enduring physical and sexual abuse by her boyfriend. She and her 9-year-old daughter turned themselves in to Border Patrol agents last March after illegally crossing the Rio Grande in Texas. She was released from detention two weeks later and came to Santa Ana to live with her godmother.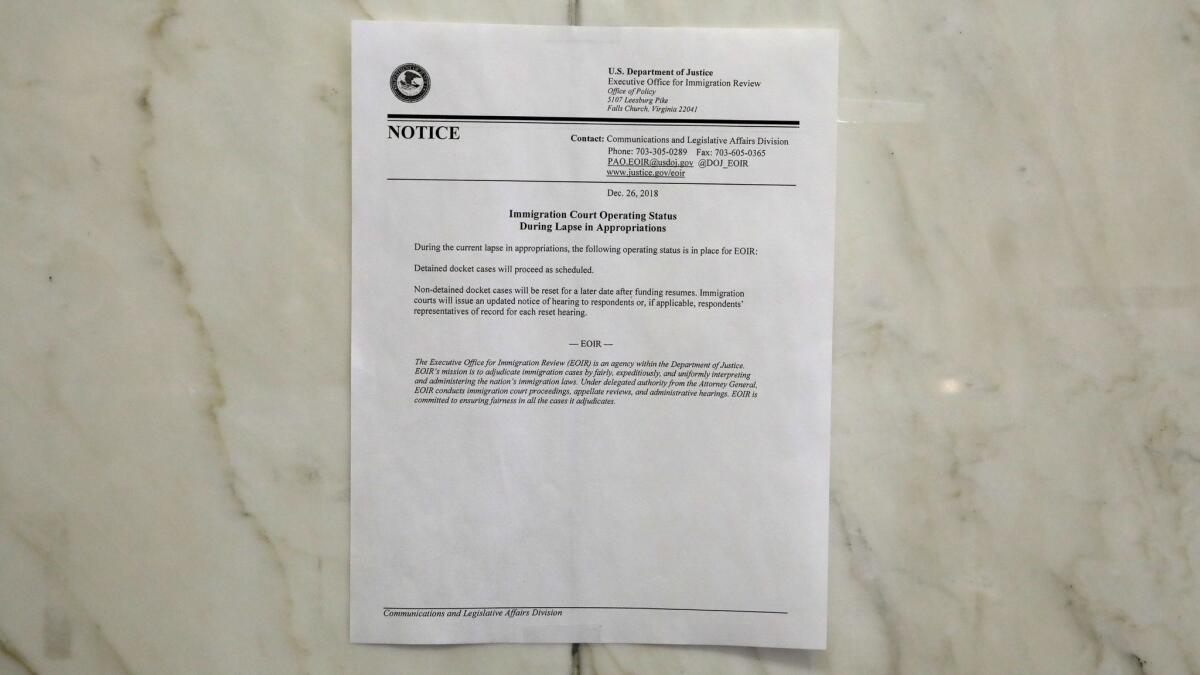 Ramirez is enrolled in the Intensive Supervision Appearance Program, an alternative to detention that requires her to check in with an officer every other week. She knew the court was closed, but the day before her hearing, an ISAP officer told her she had to take a photo of the closure notice and present it during a check-in the same day.
So after snapping a photo with her cellphone, Ramirez went six blocks east to the ISAP office. After sitting for 45 minutes in the crowded waiting room, an officer called her name. When she showed him the photo, she said, he told her that they just wanted to be sure she'd do what they asked.
She's not sure her asylum case will play out favorably. The shutdown bought her more time before a final decision. Even so, she wasn't happy to miss the court date — she'd planned to ask for a work permit.
For many others, the shutdown was a burden. Judith Seeds Miller, a lawyer in Bakersfield, described the case of an agriculture worker who has been in the U.S. since 1995. The 37-year-old man landed in deportation proceedings three years ago. He has a lengthy but nonviolent rap sheet — 11 arrests including three DUIs, several instances of driving without a license and one instance of driving with a suspended license.
The man applied for cancellation of removal, a humanitarian benefit that would grant him permanent residency but requires Seeds Miller to prove that his deportation would cause one of his U.S.-citizen family members extreme hardship. She said the man's 18-year-old son, whom he cares for, has chronic depression and an anxiety disorder, as well as an intellectual disability.
Only 4,000 such visas are available every year, and Seeds Miller said the wait time is a couple of years. But they are in a race against time: The man's son will no longer be considered a "qualifying" family member once he turns 21.
Seeds Miller was ready for their trial Friday. She had a UCLA psychology professor lined up to testify as an expert witness and had spent hours prepping the family for questioning.
"Everybody was all dressed up, nowhere to go," she said. Her client can't spare another couple of years waiting for a new trial. If it's not rescheduled soon, she said, "It would mean he was out of luck. It's a really big loss."
Others saw the shutdown as a gift. Oscar Gomez, 34, has been in deportation proceedings since 2010, when Oregon police detained him for driving without a license and turned him over to immigration authorities. The government had suspended its effort to deport him until last year, when he was convicted of a misdemeanor related to domestic violence.
The Moreno Valley construction worker said he's now applying for asylum.
"This is like winning time," he said. "We'll see what happens in the future."
Tabaddor, of the National Assn. of Immigration Judges, said it's likely that most immigrants whose trials were canceled will have to go to the back of the line — a potential delay of two to four years.
She acknowledged the harm that could result from people with time-sensitive cases missing their long-anticipated hearings.
"Those who have the best cases and were ready to go forward are going to suffer," she said. "Memories fade, witnesses disappear, children age out, parents die of old age."
Back in Bakersfield, Alfredo Valdez, a 40-year-old Mexico native, had been anticipating his day in court for almost 25 years. His father, a naturalized citizen, first petitioned for him in 1994, a few years after he was brought into the country illegally. But yearly limits on the number of green cards available to Mexican citizens and their spouses who are being sponsored by a U.S.-citizen parent have led to a more than 20-year wait.
Claudia, 39, is also from Mexico and entered the U.S. in 1998 with a visa. She and Alfredo got married in 2005.
A paperwork error by a previous lawyer landed Alfredo in deportation proceedings. His current lawyer has helped him apply for a work permit and bide his time until a residency visa becomes available.
Alfredo and Claudia pay more than $1,300 collectively each year to renew their work permits. He works as an electrician apprentice and in construction, and she does shipping and packing for a food warehouse. They have two sons, 13 and 18.
The shutdown meant it could be two more years before they get their green cards.
"It's kind of depressing," Alfredo said. "That's not what we expected."
andrea.castillo@latimes.com | Twitter: @andreamcastillo
Sign up for Essential California for news, features and recommendations from the L.A. Times and beyond in your inbox six days a week.
You may occasionally receive promotional content from the Los Angeles Times.