Homeland Security called hundreds of immigrants to court hearings that didn't exist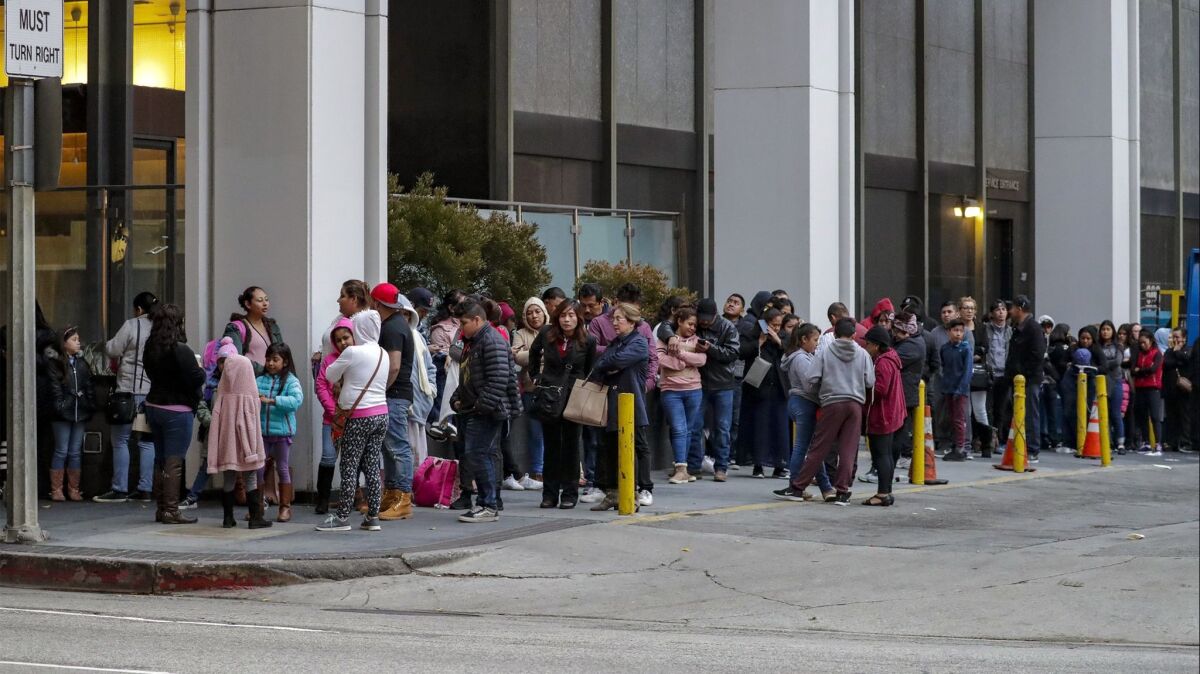 The line outside the Los Angeles Immigration Court Thursday morning snaked around the side of the building, doubled back to the South Olive Street sidewalk and nearly reached the next block.
Some of those in line had scheduled hearings in court. Others simply thought they did.
In a statement, Immigration and Customs Enforcement officials attributed the overflow crowds to administrative processing delays caused by the recent federal government shutdown. "All appropriate parties are working together to resolve this issue going forward," the statement read.
Around the country, thousands of immigrants given notices to appear in court Thursday by the Department of Homeland Security showed up for hearings that didn't exist. Immigration lawyers blamed Homeland Security for issuing "fake" court dates, and reported similar chaotic scenes at courts in Atlanta, Miami, San Francisco and Omaha.
In Los Angeles, security guards estimated that between 800 and 1,000 people arrived with invalid court dates. Additional guards were on hand in the morning, slowly steering people into two lines as they arrived in front of the court's glass doors.
Some people came alone, clutching their documents in hand. Mothers held their young children. Families huddled together in the cold, just before a steady downpour moved through the region.
Thursday's confusion stems from a Supreme Court decision last June, Pereira vs. Sessions. The court ruled that notices to appear — the documents issued by immigration authorities to people accused of being in the country illegally — must specify a time, date and place in order to be valid. Previously, immigration authorities often had sent notices with the date listed as "to be determined."
It's not the first time that disarray has resulted. In September, the Dallas Morning News reported that immigrants around the country were told to show up for hearings that weren't scheduled. In some instances, they were told to arrive at midnight, on weekends or on dates that don't exist. On Oct. 31, lawyers across the country described scenes similar to Thursday's, with hundreds of people waiting outside courts in Los Angeles and elsewhere for nonexistent hearings.
Some of Thursday's invalid appointments had already been rescheduled to future dates, but the government shutdown prevented courts from being able to notify those people in time, the Justice Department's Executive Office for Immigration Review said in a statement. EOIR, which oversees immigration courts, said weather-related closures earlier this week also impeded efforts to prepare cases for Thursday.
"In other cases, EOIR did not receive the notice to appear (NTA) in a timely manner," the agency said.
But as of late December, DHS has had access to the courts' scheduling system. With that change, the agency said, it doesn't expect arbitrary court dates to be issued again in the future.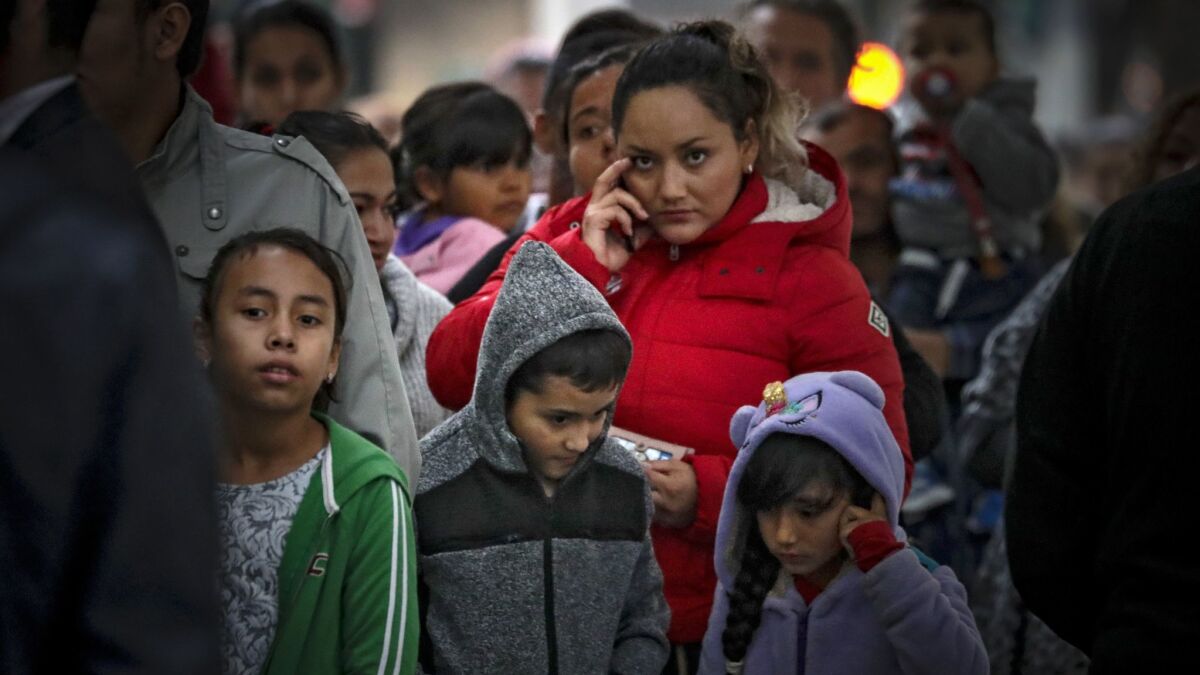 That wasn't enough to prevent Thursday's mayhem. Isabel Martinez, 35, took the day off work and left her Canoga Park home at 5 a.m. to make it to the 8 a.m. hearing listed on her notice to appear. Instead, she stood in line outside the court for nearly an hour before being escorted to another line inside a large room on the first floor.
Martinez fled El Salvador in 2003. Gangs had extorted her for money because her grandmother owned a small grocery store. When she was unable to pay, gang members beat her so badly she had to relearn to walk, she said.
She applied for asylum last year, previously unaware that it was an option.
Court personnel gave Martinez and the others a notice of "verification of appearance" in court with an 800 number to call for more information about their next hearing.
"This is ridiculous," she said, leaving the court. "They make you waste your time. I have a newborn baby and had to leave him with someone. So to get here and not have court — it's not fair."
David Martin, 55, from Guatemala arrived three hours early for his 1 p.m. hearing. Inside, security guards directed him to the 15th floor.
"The thing is, you might not have court," the guard said in Spanish. "You'll call and they'll give you a new date."
Martin arrived in California last November after crossing the Arizona border with his 16-year-old son. He farmed coffee and corn but it wasn't enough to feed six kids, himself and his wife.
Now he and his son live in Riverside with his nephew. He wants to find a lawyer so he can remain in the country legally, though he's not exactly sure how. Thursday was supposed to be his first court hearing after being released from detention.
"They're giving out notices, but there's no court today," a clerk told him, adding that his new notice to appear would come in the mail.
Immigration lawyer Sabrina Damast, who had a court hearing scheduled Thursday morning, said she got lucky and was able to skip the line with a group of other lawyers. But she said some colleagues told her they were forced to wait "with people that didn't need to be there."
Damast said the impact was tremendous — not only to lawyers and immigrants who actually needed to be in court. She said many of those with false dates had to take leave from work, find care for their children and arrange transportation just to be told to go home again and wait.
Although the scheduling system fix sounds promising, Damast said, the chaos of Thursday was preventable.
"It seems that, fundamentally, this should be doable in the age of 21st century technology," she said.
andrea.castillo@latimes.com | Twitter: @andreamcastillo
---
The stories shaping California
Get up to speed with our Essential California newsletter, sent six days a week.
You may occasionally receive promotional content from the Los Angeles Times.