Democratic leader's call for In-N-Out Burger boycott meets its own resistance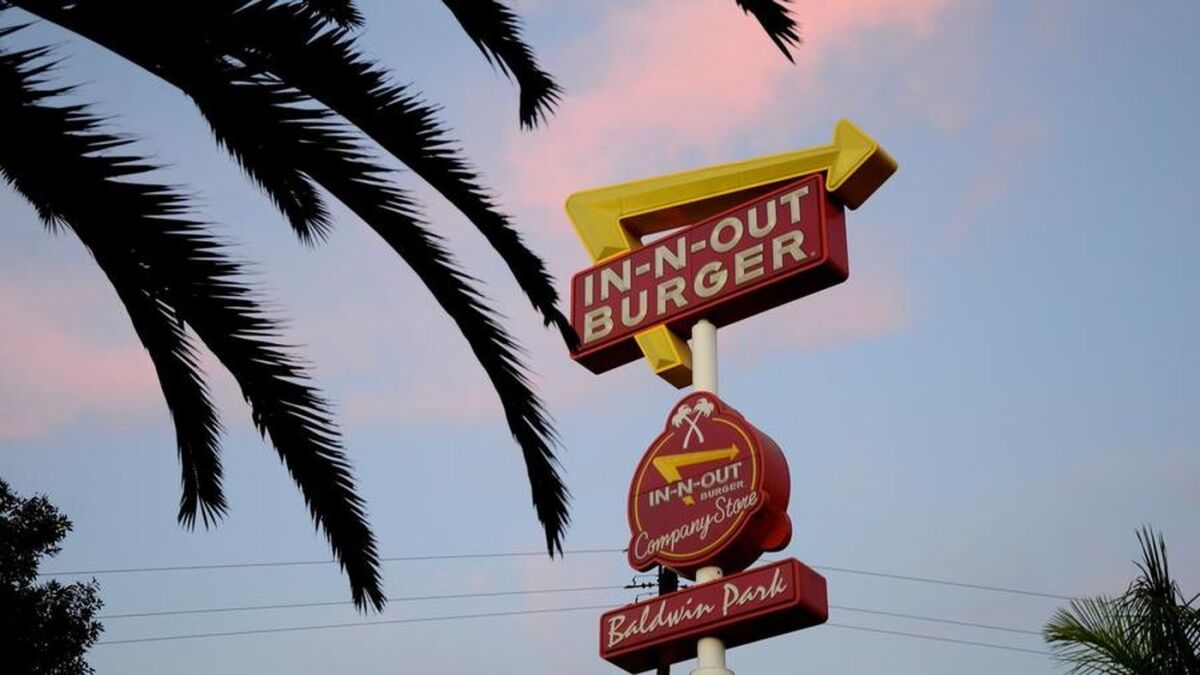 Anthony Grigore is a Democrat. But as he waited Thursday at an In-N-Out Burger in El Segundo for his meal, Grigore made it clear party loyalty would only go so far.
Just hours earlier, the head of the California Democratic Party called for a boycott of the famed burger chain after a public filing revealed that the company had recently donated $25,000 to the state's Republican Party.

For the record:
5:50 p.m. Aug. 30, 2018An earlier version of this article incorrectly attributed comments by In-N-Out customer Anthony Grigore to Nick Morello.
"Eating at In-N-Out is such a standard thing to do across California," Grigore said, dismissing the boycott idea as a bit silly.
California has emerged as the center of the Democratic resistance since President Trump took office. But this activism might meet its match when it comes to In-N-Out, a California institution that some hold with the same level of esteem as the Golden Gate Bridge and Joshua Tree.
By the end of the day, Democrats were distancing themselves from the idea and Republicans were enjoying a political feast, with some making big lunch orders to show their support for the chain and posting photos on social media.
"We have all of our children eating In-N-Out burgers. Even my son's German Shepherd eats In-N-Out," said state Sen. Jim Nielsen (R-Gerber), whose staff ordered 25 burgers and 50 bags of fries for lunch.
Political experts said they aren't surprised that In-N-Out has proven hard to demonize, especially if the company's sin was simply donating to the Republican Party.
"The stomach overrules the mind," Jaime Regalado, emeritus professor of political science at Cal State L.A. "A cheap, good-tasting burger is hard to dismiss politically."
The political food fight began when Eric Bauman, the head of the California Democratic Party, called for the boycott on Twitter on Wednesday night.
Bauman tweeted a link to a story about the contribution and wrote, "Et tu In-N-Out?" with the hashtag #BoycottInNOut.
By Thursday morning, his tweet had morphed into a national political story, and the state party was clarifying Bauman's remarks. Bauman on Thursday referred calls to the party's communications director, John Vigna, who said the chair's tweet was "just his personal view" and the boycott isn't being considered as an official California Democratic Party policy.
"We're not happy that In-N-Out gave the money, but we're not calling for an official boycott," Vigna said. "Democrats are very fired up. Chair [Bauman] is definitely giving voice to a feeling a lot of people have right now."
In-N-Out, meanwhile, quickly put out a statement by Executive Vice President Arnie Wensinger that noted that the company "made equal contributions to both Democratic and Republican" political action committees in California in 2018.
Filings show that the restaurant chain gave at least $80,000 this election cycle to Californians for Jobs and a Strong Economy, a committee focused on electing business-friendly Democrats to the state Legislature. The chain also gave at least $30,000 to the committee in 2016.
"For years, In-N-Out Burger has supported lawmakers who, regardless of political affiliation, promote policies that strengthen California and allow us to continue operating with the values of providing strong pay and great benefits for our associates," Wensinger said.
The burger chain's support of the California Republican Party isn't new, however. The company already donated $30,000 to the party in 2017 and at least $30,000 in 2016.
The eatery was founded by Harry and Esther Snyder in 1948. The company has a reputation for maintaining strong Christian beliefs and puts references to Bible verses in its packaging.
While Democrats were eager to move on, Republicans saw a political opportunity in the attack on such a beloved brand.
GOP gubernatorial candidate John Cox posted a photo of himself in front an In-N-Out on Twitter on Thursday and declared, "There's nothing more Californian than In-N-Out Burger."
Matt Fleming, spokesman for the California Republican Party, chimed in: "It's disappointing that he's attacking a company that's a California institution and widely regarded as a good employer."
The dust-up over In-N-Out isn't the first time that restaurants have faced political backlash. In 2008, there was a much-publicized boycott of famed L.A. Mexican restaurant El Coyote after it was revealed that a manager had contributed to a campaign for a proposition that sought to ban same-sex marriage in California.
Fast-food chain Chick-fil-A faced a boycott in 2012 after its president voiced opposition to same-sex marriage.
And even when it comes to In-N-Out, some customers said they were disturbed enough about the Republican donation to stay away.
Customer Justas Jodele, 23, said he didn't believe a boycott would be effective in the long run, "but it's a good way to show that we are displeased with Trump."
He said he was willing to join the boycott — after he enjoyed his Thursday lunch.
---
UPDATES:
6 p.m.: This article was updated throughout.
4:30 p.m.: This article was updated with more reaction from GOP officials.
2:35 p.m.: This article was updated with more reaction.
11:50 a.m.: This article was updated with a statement from In-N-Out's vice president.
This article was originally published at 11:35 a.m.
---
The stories shaping California
Get up to speed with our Essential California newsletter, sent six days a week.
You may occasionally receive promotional content from the Los Angeles Times.