Inglewood votes to limit rent hikes and halt evictions spurred by development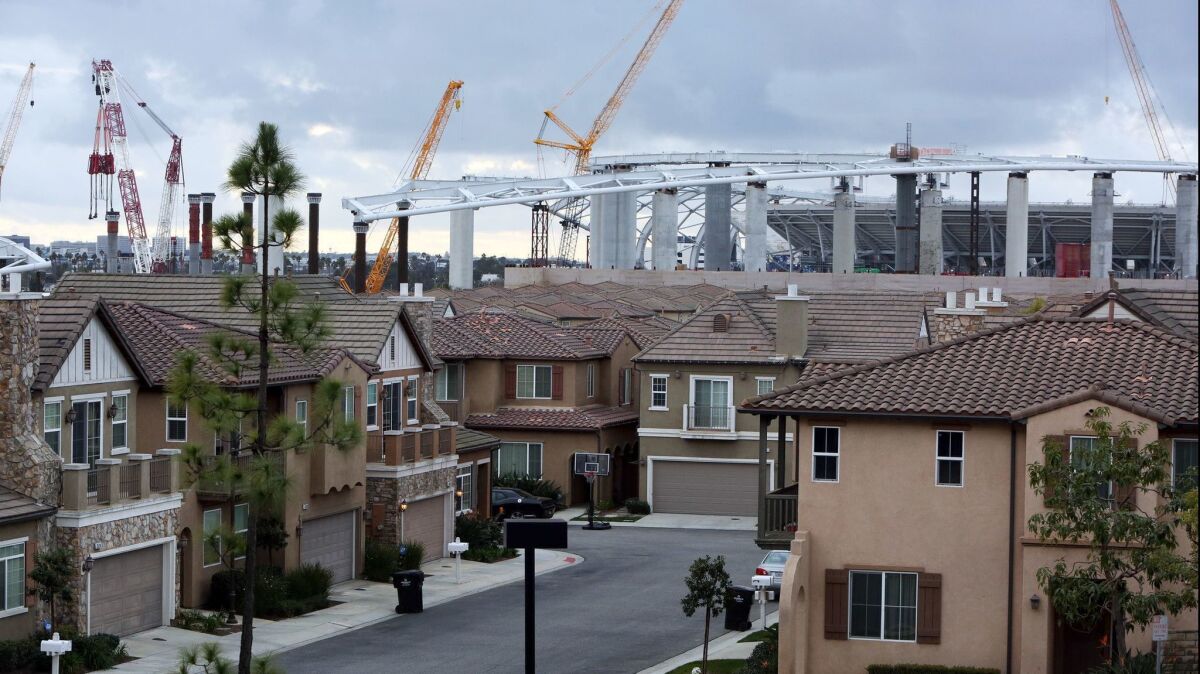 Inglewood officials adopted an emergency ordinance Tuesday to limit rent increases and halt evictions temporarily while the city tries to find a permanent solution to address rapidly rising rents spurred in part by construction of a $2.6-billion football stadium and entertainment complex.
The measure, which received a unanimous 5-0 vote from the Inglewood City Council, will prevent landlords during a 45-day period from raising rents by more than 5% and evicting tenants for any reasons other than criminal activity or drug use in the rental property.
The ordinance excludes units built after 1995, single-family homes and condominiums, as well as short-term housing such as hotels. The council has the option to extend the ordinance for up to one year.
It will take effect immediately.
Inglewood, which was wobbling on the edge of bankruptcy a few years ago, has experienced a revival since L.A.'s two NFL franchises, the Rams and the Chargers, announced that they would share a new state-of-the-art stadium to be built on the former site of the Hollywood Racetrack and Casino. In addition to the football complex, the L.A. Clippers are planning to move to the city and the Girl Scouts of Greater Los Angeles has moved its regional headquarters to Inglewood.
The council action came after a number Inglewood residents had complained that landlords had doubled their rents. The city does not have rent control, meaning that property owners can increase rent by any amount with just a 60-day notice.
Some of the dozens of residents, community activists and business owners who attended Tuesday's session have been pushing for a year for the city to come up with a rent-stabilization ordinance. Renters make up two-thirds of the city's population.
Inglewood Mayor James T. Butts Jr. said rents had risen steadily since 2012, and continued to climb more rapidly when news of the stadium deal was announced three years later. Corporate investors have bought up apartment buildings and increased rents as high as 140%, or issued eviction notices in order to re-rent units at a higher price.
"We will not allow apartment buildings to be emptied out en masse," Butts said. "That will not happen in Inglewood."
Residents at the City Council meeting shared their personal experiences.
Kruti Parekh said rent on her apartment had jumped incrementally from $1,275 to $1,750.
"It wasn't my decision because I got a 60-day notice," she said. "I had to vacate that apartment."
The community group Uplift Inglewood said a measure that was initially proposed would have done little to stop landlords from forcing tenants out with just cause, such as violating any rules of their lease — even something as trivial as walking a dog off leash.
After hearing residents' concerns, Councilman Eloy Morales Jr. amended the motion to prevent just-cause evictions.
Butts wanted to go a step further and proposed legislation to ensure there would be no evictions other than for criminality.
"If we're going to make a bold move, make the move so there is no ambiguity," Butts said.
The crowd erupted in applause.
Some residents and activists said that although the temporary cap is a step in the right direction, more needs to be done to protect tenants in a city where 20% of residents live below the poverty line.
Tiffany Wallace, 37, said long-term community members like her should be able to reap the benefits of the city's transformation.
"We should not have to face homelessness because of development," Wallace said.
Last year, Uplift Inglewood tried and failed to get a rent-stabilization ordinance on the November ballot.
Butts previously weighed bringing a rent ordinance to the council but said he worried that it might hurt mom-and-pop homeowners who rent out a small number of units.
The council said the temporary ordinance would give the city time to come up with a long-term fix that will protect renters and mom-and-pop homeowners.
"We're going to try to get it right," Morales said.
For more California breaking news, follow @AngelJennings. She can also be reached at angel.jennings@latimes.com.
The stories shaping California
Get up to speed with our Essential California newsletter, sent six days a week.
You may occasionally receive promotional content from the Los Angeles Times.