Enrollment of first-time foreign students dips in the U.S., but California is still No. 1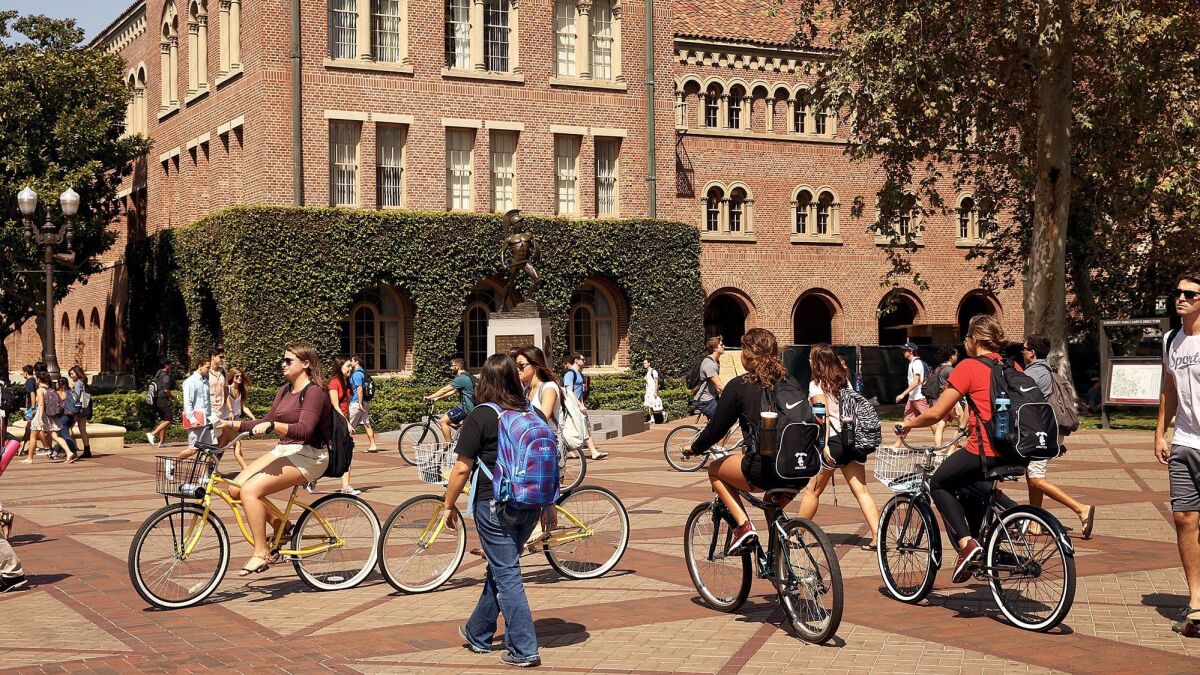 After years of rapid growth, enrollment of first-time international students in U.S. colleges and universities dipped last year amid concerns about political uncertainty, tuition increases, visa delays and reductions in scholarship money, an annual survey found.
California remained the nation's most popular destination for foreign students, with 157,000 coming to the state in 2016-17. They made up nearly 16% of more than 1 million international students in the United States that year, according to the survey of more than 2,000 institutions released Monday by the Institute of International Education.
Alyson L. Grunder, a deputy assistant secretary of State, said the U.S. ability to attract the world's largest number of international students was "testament to the unmatched quality of American higher education."
But the roughly 3% decline in new foreign students in California and nationally was the first drop the institute has recorded in the 12 years it has collected such data, and the decline appears to be deepening. The institute's separate tally of data from about 500 colleges and universities found a 7% drop in enrollment of first-time students this fall — mostly at less-selective campuses.
Institute officials were diplomatic, and repeatedly declined to pinpoint President Trump's hard-edged attitudes toward immigration and foreign visitors from countries he considers sponsors of terrorism.
"It really is much too soon for us yet to tell what is the definitive factor," said Allan E. Goodman, the institute's president. He said U.S. institutions need to redouble efforts to recruit more foreign students because they enrich campuses and collectively contributed $39 billion to the U.S. economy this past year.
"It's a very healthy ... wake-up call," Goodman said.
Growth in foreign students is slowing
Overall, the number of international students in the United States went up by 3%, signaling a slowdown in what used to be double-digit growth. Institute officials said other countries, notably Canada, Germany and the United Kingdom, are recruiting foreign students more aggressively. Trump's travel ban and fears of crime also appeared to be factors, they said. But only 20% of institutions surveyed in the smaller sample said international students had expressed a desire to leave the country because of the social and political climate.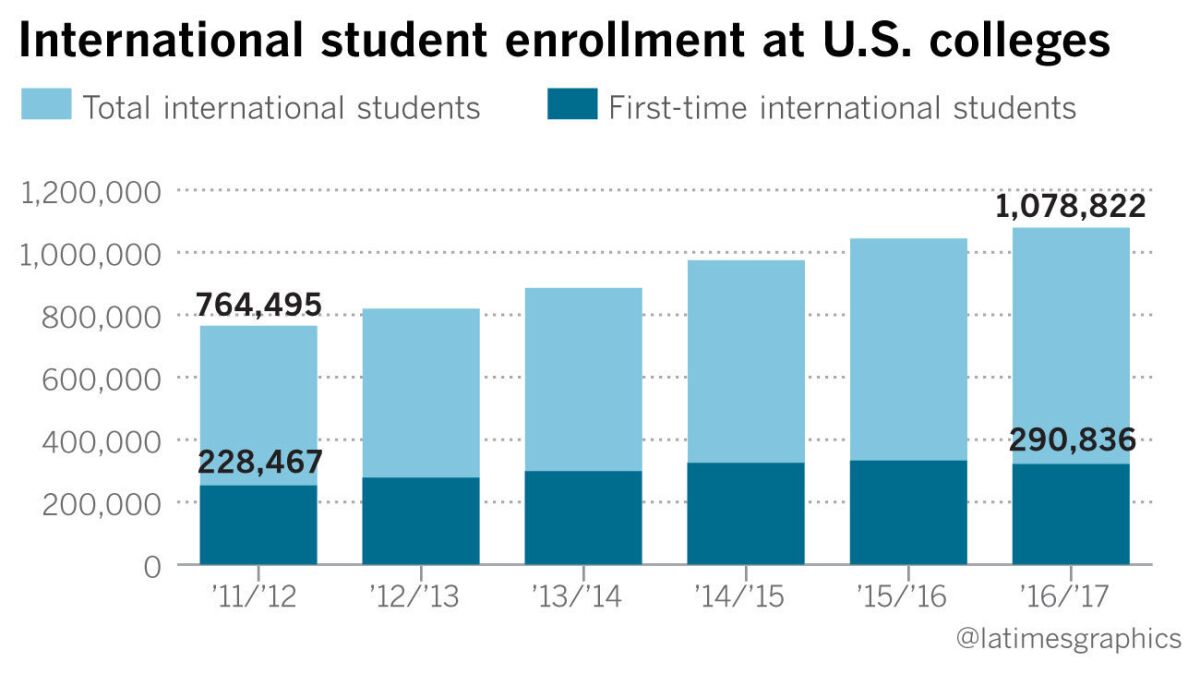 California is still No. 1 for foreign students
California remained the most popular destination for foreign students, but new enrollment declined by 2.8% in 2016-17. The state's share of first-time foreign students could decline further since the 10-campus University of California system limited its international and out-of-state students for the first time and raised tuition by 2.5% this year.
China sends the most students here
More than 200 countries sent students to the United States, a record high. China was the top country of origin in California and nationally — by far. Four-fifths of campuses surveyed in the smaller sample said they were working to integrate them better into campus life with language support and address issues of "academic integrity." (There have been several reported incidents of cheating and plagiarism.) The number of students coming from Saudi Arabia and Brazil declined the most — which the institute attributed to major cutbacks in their governments' scholarship programs. The biggest increases came from Nepal, India, Bangladesh and Nigeria.
The most popular majors were in science, technology, engineering and math, followed by business.
NYU beat out USC
Once again, New York University was the No. 1 host of international students. But four California universities made the top 20 list — USC, UCLA, UC San Diego and UC Berkeley. USC and most of the UC campuses bucked national trends and increased their numbers of first-time international students in 2016-17. The number of undergraduate and graduate international students in the UC system rose to 38,908 in 2016-17 from 35,035 the previous year.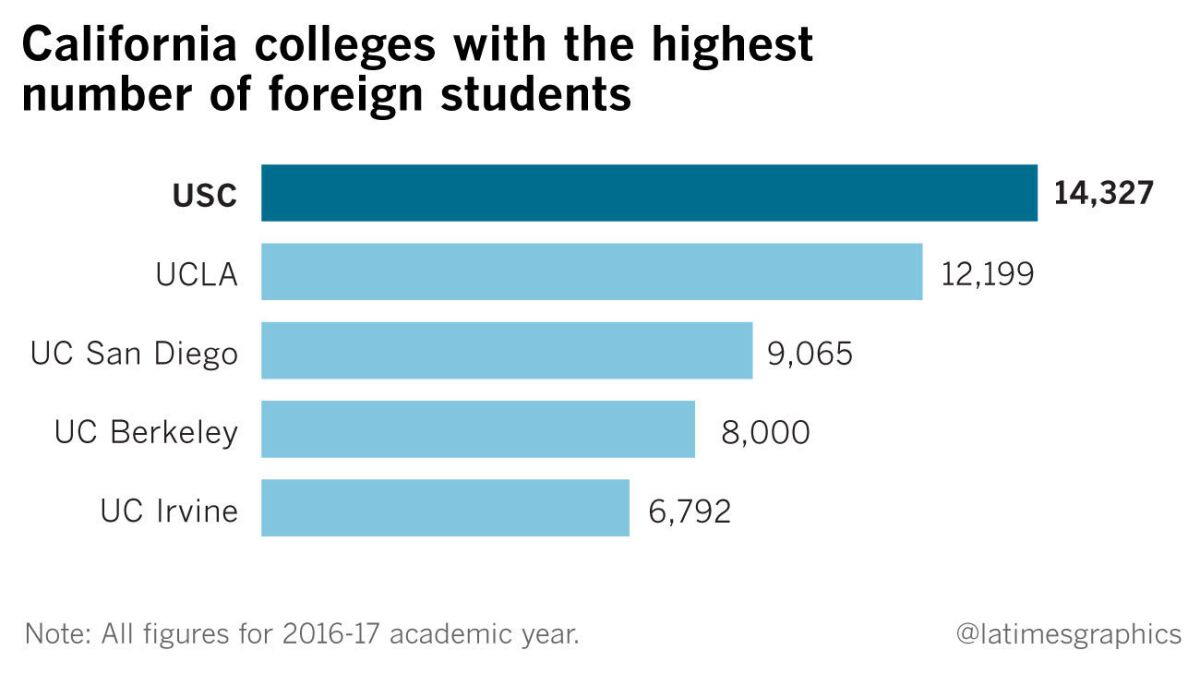 American students favor Europe
The number of American students studying abroad increased by 4% to 325,339 in 2015-16, according to the institute. The top destinations were the United Kingdom, Italy, Spain, France and Germany. Cuba saw a 58.6% increase in American students after the Obama administration eased travel restrictions, but officials said they expect the numbers to decline in the Trump era. The number of U.S. students in China dropped by 8.6%, due in part to concerns about pollution and other health and safety issues, said the institute's Peggy Blumenthal.
Twitter: @teresawatanabe
---
The stories shaping California
Get up to speed with our Essential California newsletter, sent six days a week.
You may occasionally receive promotional content from the Los Angeles Times.