UC regents approve first tuition increase after six-year freeze; some students 'infuriated'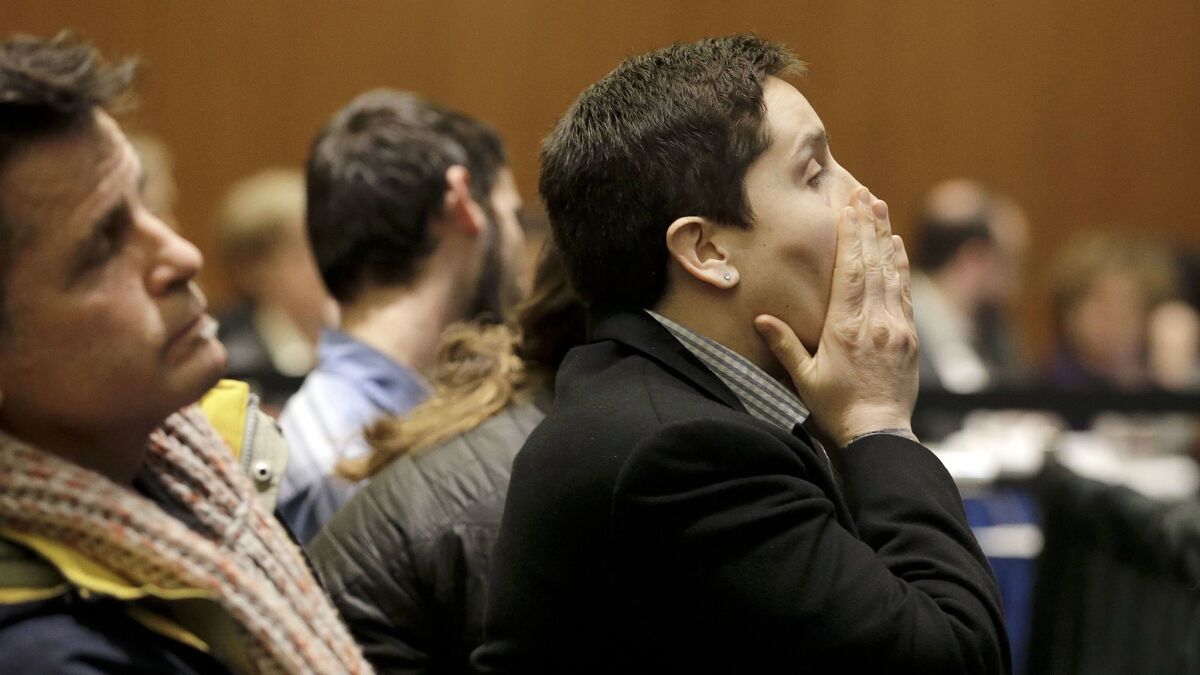 Reporting from San Francisco —
The University of California meeting room was filled with frustration Thursday as regents considered whether to lift a six-year freeze on tuition and approve a 2.5% increase.
One regent called the tuition hike a "Band-Aid." Another said having to vote to raise students' costs was "very painful." Still another asked repeatedly whether alternatives could be found to bring in more money without further burdening students and families.
But in the end, after an hourlong debate, regents voted 16-4 to raise tuition for the first time since 2010-11. The increases were part of a $7.8-billion operating budget plan they approved for 2017-18.
"Every single one of us in this room doesn't want to raise tuition for our students," said Regent Charlene Zettel. "It's very painful for all of us."
UC President Janet Napolitano had told regents a day earlier that an increase was needed to ensure that the renowned public research university system could continue to deliver the same top-notch education today as in the past, even as it grapples with escalating enrollment demands and reduced state support.
The 10-campus system, she said, had responded to deep state funding cuts during the Great Recession by saving more than $320 million through reforms. Despite such efforts, campuses are struggling with higher student-faculty ratios, fewer courses, fewer teaching assistants and overtaxed student services.
"We have done more with less, but at a cost," she said.
Under the new budget, tuition will rise to $11,502 for the 2017-18 school year — a $282 increase. The student services fee will increase by $54 to $1,128.
Nonresident undergraduates will see a total increase of $1,688. They will pay the same higher base tuition and student fees as well as 5% more in supplemental tuition, which will rise $1,332, from $26,682 to $28,014 next year.
Financial aid will cover the increases for two-thirds of the university system's roughly 175,500 California resident undergraduates.
"This is moving forward," Regent Russell Gould said. "We have an obligation to protect the institution and serve our students."
The dissenters were Regent John A. Pérez, Student Regent Marcela Ramirez and two ex officio regents, Lt. Gov. Gavin Newsom and State Supt. of Public Instruction Tom Torlakson. Pérez and Ramirez said the increase would harm students unacceptably, while Newsom argued that by voting for the hike, the regents were taking away any incentive for the state to restore more of the funding it has cut from UC over the decades.
"By doing the Legislature's and governor's work finding revenue, we've let them off the hook," said Newsom, who hopes to be the state's next governor. "That's a strategic blunder."
But UC Chief Financial Officer Nathan Brostrom told regents there was no choice: "Our resources are strained to the limits."
Some students protested the hike, arguing that tuition has more than doubled since 2006, to the highest level in California history. Even with financial aid, some said they still faced hardships paying for housing and food in the high-cost areas where many UC campuses are located, such as Berkeley, Westwood and San Diego.
And Gov. Jerry Brown's proposed phaseout of the Middle Class Scholarship program will further hurt students, UC Davis student body President Alex T. Lee told the regents Thursday.
"Students are infuriated by a rise in tuition, even by a single cent. Every single raise in tuition is deepening the dependency on taxing students to support the UC, which should be the last resort of funding," Lee said. "We are facing a crisis of affordability, and raising tuition will exacerbate the existing housing and food insecurity problems you know we are experiencing."
But student opposition was more muted than in November, when protesters briefly shut down the regents' discussion on the tuition issue and were told to leave the meeting or face arrest. Paul Monge, student regent-designate, said many students did not support the increase but didn't feel that regents were listening to them, so they decided to focus protest efforts at their campuses instead of spending money and time to travel to the San Francisco meeting.
UC Berkeley's student newspaper, the Daily Californian, last week editorialized in favor of an increase, saying it was both reasonable and necessary because the state had failed to provide adequate funding. At the same time, the editorial said, the state has continued to pressure UC to increase its enrollment, leading to "overcrowded classrooms, housing insecurity and overstrained campus infrastructure" at UC Berkeley.
"The small tuition hike can alleviate these problems and give the university more money to improve services," the editorial board wrote.
Napolitano's office, in a memo to regents, presented data showing that state support for instructional costs per student has dropped by more than half, from $16,980 in 2000-01 to an estimated $7,160 this year. Over the same time, the share UC has to cover — from tuition and fees and general funds — rose from $5,860 to $9,450.
Despite the reduced funding, UC has enrolled about 7,400 more California undergraduates since 2015-16 — the largest increase in 70 years — amid political pressure to counter the rise in out-of-state students. Officials plan to add another 2,500 California undergraduates and 900 graduate students this fall.
UC officials say the state has not fully funded the costs of the additional Californians. One consequence, they said, has been a rise in the student-to-faculty ratio, from the historical level of about 18 to 1 to the current level of 21 to 1.
The hikes would bring in $88 million, according to UC officials — one-third of which would go directly to financial aid. The rest would be used to support enrollment growth as well as address other pressing needs, including adding faculty, counselors and tutors and expanding mental health services.
Leaders of several campuses have individually said they would use additional tuition revenue to hire 25 to 50 faculty members each.
Twitter: @teresawatanabe
MORE EDUCATION NEWS
Parents need more help choosing schools in Los Angeles, report says
Federal agents raid Los Angeles charter school network
Touting a federal grant for local students, L.A. mayor again vows to protect immigrant families
---
UPDATES:
1:16 p.m.: This story was updated with additional comments from regents and information about the dissenting voters.
4:10 p.m.: This story was updated with additional comments from regents and details about the tuition increase.
This story was originally published at 1:35 p.m.
The stories shaping California
Get up to speed with our Essential California newsletter, sent six days a week.
You may occasionally receive promotional content from the Los Angeles Times.