Will their loved ones be allowed in? L.A.'s Iranian community on edge over Trump travel rules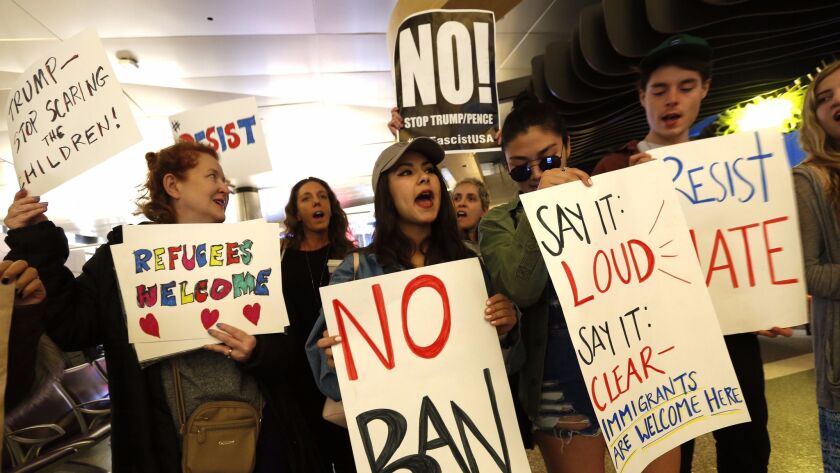 A revived version of President Trump's travel ban expected to take effect late in the day is sparking new fears in Los Angeles' large Iranian community.
Ameena Mirza Qazi, executive director of the Los Angeles chapter of the National Lawyers Guild, said immigration rights attorneys are still "very concerned" about the travel ban, even in its restricted form.
"There's still a lot of confusion about how this affects people, how this affects family members," Qazi said. "Community members are extremely concerned. The [visa] process is already so thorough and it's been that way for a very long time. To say someone can't come in because they're from a certain country… we know what this is about. This is about excluding Muslims as much as possible."
After the Supreme Court partially restored the executive order that had been blocked by courts, the Trump administration set new criteria for visa applicants from six majority-Muslim nations, requiring a "close" business or family tie to the U.S.
The Trump administration has said that it needs the travel pause while it reviews and revises its vetting procedures for people arriving from Iran, Somalia, Sudan, Syria, Libya and Yemen. Trump has argued that the countries have ties to terrorism and that the ban will better protect the U.S. against terror attacks.
Guidelines sent to embassies and consulates around the globe do not count grandparents, grandchildren, aunts, uncles, nieces, nephews, cousins, brothers-in-law and sisters-in-law, fiances or other extended family members as "close" relations. The rules apply for 90 days to people from the six countries and 120 days for refugees from any country. Visas that have already been approved will not be revoked.
Qazi said attorneys from the National Lawyers Guild and other organizations, including the Council on American-Islamic Relations and the American Civil Liberties Union, will monitor how customs officials treat travelers to determine "whether they are overzealous in their implementation and whether there are any unforeseen impacts locally."
Civil rights lawyers are heading back to LAX as the new version of Trump's travel ban takes effect »
Because attorneys are not allowed behind the scenes during customs inspections, she said, they rely heavily on family members waiting at the airport to tell them whether someone has been detained for an extended period.
Qazi said the ban may affect one of her interns, whose family is from Iran.
"Her grandmother wanted to go back to Iran to visit family. After the Muslim ban, they were very afraid things could change on a dime, so they wanted to wait and see," Qazi said.
Xena Amirani, the intern, said her grandmother died recently, and her mother was having a hard time dealing with the stress of losing a loved one. Amirani's aunt was supposed to visit from Iran to help the family manage.
"I was pretty worried because I didn't realize there were exceptions for family members," Amirani, 18, said.
Her aunt doesn't have a green card, she said, so she thought the ban would ruin their plans.
"I was really worried and concerned and I called my parents," she said.
After reading up on the ban, she realized it put in place exceptions for certain "bona fide relationships," including siblings.
"As long as it's within this restriction I'm not too worried about it," Amirani said. "But if the Supreme Court rules in the fall that the original version of the ban is constitutional, then I'm going to be concerned."
Iranian Foreign Minister Mohammad Javad Zarif went on Twitter on Tuesday to criticize the executive order: "A bigoted ban on Muslims will not keep US safer. Instead of policies empowering extremists, US should join the real fight against them."
Jamal Abdi, policy director for the National Iranian American Council, said even a limited version of the travel ban stands to separate families that have come to rely on visits from their loved ones in Iran because they are unable to travel to the Islamic Republic.
"The Iranian community, many of us are first- or second-generation," Abdi said. "A lot of our families are still in Iran.... Many of us can't go to Iran. Now, we see both governments punishing the people who are stuck in the middle and that means families are now being torn apart."
Abdi recalled the case of an Iranian man who was barred from coming to the U.S. to visit his newborn grandson for the first time during the initial travel ban in January. The man was stopped at the airport and wasn't allowed to board the plane. This second ban, Abdi said, will lead to more such cases.
"The Muslim ban is largely on hold," Abdi said, "but we are seeing that element of it made permanent."
ALSO
Immigrant advocates brace for new travel ban, criticize rules on 'close' family admissions
Q&A: Trump scores a partial win for his travel ban. What comes next?
Editorial: Trump's travel ban is back, but it's still as bad a policy as ever
---
UPDATES:
4:30 p.m.: This article was updated with additional comments from the National Iranian American Council and details about the ban.
This article was originally published at 1:00 p.m.
---
The stories shaping California
Get up to speed with our Essential California newsletter, sent six days a week.
You may occasionally receive promotional content from the Los Angeles Times.