Large flocks of crows pose danger for plane traffic at John Wayne Airport, some pilots say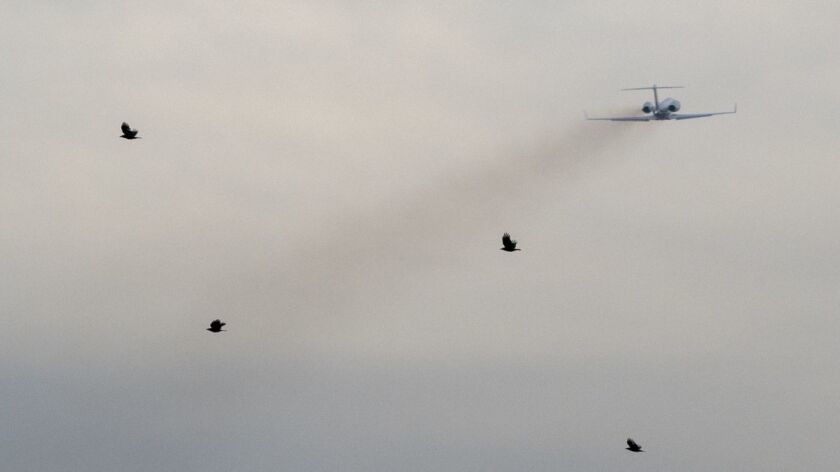 It's sunset at John Wayne Airport, and pilot Robert Lange has his eyes trained on the sky for the birds about to take flight.
The birds he's watching for aren't metal, as one might expect at Orange County's commercial airport. The birds he's focused on have feathers.
On a recent evening, Lange motioned toward a mass of American crows bellowing their raucous caws as they perched on tree branches just outside the airport's boundaries.
"They're getting ready," he said.
Every evening around dusk, hundreds of crows make their way from a cluster of trees on Airway Avenue in Costa Mesa, where they roost across from the JWA runways. Then they fly across the runways and into the paths of landing and departing planes.
A robotic radio message is sent to all pilots tuned to the airport's channel: "Use caution. Bird activity in the vicinity of the airport."
The scene has been repeated for years, much to the chagrin of Lange, who believes the birds pose a safety risk for planes, especially single-engine aircraft like his Cessna 182. He says the airport isn't doing enough to get rid of the crows.
"There's not any question it'll be a matter of time before someone gets hurt," Lange said. "It's one of the two or three most dangerous things [at JWA] from a safety standpoint, and it's probably the most easily fixed."
Eventually, the band of crows — called a murder — lands at the San Joaquin marshlands in Irvine, where the birds will spend the night. The next morning, they will make the trip back across the airport to the trees, according to JWA officials.
Lange, who likens the routine to a choreographed dance, is concerned about a plane flying into the murder and one or more crows getting stuck in an engine.
Commercial aircraft, which usually have multiple engines, aren't in as much danger of crashing if a bird is sucked into an engine, he said. But, Lange said, even as an experienced pilot, if a crow were to clog his Cessna's engine, he would expect to crash almost immediately.
Thomas Anthony, director of USC's aviation safety and security program, said it can be difficult for landing or departing aircraft to maneuver quickly enough to avoid large numbers of birds.
Airports are required to be aware of birds onsite and mitigate the issue as much as possible, but Anthony said they "can't do anything to remove all birds from the airport environment."
The Federal Aviation Administration, which manages the nation's airspace, requires commercial airports like JWA to complete wildlife hazard assessments and, if needed, develop plans to deal with them, said FAA spokesman Ian Gregor.
JWA's assessment indicates that crows make up 79% of all wildlife found at the airport.
It also states the "main concern with crows is that the preferred daily migration routes are in the direct flight path of landing aircraft and through the center of the airport."
"This has been going on for many years," said Jeff Rountree, JWA's director of airside operations. "They have not posed a serious hazard, but our wildlife biologist does pay attention to them and tries to make JWA an uncomfortable place for them."
In October, the airport's wildlife service began harassing the crows with a laser, causing more than 1,500 of them to leave the area over 11 days, according to a wildlife service report. Workers also scared away two crows seen in the grassy area on the north end of the airport by firing an air gun, according to the report.
"Wildlife services plans to continue harassment … while also exploring new techniques to alter crow behavior and decrease risk to aircraft," the report states.
Lange said officials over the years have tried other techniques to get rid of the birds, including trapping them and using noisemakers to deter them from entering certain areas, but nothing has kept them away long term.
Crows, which scientists have determined are an intelligent species, return when they realize they aren't in harm's way, Lange said.
Bird strikes aren't a new issue for aircraft. The number of strikes reported annually to the FAA has increased from 1,847 in 1990 to 13,795 in 2015, according to the most recent data available.
One of the most famous cases was in 2009, when a US Airways flight departing New York City struck a flock of Canada geese, lost all engine power and landed in the Hudson River.
However, John Wayne Airport officials contend bird strikes at JWA are relatively rare. Sixty-seven were reported between 2015 and August 2016, according to the FAA's wildlife strike database. The data did not show any reported strikes in 2017 or so far in 2018.
Some airports have moved toward more aggressive yet controversial measures to keep birds away. Houston's Bush Intercontinental Airport received significant criticism from animal rights groups after it poisoned hundreds of pigeons in 2014 with a toxic bait called Avitrol. It isn't clear whether JWA has considered that option.
"If someone gets hurt, people will come out here and say 'How could we have let this go on for so long and have done so little?' "Lange said.
---
For reporting and exclusive analysis from bureau chief John Myers, get our California Politics newsletter.
You may occasionally receive promotional content from the Los Angeles Times.