Jury clears LAPD officer in 2016 fatal shooting of armed 18-year-old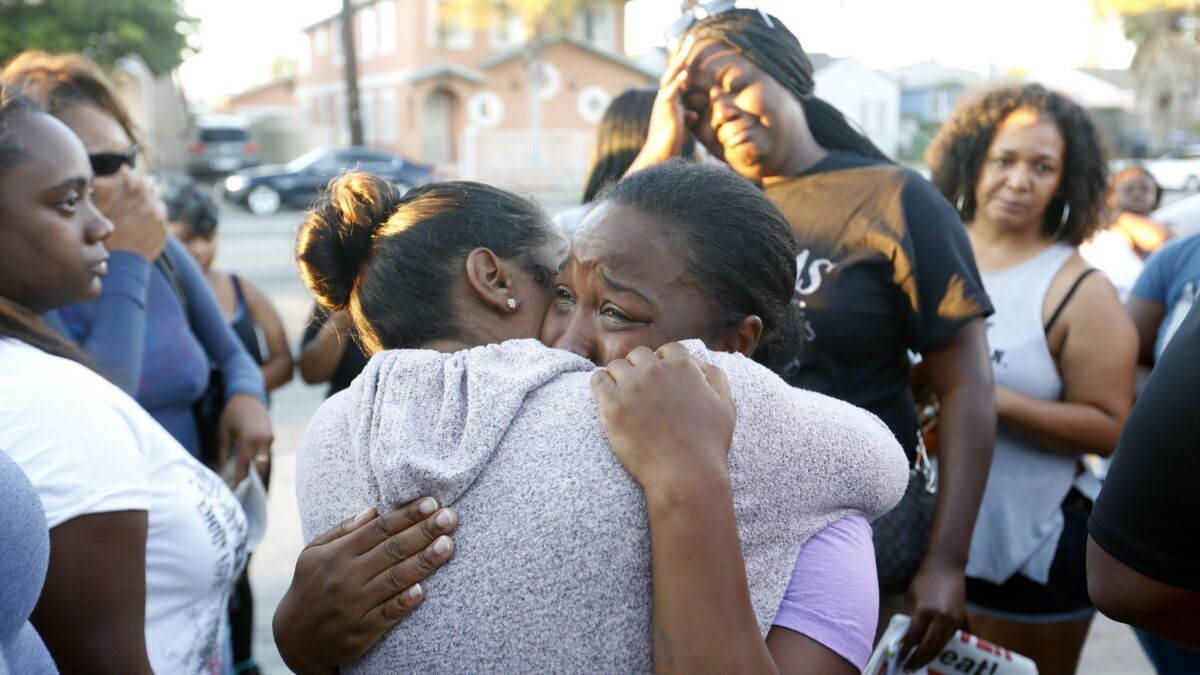 A Los Angeles police officer did not use excessive force when he fatally shot an armed 18-year-old man in the back, a jury decided Monday.
Attorneys for the family of Kenney Watkins had filed a civil lawsuit, arguing that the officer, Evan Urias, should have stopped and waited for backup when Watkins ran from him on Aug. 16, 2016, on Century Boulevard near Figueroa Street in South Los Angeles.
Watkins was not a threat to the officer's life, one of the attorneys, Michael Curls, said in an interview.
Curls acknowledged that Watkins was armed with two guns. But the young man was turning to look at the officer while sprinting away and was not about to shoot, the attorney said.
"That's the standard golden ticket cop answer — that he feared for his safety — and that's the impossible mountain to climb," Curls said. "That's why we have all these people dying, and nothing happens."
After a five-day trial, the jury began deliberating Thursday, siding 10-2 with Urias and the LAPD and giving no financial award to the plaintiffs in a verdict announced Monday. The lawsuit, filed in Los Angeles Superior Court by Watkins' estate and his mother, Prescious Sasser, sought damages for wrongful death, negligence and other alleged violations.
The Los Angeles Police Commission, a civilian panel that oversees the department, had also ruled in Urias' favor last July, finding that his use of deadly force was reasonable and complied with the LAPD's policies.
Urias, a motorcycle officer, was assigned to a robbery suppression detail and tried to pull over a car with tinted windows and no front license plate, the commission's report said. The car did not stop, dropping off a passenger before speeding away.
The passenger was Watkins, who appeared to be holding something under his sweatshirt that could be a gun, the report said. Urias ordered him to stop and show his hands, but Watkins ran, according to the report.
Urias radioed that he was pursuing a man with a gun, then followed Watkins on his motorcycle.
Urias noticed that Watkins was holding a small semi-automatic handgun in his left hand and another handgun in his right hand, the report said.
According to the report, Watkins turned toward Urias, pointing one of the guns at the police officer.
Urias believed that Watkins was going to shoot him, the report said. While seated on the motorcycle, Urias fired twice at Watkins, striking him once on the left side of his back.
An unnamed witness cited in the report also saw Watkins holding a gun in each hand.
The witness, who was driving in the same direction as Urias, then saw the officer pull up between him and Watkins. Watkins looked over his left shoulder, and the officer raised his right arm, the witness said. Two shots rang out.
Shortly after her son died, Watkins' mother told The Times that he was involved in his church, ran track in the Junior Olympics and was going to graduate from high school soon.
Since he was a baby, he had been known for his winning smile, she said.
For more news on the Los Angeles Police Department, follow me on Twitter: @cindychangLA
---
The stories shaping California
Get up to speed with our Essential California newsletter, sent six days a week.
You may occasionally receive promotional content from the Los Angeles Times.