After protests and talk of a recall, Wesson and Korean American community agree on shelter site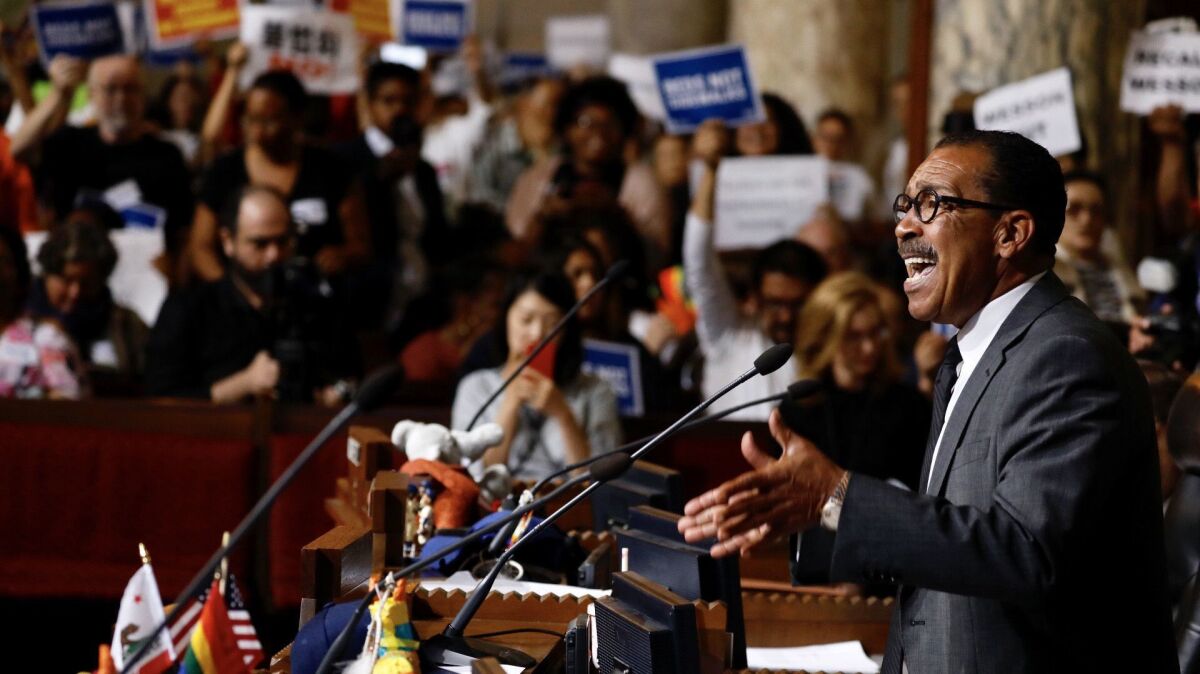 After more than a month of behind-the-scenes talks, L.A. Council President Herb Wesson and Korean community representatives have agreed on a site on the outskirts of Koreatown to temporarily shelter homeless residents, city officials said Friday.
The uproar over placing a shelter in Koreatown — which was announced in early May as the first piece of a citywide initiative — has been watched closely as each council district moves forward on selecting a site for "bridge housing."
The initial proposal for Koreatown, on a busy corridor near Wilshire Boulevard and Vermont Avenue, was met with protests from many area residents and business owners, who pilloried the plan as having been lobbed on the community without sufficient outreach. Korean Americans marched on Wilshire and crowded City Hall chambers, demanding Wesson hold public hearings before settling on a site. Some even demanded the councilman be recalled.
On Thursday, Wesson and members of the Korean American community reached an agreement to pursue locating the temporary shelter half a mile east of the original site, on the tennis courts at Lafayette Park. Wesson spokeswoman Vanessa Rodriguez said the council president made a commitment not to put temporary homeless housing on the Vermont Avenue site, currently a city-owned parking lot, "as a direct result of feedback from community."
The city instead will explore building affordable housing for seniors at the Vermont location, with the ground floor to be used as a community space. Wesson also will support plans for permanent supportive housing on a privately owned lot on Kenmore Avenue, another site he had proposed as a possible location for the bridge housing project, according to his office.
For weeks, Wesson has been holding in-person meetings about the shelter almost daily with different community groups, his spokeswoman said.
"The goal of the meetings was to put together a proposal that best served the homeless community, and also to listen to community members who had concerns with the existing proposal," Rodriguez said.
Chan Yong "Jake" Jeong, a Koreatown attorney who has played a central role in organizing the protests and floating ideas of a potential recall campaign, said he believed the new site was a much better proposal. He said he had sat down with the council president three times, including on Thursday — when they spoke for more than three hours at Wesson's district office.
"He's trying to make it more agreeable from the view of the people," Jeong said. "I cannot say it's perfect or 100%, but he made a meaningful move compared to things in the past."
Chris Ko, director of homeless initiatives for United Way of Greater Los Angeles, which has been facilitating talks between Wesson and community members, said the extensive conversations ultimately resulted in a stronger plan to tackle homelessness in the council district.
"This is a far better solution than what was initially proposed," he said. "We started talking about one interim solution, and now we have three potential permanent supportive housing sites as well."
The census tract that includes the new proposed bridge housing location has the highest concentration of homeless individuals in Council District 10, Ko said. In the week leading up to the decision, four community groups wrote to Wesson, urging him to consider locating the project in the Lafayette Park area.
"Our local fire station has had to field over 500 calls in response to public health emergencies that our homeless neighbors are having," Tony Brown, chief executive of the nonprofit youth service group Heart of Los Angeles, wrote in a letter. "Our students have noticed." The group has offices a block from the park.
Rodriguez said the new site will be formally proposed at City Hall within a week or two. The Koreatown shelter is one of 15 planned across Los Angeles as part of Mayor Eric Garcetti's $20-million bridge housing project. Proposals in at least two other districts also met consternation from residents.
Ko said for all the outcry and tumult in Koreatown, the outcome was an indication that broad community engagement is vital.
"It is something the Korean community is more excited to support and adopt," he said.
For more California news, follow me on Twitter @vicjkim
The stories shaping California
Get up to speed with our Essential California newsletter, sent six days a week.
You may occasionally receive promotional content from the Los Angeles Times.