Bucking precedent, Garcetti won't name three finalists for LAPD chief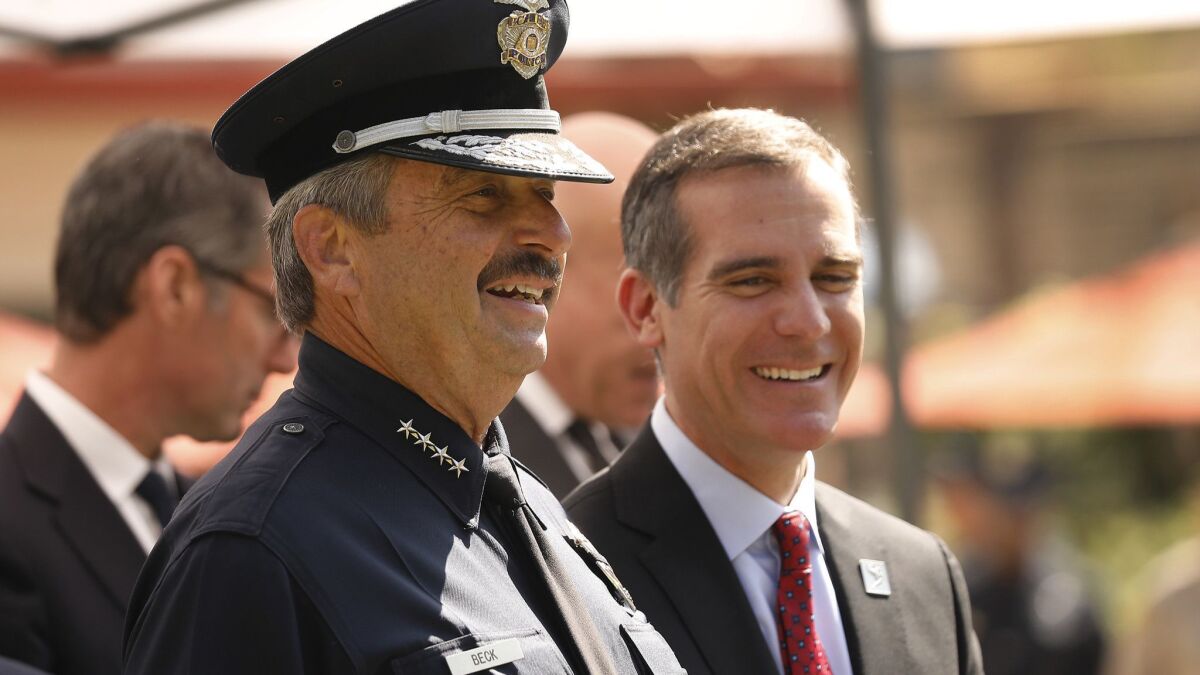 The names of three finalists for Los Angeles police chief have been forwarded to Mayor Eric Garcetti, who is bucking recent precedent by declining to name them.
The Police Commission, which oversees the Los Angeles Police Department, announced Monday that it had sent the names to Garcetti. The five-member civilian commission moved quickly after interviewing five candidates — all department veterans — last week. There were 31 applicants for the job.
Deciding who will lead the country's second-largest police department is now up to the mayor.
But Garcetti will not release the names of the final three, a spokesman said Monday, marking a reversal from the mayor's statement on Friday that he would be "as transparent with those names as I can be."
In January, Chief Charlie Beck announced his retirement with more than a year left in his second term. The commissioners had said that the mayor would have the three finalists by June 1, and they came through early, allowing plenty of time for a new chief to be named before Beck's June 27 departure.
The candidates interviewed Wednesday were LAPD Assistant Chief Michel Moore, Deputy Chief Robert Arcos, Deputy Chief Phil Tingirides, former Assistant Chief Sandy Jo MacArthur and San Francisco Police Chief Bill Scott, according to sources.
All have decades of experience with the LAPD, coming of age during the 1992 riots, helping to implement reforms dictated by a federal consent decree and being promoted to high positions by Beck. MacArthur retired in 2015 as the highest-ranking woman in the LAPD, and Scott left to lead the troubled San Francisco department in January 2017. Arcos is a third-generation Mexican American, and Scott is African American.
Police Commission President Steve Soboroff declined to confirm the names of any of the candidates who were interviewed. But he called them a law enforcement "dream team."
"The five folks that we interviewed were highly qualified, and to get as far as they got in the process, all five should be proud and congratulated," he said. "Any one of them could be the chief, not only of L.A., but of any city in America."
In 2009, then-Mayor Antonio Villaraigosa held a news conference to name the three finalists for police chief: Beck, Moore and another LAPD insider, Jim McDonnell. Before William Bratton was chosen chief in 2002, police commissioners and then-Mayor James K. Hahn spoke publicly about the three finalists, who were all from outside the department.
The decision to keep the names secret was made "to protect the confidentiality of the candidates," Alex Comisar, a Garcetti spokesman, said in an email.
Moore, Arcos, Tingirides and MacArthur have confirmed to The Times that they applied for the job. Scott has not responded to repeated requests for comment.
Last week, after The Times reported that he was one of the five candidates interviewed by the commission, Scott told ABC7 News in San Francisco that he would "not confirm an unsubstantiated source."
"What I'd like to say is what I've been saying. I have to be focused on this job," he said in the interview. "We have a lot of work to do."
At a news conference Friday, Garcetti had said he hoped to eventually release the names.
"I hope it will be all three," he said at the time. "We have to respect what people ask when they come into the process sometimes, hypothetically."
By Monday, he had opted to keep the names from public view.
"We do not expect to make any announcements in this process until after Mayor Garcetti makes a selection," Comisar said.
In selecting a slate with deep roots in the department, the commission signaled a desire to build on the foundation Beck laid, with his emphasis on community policing and working with former gang members to tamp down violence. The challenges the new chief will face are varied and complex: continued public scrutiny on police shootings and demands for transparency, an escalating homelessness problem, immigrants who fear deportation under President Trump, deeply rooted mistrust of law enforcement among some black and Latino residents, and crime rates that have ticked up in recent years.
The new chief would be the second homegrown chief in a row, after Beck. Bratton, Beck's predecessor, was brought in from the East Coast to change the culture of a department where corruption festered and some officers expressed contemptuous attitudes toward the residents they policed. The five candidates interviewed by the Police Commission are among the LAPD leaders who embraced that cultural shift.
After Beck announced his retirement, the commission held public meetings around the city at which many residents said they wanted a police chief who understands the uniquely polyglot nature of their sprawling city. Those comments have been echoed by some City Council members, who will vote on Garcetti's choice.
If selected, MacArthur would be the LAPD's first female chief, and Arcos would be the first Latino chief of a city that is nearly 50% Latino.
Garcetti, who is contemplating a run for U.S. president, said Friday that he is not looking for a chief "from a particular demographic."
"I'm not looking to make history," Garcetti said. "I'm looking for the best leader."
Garcetti said he wants a police chief who is respected by the rank and file but is not afraid to discipline officers when necessary, who embraces reforms, who works to improve relationships with residents and who finds innovative ways to get things done with a limited budget.
The commission has ranked the finalists, but the mayor is not obliged to abide by the order. Moore was ranked first in 2009, and Beck ended up getting the job.
Moore leads the LAPD's patrol operations and is known as a detail-oriented manager with a mastery of crime statistics. In 2000, he was assigned to clean up the Rampart Division after a corruption scandal there resulted in the overturning of more than 100 criminal convictions.
His father was Basque, and he is listed as Hispanic on department rosters, but his heritage has not played a significant role in defining him in the department.
Arcos heads the LAPD's Central Bureau, which includes downtown and heavily immigrant neighborhoods in the eastern part of the city. That has put him at ground zero for two of the department's most pressing issues: homelessness and immigration.
Tingirides is the deputy chief in charge of the LAPD's South Bureau, which polices much of South Los Angeles. As a captain in Southeast Division, he oversaw a community policing program that brought youth football and Girl Scouts to Watts housing developments and is credited with reducing homicides there.
MacArthur joined the LAPD in 1980, when there were few female police officers. She rose through the ranks, becoming the first woman to head the department's training academy. In 2009, she was promoted to assistant chief in charge of administrative services by Beck in a command shake-up shortly after he became chief; Moore was also among those promoted.
Scott was the LAPD's highest-ranking African American officer when he left to lead the San Francisco Police Department, which was reeling from controversial police shootings and a scandal involving racist texts sent by police officers. He is working to implement reforms recommended by the U.S. Department of Justice in San Francisco and has pushed to arm all his officers with Tasers.
Garcetti said he will interview the three finalists one-on-one and then probably do a second round of interviews with some City Council members present. He expects to pick the new chief by the end of the month and possibly earlier. Personal chemistry will be an important factor in his decision, he said.
"It may be somebody I think is very capable, but if it doesn't feel right, I'm going to go with my gut on this one," he said.
Times staff writer Emily Alpert Reyes contributed to this report.
For more news on the Los Angeles Police Department, follow me on Twitter: @cindychangLA
david.zahniser@latimes.com
Twitter: @DavidZahniser
---
UPDATES:
6:50 p.m.: This article was updated with comments from Mayor Garcetti's spokesman.
This article was originally published at 2:05 p.m.
The stories shaping California
Get up to speed with our Essential California newsletter, sent six days a week.
You may occasionally receive promotional content from the Los Angeles Times.