L.A. County politician sexually assaulted woman when she was 16, lawsuit claims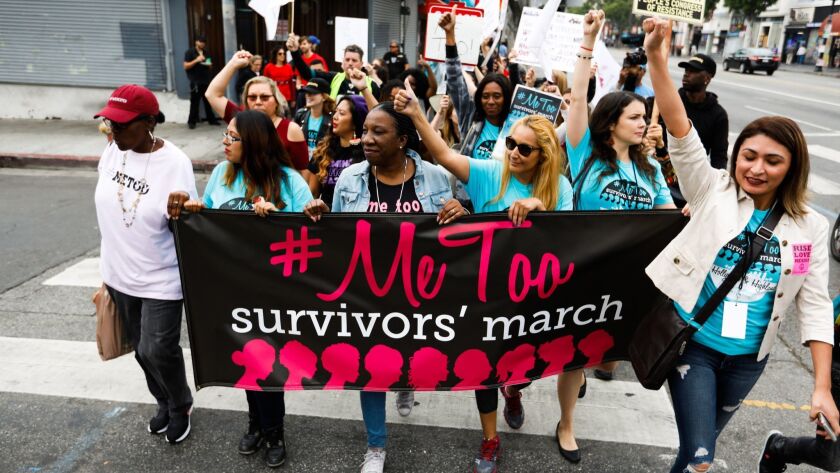 A woman sued an unnamed politician in Los Angeles County on Friday, alleging the man sexually assaulted her when she was a teenager after he gave her an unusual-tasting drink.
The politician, identified as John Doe, was in his early 40s and a "public figure" at the time of the 2007 assault, according to the lawsuit filed in Los Angeles Superior Court.
The man is an elected official today and lives in Los Angeles, said attorney Lisa Bloom, who is representing the woman identified in the lawsuit as Jane Doe. Bloom declined to say what branch of government the man represents.
"I can't confirm whether it's state, federal, city or county," Bloom said. "Obviously, there are a lot of different kinds of elected officials."
The lawsuit states that the man "conducts business as an elected politician in Los Angeles County." The suit alleges sexual battery, assault and intentional infliction of emotional distress. It states that the man's acts constitute childhood sexual abuse.
Jane Doe met the politician in 2005 at a golf tournament, when she was a "star teenage athlete" and he was an "elected politician," according to the suit. The politician "grew close to and became an integral part of Ms. Doe's and her family's lives," the lawsuit states.
John Doe invited her to play at Hillcrest Country Club in January 2007, when she was 16, according to the lawsuit. Several hours into their game, the suit said, the man handed her a cup of ice water; it had an unusual taste, so she took just a few sips. The pair played golf for four or five hours, when the teenager "suddenly collapsed to the ground but did not lose consciousness."
The man drove her to the emergency room. During the ride, he reached inside her shirt and rubbed her breasts, the suit alleges. He also reached down her shorts and fondled her vagina, according to the suit. Jane Doe was "frozen from shock," according to the lawsuit.
The abuse continued for 30 to 45 minutes as he drove, according to the lawsuit. "Ms. Doe remained motionless and speechless throughout the entire incident in fear of what he might do if she did not feign sleep."
The lawsuit states the man left after dropping her off at the hospital.
For the next year and half, she distracted herself through school and sports and tried to act normally around her family and Mr. Doe so she wouldn't arouse suspicion, according to the lawsuit.
The suit also recounted an alleged incident where Jane Doe said she found herself alone with the man at her father's workplace.
"Mr. Doe told a joke, but she failed to laugh at it. In response, Mr. Doe told her, 'Remember where your dad works.' She perceived that as a threat against her family's security," the lawsuit states.
Jane Doe went on to a California university, according to the suit, and "internalized feelings of shame and self-blame" as a result of John Doe's abuse. Her grades and performance in golf tournaments suffered as a result, the suit said.
The suit states that Jane Doe came forward with the allegations and lawsuit because of the #MeToo movement. Now married, she wants "to be a strong role model" for her daughter, according to the suit.
Bloom said that she expects to file court papers in the coming weeks or months that would identify the politician, but needs the court's permission to do so. She declined to comment when asked if Jane Doe had filed a police report or intended to do so.
There are specific court procedures to filing charges in cases of alleged child sexual abuse, she said, citing California Code of Civil Procedure 340.1 (m).
The section states that in cases alleging childhood sexual abuse, the name of defendant cannot be disclosed in any court filings unless there has been a court determination that there is sufficient evidence to let the case proceed.
Doug Mirell, a civil litigator who practices privacy-related law in Los Angeles and isn't involved in the case, said that the statute is a "way of protecting the defendant" until the court weighs in on the evidence.
Times staff writer David Zahniser contributed to this report.
Twitter: @dakotacdsmith
---
UPDATES:
7:50 p.m.: This article has been updated with comment from Bloom and Mirell
This article originally published at 5:35 p.m.
---
The perils of parenting through a pandemic
What's going on with school? What do kids need? Get 8 to 3, a newsletter dedicated to the questions that keep California families up at night.
You may occasionally receive promotional content from the Los Angeles Times.