Little Tokyo embraces housing for homeless vets in downtown's pricey rental market
Yoshio Nakamura knows what it's like to lose a home. After Japan attacked Pearl Harbor in 1941, the U.S. government forced his family and 120,000 others of Japanese descent from their West Coast residences into desolate camps.
The Rosemead native joined the U.S. Army and survived Nazi artillery in Italy, rising to staff sergeant with the highly decorated 442nd Regimental Combat Team. When he returned to California after the war, his house was gone. He has no idea what happened to it.
Now Nakamura, 93, is backing plans to provide long-term housing in Little Tokyo for veterans at risk of homelessness. "As vets get older, they need more care," he said.
His Go For Broke National Education Center, which preserves and promotes the legacy of WWII veterans of Japanese ancestry, has joined with the Little Tokyo Service Center to develop a five-story building on leased city land that would house the center and as many as 70 affordable housing units.
Go for Broke has leased the 37,000-square-foot property at Temple and Alameda Streets for a dozen years, but the lease — originally for the education center — came with a timeline the center failed to meet when it had trouble raising money.
On Friday, L.A. City Councilman Jose Huizar plans to introduce a motion that would direct the city to negotiate an extension for the now expanded project.
In a statement, Huizar said he wanted to build on Go For Broke's "incredible work and add affordable and veteran housing" to one of the city's "premier historic neighborhoods."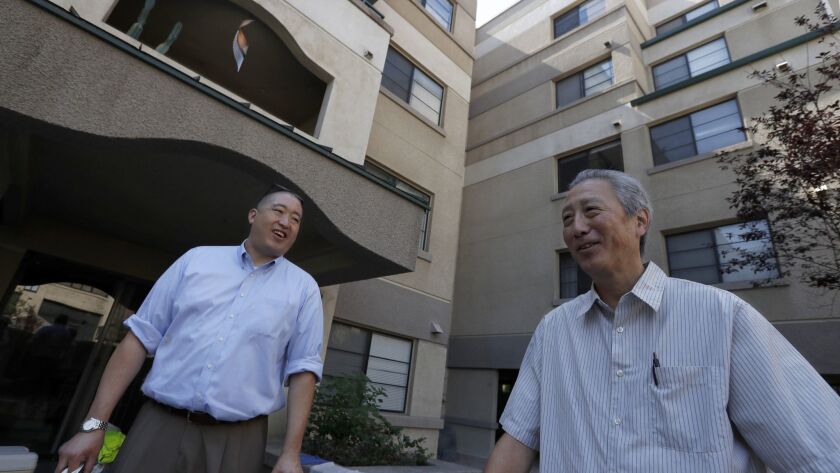 In 1999, downtown Los Angeles had three times as many units of affordable housing as units renting at market rate, according to data compiled by the Downtown Center Business Improvement District, a private entity financed by assessments to property owners. No longer. By the time all projects now under construction are complete, the district says, there will be nearly 30,300 apartments renting at market rate versus about 12,300 for lower-income tenants. More than 90% of 24,700 proposed new units are market rate — with rent averaging $2,515 per month, the district said.
Mitchell T. Maki, president of Go For Broke, said the organization decided to add affordable housing to its original plan in part because it offered a reliable source of revenue. The nonprofit approached the Little Tokyo Service Center, which formed nearly 40 years ago to provide culturally sensitive social services but branched into affordable housing in 1991 as private developers began evicting low-income residents.
Little Tokyo leaders don't expect the proposed project to spark the kind of controversy that recently roiled Irvine and Koreatown over city plans for homeless shelters. Erich Nakano, deputy director of the Little Tokyo Service Center, said people generally more readily embrace permanent supportive housing.
He said timing is right for the project now because of increased funding for affordable housing, including the $1.2 billion bond authorized by the city's Proposition HHH in 2016. Two state bond measures on the November ballot could provide $6 billion for housing for veterans, as well as low-income and homeless people.
Over the past 27 years, his nonprofit has helped develop more than 950 low-income units in Koreatown, Chinatown, Thai Town, Historic Filipinotown and South Los Angeles as well as Little Tokyo.
A decade ago, the Little Tokyo community was hesitant to embrace affordable housing and believed more affluent renters would bring the neighborhood new business, said Kristin Fukushima of the Little Tokyo Community Council, a coalition of neighborhood stakeholders.
Then gentrification began to drive out some small business owners and change the neighborhood's historic character. Now there's a desire for more balanced development.
"We're not talking about creating Skid Row on 1st and Alameda," Maki of Go for Broke said. "We're envisioning more permanent housing for low-income individuals and families, with a substantial portion for vets."
Other Little Tokyo residents have benefited from just such a helping hand.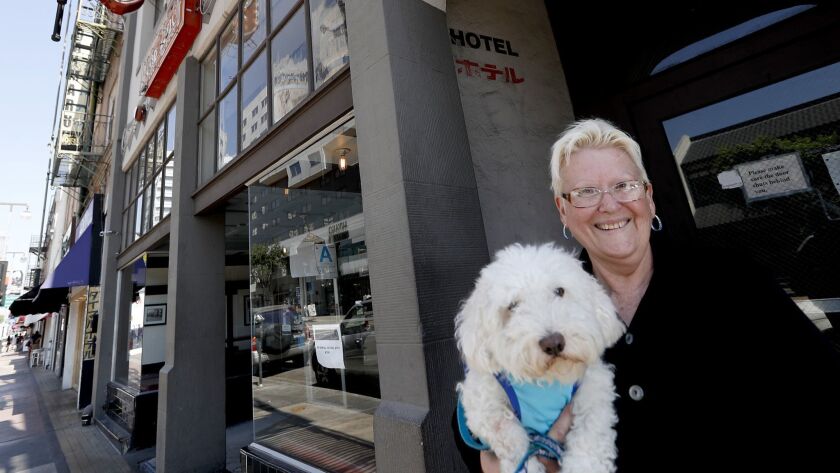 Carol Collier said a series of poor financial decisions and bad luck led her to lose her Downey home and live in her car for a year. But in 2003, she was able to rent one of 16 affordable housing units — half of them designated for homeless people — in the Far East Building on 1st Street, which the Little Tokyo Service Center renovated that year.
The 64-year-old pays $247 a month — about a third of her Social Security check — for a studio. Federal Section 8 housing vouchers cover the rest.
"It was very relieving," she said of finding a place to live. "When you're out there, it's very scary."
teresa.watanabe@latimes.com
Twitter: @teresawatanabe
---
Life is stressful. Our weekly mental wellness newsletter can help.
You may occasionally receive promotional content from the Los Angeles Times.