Los Angeles reaches tentative labor deal with 20,000 city employees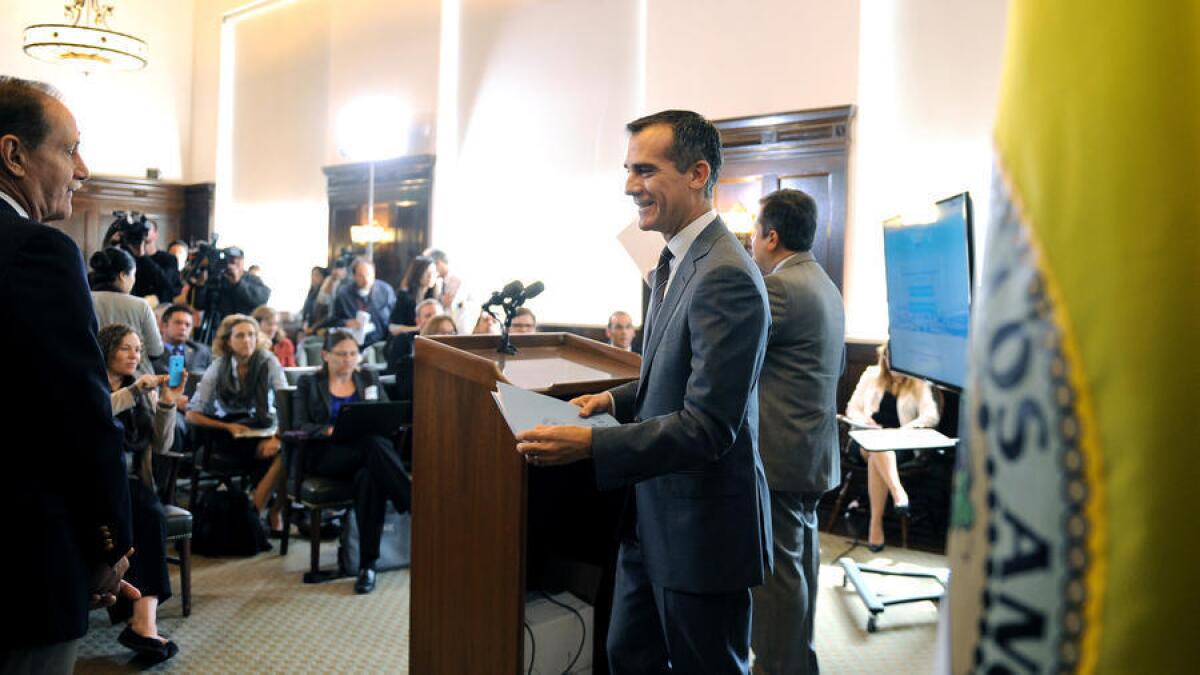 City officials have reached a tentative contract agreement with the unions representing more than half Los Angeles' civilian workforce, bringing within reach the conclusion to more than a year of tense bargaining and sharp rhetoric over public-employee pay.
The deal, which must still be approved by the City Council and union members, holds the line against higher spending in key areas, deferring city workers' raises and taking strides toward cost-saving pension reforms.
Labor leaders also won concessions that Mayor Eric Garcetti had resisted. They preserved healthcare plans for which the city bears the full cost of premiums and kept in place workers' compensation benefits that critics say encourage abuse of the system.
On Wednesday afternoon, leaders of the organizations making up the Coalition of L.A. City Unions voted to recommend ratification of the proposed contract. If approved by the City Council and union members, the agreement would bring a close to talks that have dragged on through much of Garcetti's first two years in office.
The coalition — which represents city workers including garbage-truck drivers and tree trimmers, librarians and file clerks — is the last major labor group to negotiate a new contract with the Garcetti administration following an election in which many local unions threw their support behind the mayor's opponent, former City Controller Wendy Greuel.
"Buying labor peace, I think, means a lot to someone like Garcetti, who had a rough go of it with the unions two years ago when he ran for election," said Jaime Regalado, emeritus professor of political science at Cal State L.A.
Regalado said the mayor, who has already raised more than $2.2 million toward his 2017 reelection effort, would no longer have to worry about an ongoing contract dispute as a potential distraction in that campaign.
In a joint statement Garcetti released with coalition Chairwoman Cheryl Parisi and City Council President Herb Wesson, he called the tentative agreement "a fair and fiscally responsible contract that allows the City to restore and improve the services our residents need and deserve, while strengthening our budget position."
Parisi said in the statement that unions "held strong at the bargaining table and worked with the City to reach an agreement that addresses the concerns of City workers and our communities."
Rafe Garcia, a member of the bargaining team for Service Employees International Union Local 721 — the coalition's largest union — said in an interview that the deal was an "honorable" one for union members.
"We're labor, and it's time for us to get back to work," Garcia said.
Sources familiar with the proposed four-year contract said it would freeze raises for three years, with a 2% raise in the final year. The deferral of pay increases was a particularly important point in the negotiations, since the coalition in 2007 secured a nearly 25% across-the-board raise for its members that exacerbated the city's budget woes during the economic downturn.
In what city officials cast as another cost-saving measure, the agreement keeps in place pension plans for existing employees while reducing the retirement benefits available to new hires, a move city officials have described as a key step toward restoring the city's long-term financial stability.
The coalition had mounted a legal challenge to a pension overhaul approved by the City Council in 2012 that raised the retirement age to 65 and reduced retirement benefits for new employees. Last year the city's Employee Relations Board sided with the coalition, ruling that city officials had violated the law by pursuing the changes without negotiating with unions.
The deal reached Wednesday should resolve that dispute, with city and union leaders agreeing on a plan for newly hired workers that is less aggressive in seeking savings, though still less expensive than the pre-2012 pension plan. City officials did not release details on the new pension plan Wednesday.
The coalition managed to resist some significant city demands on its workers. Under the new contract, the city will continue to pay its employees' healthcare premiums. (Although workers will be asked to contribute 1.5% of their premium costs, that amount will be offset by equivalent 1.5% salary "bonuses" throughout the contract period.) Garcetti wanted workers to pay 10% of their premiums.
And rather than reducing the percentage of their full salaries workers can collect while on leave because of injury — a change Garcetti had sought in response to Times reports on alleged abuses of the system — the mayor's office will institute programs designed to reduce employees' accidents on the job and return them to work more quickly from injury leave.
Contracts covering coalition unions expired in June of last year. The new contract would extend through June 2018.
Twitter: @petejamison
Sign up for Essential California for news, features and recommendations from the L.A. Times and beyond in your inbox six days a week.
You may occasionally receive promotional content from the Los Angeles Times.