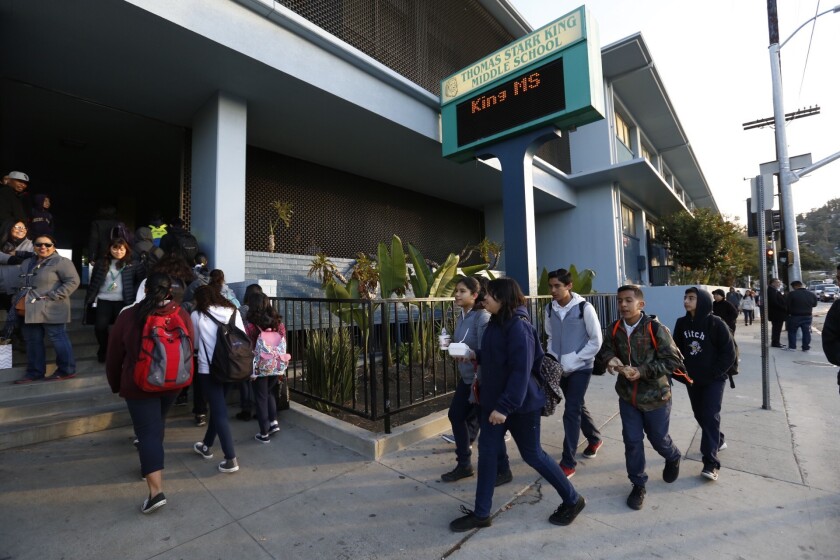 Los Angeles Unified schools were kept open Friday after district officials said an emailed threat to harm students at middle and high schools was not credible.
School Board President Steve Zimmer said the district called law enforcement after members of the Board of Education received the threat Thursday night. He would not disclose specifics about the email, citing an ongoing investigation.
On Friday morning, thousands of parents received a phone call from the district notifying them that officials had found no evidence to substantiate the threat but took precautionary steps that included walking through schools.
The response was not nearly as severe as the unprecedented decision three months ago to shut down all the district's schools after receiving a crudely written email threat that turned out to be a hoax. District officials have defended the school closures.
Zimmer said the email threats shared some similarities but were not the same. He said the district relied on authorities to determine necessary steps.
"We were ready, willing and able to take drastic action again if we needed to but we were absolutely assured, and in this case it turned out to be true, that we did not need to do that," Zimmer said.
District officials did not respond to additional questions about which authorities were involved, how it was determined that the threat was not credible and if a plan has been developed to address future threats.
Zimmer said that one of the lessons learned from the school closures on Dec. 15 was the need for better communication. He said that's why the district on Friday told parents about the threat even after it was deemed not credible.
"The course of action that we followed this time was our best attempt to balance informing LAUSD families of important and necessary information but balancing that with making sure that we did not disrupt instruction," Zimmer said.
For more education news, follow @zahiratorres on Twitter.
ALSO
Man fatally stabbed in mosh pit at punk rock show in Santa Ana, police say
Student accused of stealing and posting teacher's nude photo faces charges
With prosecutors' blessing, a jailhouse informant tied to the Mexican Mafia gets leniency
---