L.A. mayor's minimum wage plan doesn't go far enough, activists say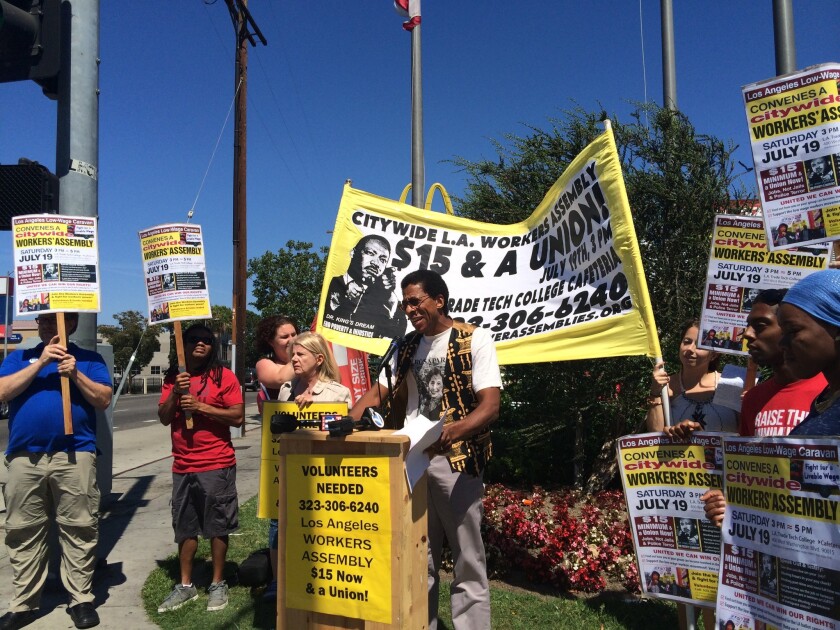 Activists behind a grass-roots campaign to boost L.A.'s minimum wage argue that a new plan touted by Mayor Eric Garcetti does not go far enough to pull low-paid workers out of poverty.
Garcetti wants lawmakers to gradually hike the citywide minimum wage, to $10.25 in 2015, $11.75 in 2016 and $13.25 in 2017, with future increases tied to an inflation index. The mayor argues his plan would aid poor workers and their families without dealing a blow to L.A.'s recovering economy.
------------
FOR THE RECORD:
Minimum wage: An article in the Sept. 6 LATExtra section about complaints that the $13.25 wage proposed by Mayor Eric Garcetti was too low quoted a Los Angeles Workers Assembly statement saying $15 "is actually the minimum necessary for basic human needs in human dollars." It should have said, "It is actually the minimum necessary for basic human needs in current dollars." —
------------
The plan has already won support from key civic and labor leaders, including county labor federation head Maria Elena Durazo and billionaire businessman Eli Broad.
But the gradual plan does not go far or fast enough for a group of activists who are campaigning for a citywide ballot measure hiking the minimum hourly wage to $15.
"The $15 wage demand did not come out of thin air," the Los Angeles Workers Assembly, a grass-roots group backing the $15-an-hour campaign, wrote in a statement responding to Garcetti's plan. "It is actually the minimum necessary for basic human needs in human dollars."
The group added that it was pleased to see the city government react to pressure for higher wages, but "we're hoping this proposal by the mayor is not an attempt to slow down the determination to win a real livable wage of $15."
Some backers of the Garcetti plan have hinted that they will continue pushing for $15 an hour: At the Labor Day event where the mayor announced his proposal, labor leader Durazo said the city would "craft the best possible policy to raise that minimum wage and get to $15 an hour."
At the same time, the new proposal for a citywide minimum wage has raised fresh objections to another proposed increase -- this one specifically for hotel workers.
Long before Garcetti unveiled his citywide proposal, city leaders had been weighing whether to boost the minimum wage for hotel workers. Local lawmakers are expected to vote this fall on the final version of the city ordinance, which would ramp up the wage to $15.37 for workers at large hotels.
The Hotel Assn. of Los Angeles argues that the increase would unfairly single out their industry. In a letter to the mayor, the group drew a contrast between the two proposals, saying that Garcetti's gradual, citywide plan was more sustainable and could win support from many of its members.
"This is the right way to go about increasing wages," the executive director of the group, Bob Amano, wrote. He added, "We implore you to stop all efforts to unfairly target a single industry in our city."
Backers of the plan, however, counter that the citywide push shouldn't dampen support for higher wages for hotel workers.
James Elmendorf, deputy director of the Los Angeles Alliance for a New Economy, argued that the hotel industry has fared much better than other sectors of the Los Angeles economy, partly because of city subsidies.
"We're glad the city is looking at raising wages for as many workers as possible," Elmendorf said. However, "the hotel industry is significantly different."
Follow @latimesemily for what's happening at Los Angeles City Hall
---
The stories shaping California
Get up to speed with our Essential California newsletter, sent six days a week.
You may occasionally receive promotional content from the Los Angeles Times.