Deported airman's mother inspires bill to protect 'patriot parents'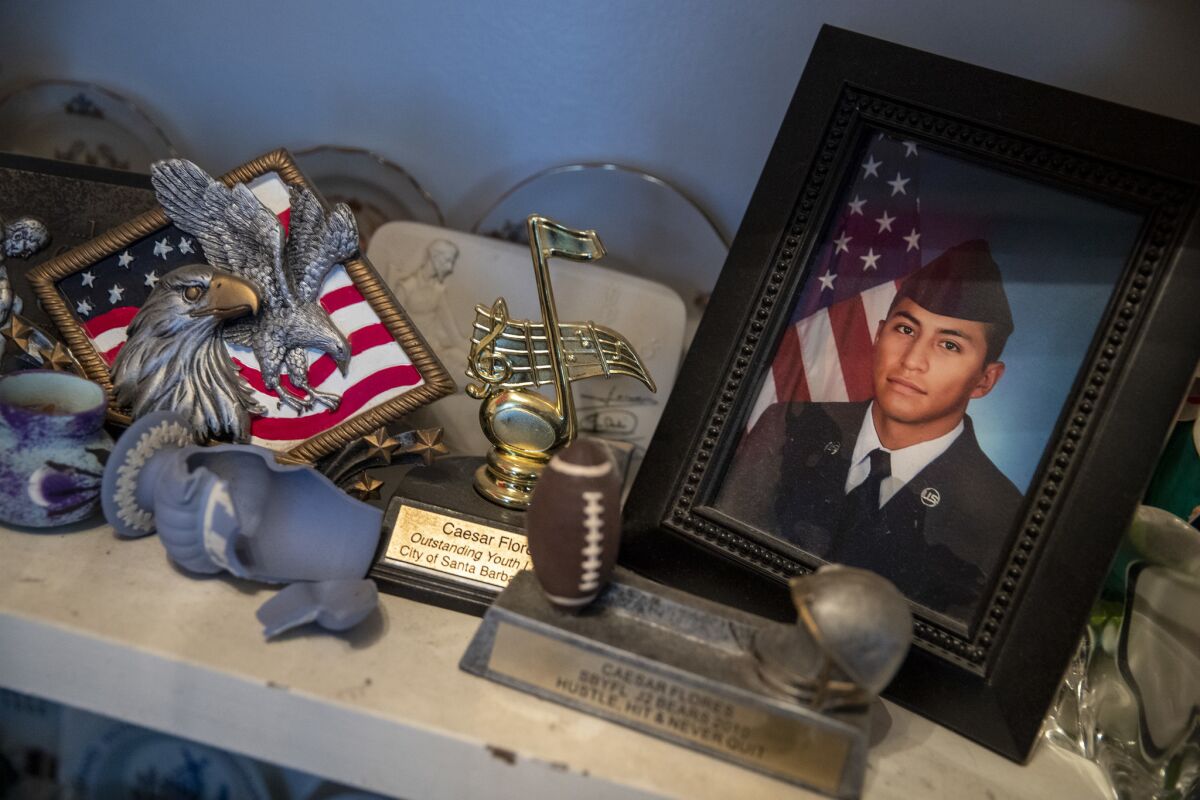 Reporting from Goleta —
Every day, Caesar Flores, a senior airman in the Air Force, thinks about his mother.
She supported his decision to enlist at 19 and was there to cheer him on when he graduated from basic training in September 2016.
Now, as he goes about his day-to-day work as a medical technician, the 22-year old's mind is weighed down by the fact that Juana Flores, who was in the country illegally, won't be around to celebrate other milestones.
The cause was a fateful decision Flores made decades ago: to leave California to visit her ailing mother in Mexico. She was arrested when she tried to cross back into the U.S. illegally.
In April, 20 years later, she faced a choice: get into a van with Immigration and Customs Enforcement to be deported or leave on her own. She chose to self-deport.
Inspired by the deportation of the airman's mother, a California congressman proposed a bill that aims to protect "patriot parents." It is unclear how likely it is to pass. A bill to protect "patriot" spouses was reintroduced this year after stalling in the House last year.
Loud support for the military has often united Republicans and Democrats in the past. But under the Trump administration, illegal immigration — and even some legal migration — has become an all-or-nothing battle, with little room for compromise by either side. Even on issues related to military service.
This is especially the case at the onset of a presidential campaign in which fighting illegal immigration will be a cornerstone of Trump's pitch for reelection.
Months have passed since Juana Flores' return to Mexico, but activists, lawyers and retired judges have vowed to fight to bring her back. The group successfully lobbied two city councils, in Santa Barbara and Goleta, to pass resolutions in support of returning her home and pushed for legislation that would help parents of military members like Flores to adjust their status without having to leave the country.
"What Republican can say, 'I don't want to help our service members, because I'm more afraid of a 56-year-old woman because she's not a U.S. citizen,'" said Kraig Rice, an immigration attorney involved in the effort to bring Flores back. "How do you justify that that military service member doesn't deserve our absolute dedication and support?"
In the last few years, attorneys have cited a pattern under the Trump administration of making it more difficult for foreign-born people to enlist in the military and become U.S. citizens through their service. More recently there have been reports of a potential scaling back of "parole in place," a program that protects undocumented family members of active-duty troops.
"Parole in place is a mechanism to amnesty illegal aliens without a vote of Congress," said Mark Krikorian, the executive director of the Center for Immigration Studies, which supports tighter controls on immigration. "The previous administration used it simply as a way to amnesty whichever sympathetic group of illegal immigrants got their attention."
But some question the fairness of punishing those who volunteer to serve the country.
"We've always had this strong tradition in America of taking care of the troops," said Margaret Stock, an immigration attorney and retired lieutenant colonel in U.S. Army Reserve. "Now they're sending a message that, 'We don't care if you're putting your life on the line for the U.S., we're not going to take care of you.'"
U.S. Citizenship and Immigration Services confirmed it is reviewing the categorical use of parole. If the parole in place program were to end, many families could find themselves in the same position as Flores.
American Families United, a national immigration advocacy group, estimated that as many as 11,800 military members are dealing with a spouse or family member who is facing deportation.
Immigration and Customs Enforcement said the agency is unable to provide a breakdown of removals of people who have a familial relationship with service members, so it is unclear how often it has happened. In a case last fall, the spouse of a Marine veteran left for Mexico after a lengthy battle to stop her deportation.
"It used to be that [Department of Homeland Security] would knock themselves out and do things for military families, and now they're more likely to be put in deportation proceedings, less likely to be granted any military related benefits," Stock said.
Because Flores reentered the country after she was caught and removed at the border in 1999, she did not qualify for "parole in place." Over the last few years, however, she received several extensions of her stay of removal. Time felt measured through an hourglass that would flip just before reaching the final grains of sand.
She was able to attend her son's wedding last year and spend Thanksgiving with her family.
"I thought there was a way to fix it somehow, because of how long I'd lived there," she said in a phone interview from Aguascalientes, Mexico. "I never thought they would separate us."
But earlier this year, ICE denied her request for another extension.
Flores' attorney blames her deportation on the Trump administration's lifting nearly all restrictions on removing those in the U.S. illegally.
"Under previous administrations, ICE was weighing discretionary factors and saying, 'What is the positive of leaving her here or letting her stay here, versus the negative,'" Rice said. "Now they're not looking at what harm would come."
When Rep. Salud Carbajal (D-Santa Barbara) learned of Flores' case, he wrote letters to plead her case, citing her son's military service and her caretaking of another son who has schizophrenia.
Inspired by the case, Carbajal — an immigrant who served in the Marine Corps Reserve — introduced the "Protect Patriot Parents Act," legislation that would allow all parents of service members or honorably discharged veterans to apply for a green card and remain in the country while they do so. Unlike parole in place, it wouldn't be up to the case-by-case discretion of the administration.
In May, the bill was referred to the subcommittee on immigration and citizenship, a panel of the House Judiciary Committee.
"This would obviously provide a path, a reprieve in allowing the parent to be here while pursuing that process and not place any burden or stress on servicemen and women," Carbajal said.
On a recent afternoon, Cristina Flores busied herself in the kitchen making quesadillas and reheating rice for lunch. Since her mother's deportation, the siblings either go out to eat or make simple dishes.
Juana Flores isn't there to cook breakfast in the mornings, or to send them off each day with a "Dios te bendiga." God bless you. There are no family gatherings after church on Sundays. The house feels empty.
"There's no one really that comes here because she's not here," Cristina said.
"Our centerpiece is missing," said Flores' 14-year-old granddaughter, Andrea Gomez.
It's equally as hard for Juana Flores, who recently taught her daughter from 2,000 miles away how to make pozole over FaceTime.
"I wake up in the mornings and there's no one here to take care of or cook for," she said, breaking down crying. "A mom is always there for her kids."
---
The stories shaping California
Get up to speed with our Essential California newsletter, sent six days a week.
You may occasionally receive promotional content from the Los Angeles Times.