Los Angeles moves to regulate Airbnb rentals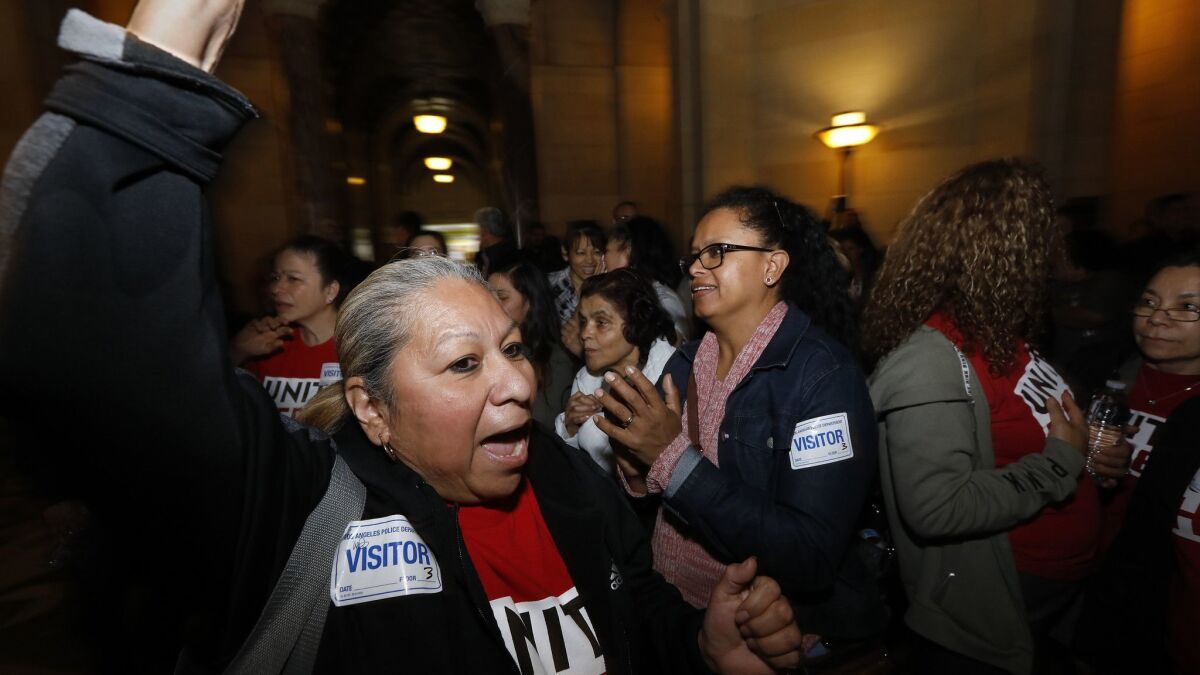 The Los Angeles City Council unanimously backed a set of proposed rules Wednesday that would allow Angelenos to host night-to-night rentals only in their own homes but bar them from renting out a house or apartment for short stays if it is not their primary residence.
The decision comes years after some Los Angeles lawmakers first called for the city to regulate such short-term rentals, which have boomed with the rise of online platforms such as Airbnb and VRBO.
But the rules still must be vetted by the L.A. Planning Commission, whose members are appointed by Mayor Eric Garcetti, before the council can vote them into law.
Housing activists, the hotel industry and some neighborhood groups have pressed local lawmakers to impose restrictions on short-term rentals, arguing that commercial operators have abused the system to run homes like hotels, disrupting neighborhoods and exacerbating the housing crisis.
Airbnb and its hosts counter that night-to-night rentals have helped retirees and families cover their bills, pumped tourist spending into new areas of the city and boosted the city budget.
City officials have estimated that Los Angeles will reap more than $52 million from lodging taxes on Airbnb and VRBO rentals in the next budget year.
Before Wednesday's vote, Councilman Jose Huizar said the proposed regulations had sought to strike a balance between those two sides. "We crafted an ordinance that allows good operators to thrive and weeds out those who are cited as nuisances to their neighbors," Huizar said.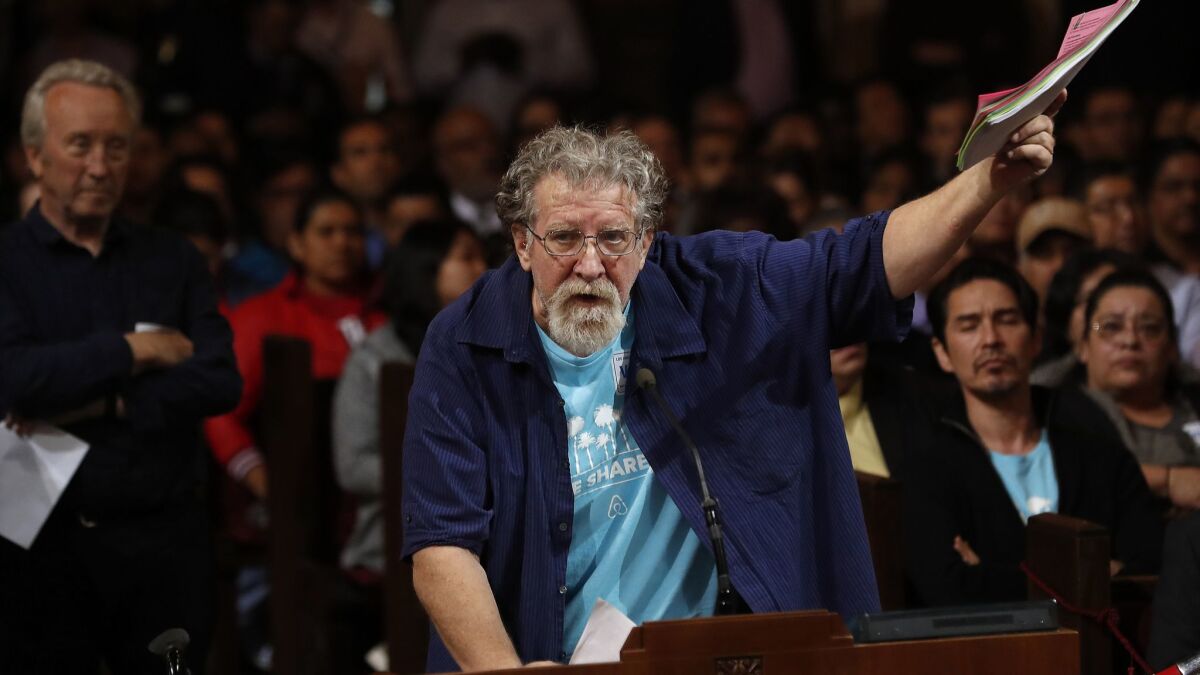 Under the draft rules, rental hosts would have to register with the city or face fines. Online platforms such as Airbnb could also be fined for advertising unregistered listings or for refusing to hand over their addresses.
Not all apartments would be eligible for such rentals. The L.A. rules would bar people from offering up an apartment for short stays if it is covered by rent stabilization rules or an affordable housing covenant. And the city would cap the number of nights annually that a host can rent out their homes for night-to-night stays, though with many exceptions.
Huizar estimated that the council could vote the rules into law within four months.
But even as lawmakers press forward with that plan, another prickly aspect of the debate has just begun: At a recent committee meeting, Councilman Gil Cedillo floated the idea of a second ordinance on "vacation rentals" that could allow night-to-night rentals of properties that are not the primary residence of the host.
That idea, which was not voted on Wednesday, has heartened some hosts and representatives of the website HomeAway, who argue that vacation rentals provide a long-standing and needed alternative for traveling families and others who want the comforts of a home rather than a hotel.
But critics fear it could end up undercutting the core restriction in the new rules — that people can only rent out their primary residence.
In the throes of a housing crisis, "our primary concern should be how do we keep housing on the market, and not turn it into a profit vehicle on the short-term rental market," said Cynthia Strathmann, executive director of the nonprofit Strategic Actions for a Just Economy. "If we're in the middle of a housing crisis, we shouldn't be turning housing into other things."
Philip Minardi, HomeAway's director of policy communications, countered that even if the city allows vacation rentals, there are "ways to address concerns about investors buying up whole swaths of properties without damaging the long-standing vacation rental marketplace.
"It's not one size fits all," he added.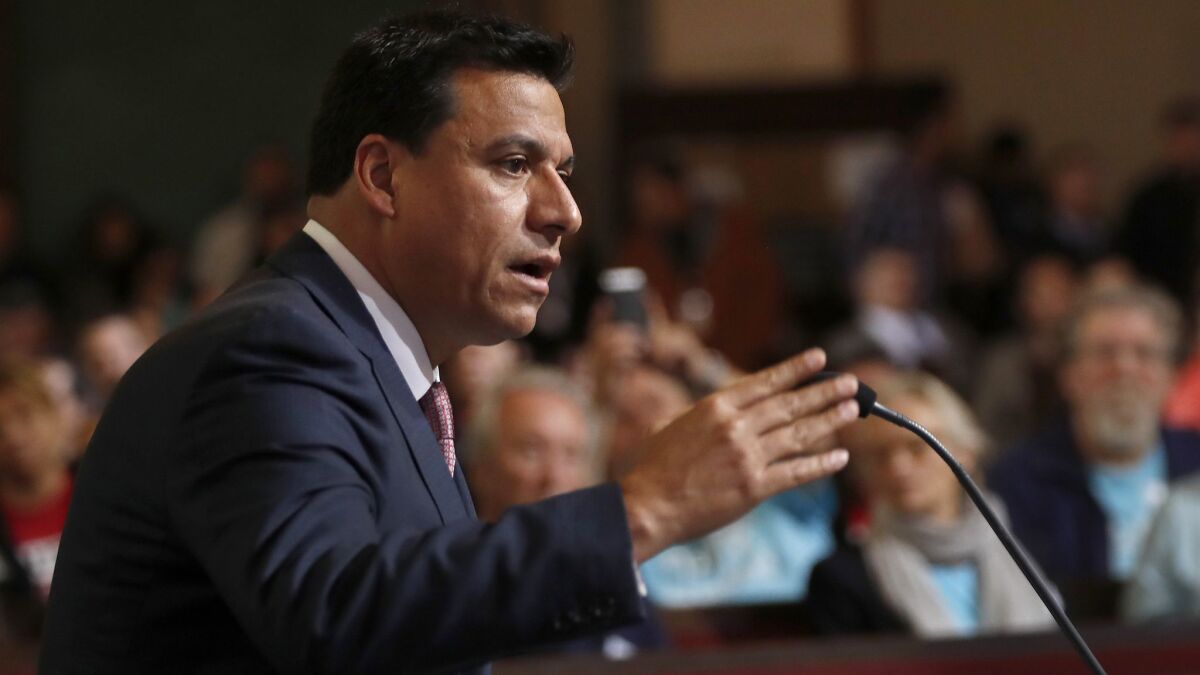 Much of the debate at City Hall so far has revolved around curbing how often hosts can rent out their homes night to night.
Under the proposed rules backed by lawmakers Wednesday, Los Angeles would cap such rentals at 120 days annually. But hosts could get city permission to exceed that cap if they do not have multiple or outstanding citations from city departments.
Even if they have had such violations, hosts might still be able to exceed the proposed cap if they can successfully make their case to the city, a process that might include a public hearing. Owners of adjacent properties would be notified if someone wants to go over the cap, but they would not have an automatic veto.
Some critics fear that would make it too easy to rent out a home nonstop: At a recent hearing, Councilman Bob Blumenfield complained it would be "too much like having no cap at all."
Housing activists and the hotel industry had pushed for a lower cap, arguing it would counter the financial incentive to convert homes into "de facto hotels."
Airbnb and its hosts, in turn, have urged the city not to make it too complicated or costly for hosts to exceed the cap, arguing that steep fees would price out the mom-and-pop operators that lawmakers say they want to protect.
At the Wednesday meeting, several council members asked staffers to report back on possible tweaks to the ordinance, including allowing hosts who remain on site to rent out their homes all year, giving hosts a "code of conduct" to encourage neighborly behavior and making it harder for hosts to get city approval to exceed the annual cap if a majority of neighbors object.
None of those changes were approved Wednesday, however, leaving those questions to be decided in the future.
Despite some concerns, "I've decided not to pick any fights today ... because we need to get something in place to replace the mess that we have now," said Councilman Paul Koretz, who has been an outspoken critic of such rentals.
The long debate has fueled heavy lobbying at City Hall. In the last quarter of 2017 alone, Airbnb spent about $250,000 on efforts related to the city regulations, according to city disclosures. HomeAway and another rental firm, AJJK Inc., spent an additional $30,000 in that period.
Critics of such rentals, including the American Hotel and Lodging Assn., spent more than $83,000 on lobbying during those three months, city disclosures show.
The local hotel workers union has packed recent hearings with supporters in red shirts, but it did not report any lobbying on the rules during that period.
Twitter: @AlpertReyes
The stories shaping California
Get up to speed with our Essential California newsletter, sent six days a week.
You may occasionally receive promotional content from the Los Angeles Times.