Legislators want hearings into worker safety at California airports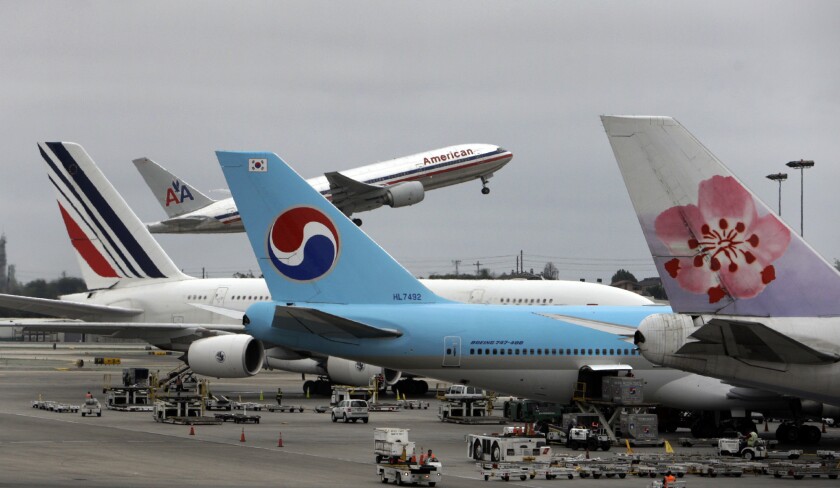 Citing the recent death of a baggage handler at Los Angeles International Airport, state legislators on Friday called for committee hearings to assess worker safety at California airports.
Although Cal/OSHA is looking into the death of Cesar A. Valenzuela on Feb. 21, a group of lawmakers announced at a news conference in downtown Los Angeles that they would conduct a wider investigation.
"This is a horrible tragedy and we must find out if this could have been prevented," said state Sen. Ted Lieu (D-Torrance), who is also running for Congress. "But we need to have hearings on airports statewide to see if there is a systematic problem."
Lieu was joined by Sen. Kevin DeLeon (D-Los Angeles) and Assembly members Anthony Rendon (D-Lakewood) and Isadore Hall III (D-Compton). Community groups and labor organizations, such as the Service Employees International Union, which represents airport workers, also attended the news conference.
Lieu said the legislators would work together to set up joint or individual committee hearings. He added that the panels would be convened as soon as possible.
Valenzuela, 51, who worked for Menzies Aviation USA Inc., an airlines service company, apparently was killed when he fell off a baggage truck he was driving and was struck by another vehicle in the ramp area of a terminal.
The conclusions of the autopsy have yet to be released, and Cal/OSHA is continuing to investigate the cause of Valenzuela's death.
Union officials are concerned that the accident underscores broader safety issues for airfield workers at LAX and elsewhere.
They note that Menzies has been cited repeatedly by Cal/OSHA for safety lapses and is facing a proposed $94,550 fine. Three of the violations were listed as serious, including one that was also described as willfull.
According to Cal/OSHA records, Menzies has taken steps to correct the safety deficiencies.
twitter: @LADeadline16
---
The perils of parenting through a pandemic
What's going on with school? What do kids need? Get 8 to 3, a newsletter dedicated to the questions that keep California families up at night.
You may occasionally receive promotional content from the Los Angeles Times.