Aliso Canyon natural gas facility that was site of massive leak can reopen, state says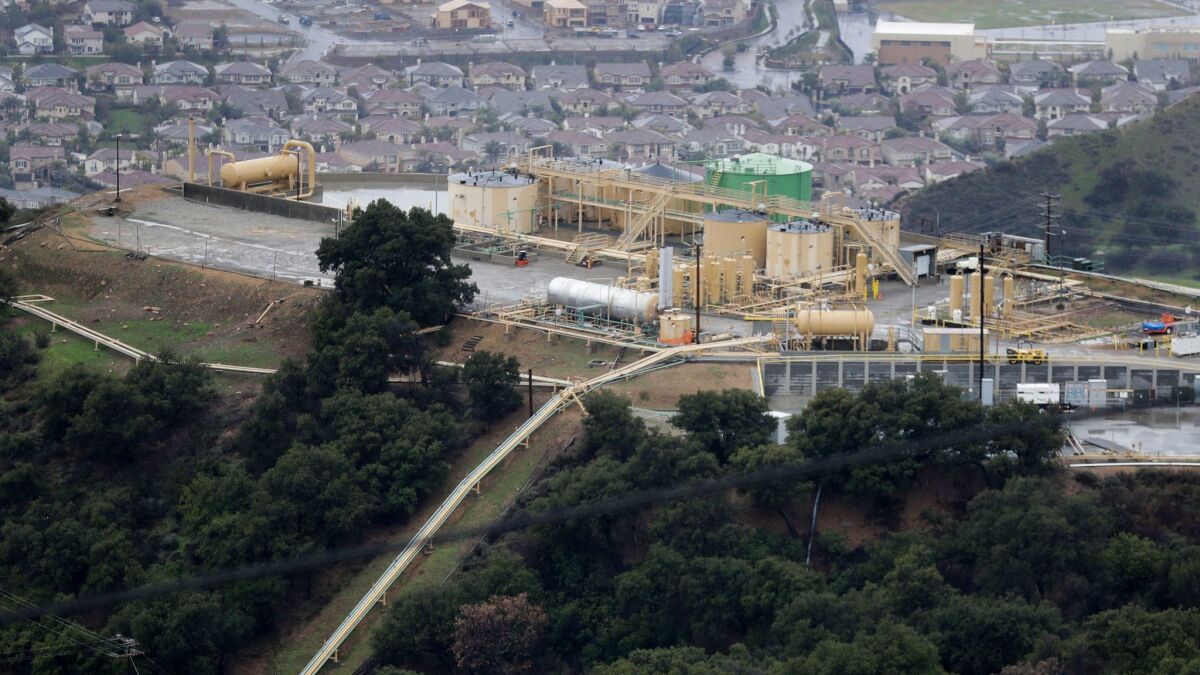 The Aliso Canyon natural gas storage facility, where the largest methane leak in U.S. history forced thousands to flee their homes, can resume natural gas injections at a reduced capacity, state officials said Wednesday.
The announcement follows months of inspections at the sprawling field above Porter Ranch and the implementation of new safety protocols that officials said will protect the public and stave off an energy shortage in Southern California.
"This facility will be held to the most rigorous monitoring, inspection and safety requirements in the nation and will store only the minimum gas necessary to supply the Los Angeles area," Ken Harris, head of the state Department of Conservation's Division of Oil, Gas and Geothermal Resources, said in a statement.
For months starting in 2015, a ruptured well at the facility spewed tens of thousands of tons of gas. Roughly 8,000 families in and around the northwest San Fernando Valley neighborhood were driven from their homes, with many complaining of health issues that included cancer, nausea and nosebleeds.
The blowout, which at its peak more than doubled the methane emissions of the entire Los Angeles Basin, took more than four months to plug. It sparked a political firestorm, with residents and elected officials demanding that the facility be shut down.
Now, the facility will operate at 28% of its capacity, said Timothy Sullivan, executive director of the California Public Utilities Commission.
"What this does is it allows us to set the operating standards to be based on what … amount of gas is critical for reliability in the South Coast basin," Sullivan said in a call with reporters.
More than half of the wells have been taken out of operation, while those that remain are now equipped with real-time pressure monitors and must be inspected daily using infrared and other leak-detecting technology, officials said.
Southern California Gas Co., which operates the facility, has also prepared a risk management plan that identifies prevention and mitigation steps for potential hazards, officials said.
It's unclear exactly when injections will resume, because the company still must complete a leak survey and measure methane emissions at the site, said Melissa Bailey, a company spokeswoman.
Political leaders and environmentalists were critical of Wednesday's decision, with some calling the move unnecessary and reckless because officials have not determined what caused the blowout.
"We think the numbers will show that Aliso Canyon simply isn't needed, and that our utility system operates safely and reliably, and consumers are protected without it. So why take the risk?" said Tim O'Connor, an attorney with the Environmental Defense Fund. "The state simply hasn't done its due diligence here."
Meanwhile, the chairman of the California Energy Commission, Robert Weisenmiller, said his staff is ready to work with necessary agencies to shut down the field within 10 years.
"I am confident that through sustained investments in renewable energy, energy efficiency, electric storage technologies and other strategies, we can make this transition a reality," he wrote in a letter to the head of the Public Utilities Commission.
Los Angeles City Councilman Mitchell Englander, who represents Porter Ranch, said he was disappointed by the state's decision to resume operations at the site but "encouraged" that the Energy Commission would seek to close the facility within a decade.
The gas leak "showed the danger of operating such facilities near residential areas," he said. "And while state regulatory agencies have taken steps to improve safety at the facility, the only way to ensure that history does not repeat itself is through permanent closure of the facility."
But according to Harris, the head of the state oil and gas division, the facility has undergone one of the "most rigorous inspections in the nation."
"We have staff on the mountain almost every day. There are milestones they have to make, and they have to report them to us," Harris said. "I'm confident the field is safe and can be opened safely."
alene.tchekmedyian@latimes.com
Twitter @AleneTchek
Twitter: @josephserna
---
UPDATES:
7:25 p.m.: This article was updated with additional reaction.
5:55 p.m.: This article was updated with background about the leak and quotes from officials.
This article was originally published at 3:55 p.m.
---
The stories shaping California
Get up to speed with our Essential California newsletter, sent six days a week.
You may occasionally receive promotional content from the Los Angeles Times.