Officials say some wells can't be operated at disputed South L.A. oil site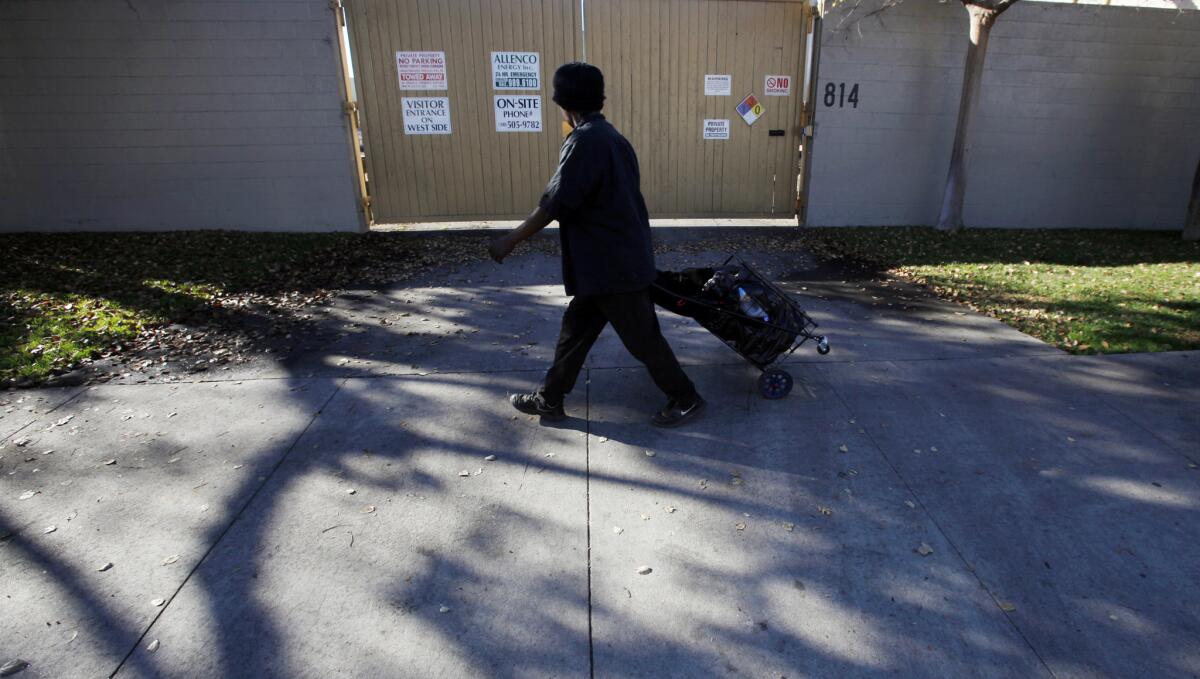 Los Angeles city leaders announced Wednesday that at least a handful of oil wells on a shuttered South Los Angeles drilling site can no longer be operated after the expiration of a city agreement with the company.
It is the latest attempt to chip away at the ability of AllenCo Inc. to reopen the University Park site where neighbors once complained of nosebleeds, nausea and other ailments.
AllenCo agreed more than five years ago to halt its operations there amid a public outcry, after federal and local investigations had been launched.
Los Angeles City Atty. Mike Feuer then sued and obtained a court order requiring AllenCo to follow new requirements if it wanted to restart operations there. AllenCo also had to pay $1.25 million in penalties — and had already spent more than $1 million on other penalties and improvements.
But community activists, still troubled that oil operations could someday resume, have demanded a permanent shutdown of the AllenCo site.
City officials said Wednesday that the expiration of a city lease would prevent part of the site from resuming oil operations, though other wells would not be affected. That city lease had expired, City Petroleum Administrator Uduak-Joe Ntuk wrote in a letter to the company, because of a lack of petroleum production and payments to the city.
Because the lease had expired, AllenCo's rights to operate wells from the site that extend beneath city property "terminated upon the expiration of these lease agreements," Ntuk wrote.
That affects at least three of the 21 wells at the site, according to city officials. Fredy Ceja, senior policy director for City Councilman Gil Cedillo, said that the Roman Catholic Archdiocese of Los Angeles, which owns the University Park site, has additional leases that could affect other wells.
"We've asked them to join us … and do the right thing," Ceja said of the archdiocese.
Ed Renwick, an attorney advising the archdiocese on the issue, said he could not weigh in on the city decision or whether the archdiocese could take similar steps because he still needed to review the city lease.
In a statement, the archdiocese said it "continues to cooperate and work with the city and AllenCo to find an alternative use for the site that is in the best interest of the community, royalty holders and all other stakeholders."
An employee reached at AllenCo offices Wednesday said the company was not providing comment.
Cedillo, who represents the area around the site and backs the idea of permanently closing it, said that by not renewing the expired lease, "we reaffirm our commitment to our residents."
Mayor Eric Garcetti, who made the announcement jointly with Cedillo, billed it as "moving us closer to a clean energy future that doesn't depend on dirty oil."
Community and environmental activists with the Stand L.A. coalition said they wanted to see the archdiocese follow suit — and for the city to go further and phase out all oil and gas drilling close to homes and schools.
Nancy Halpern Ibrahim, executive director of the nonprofit Esperanza Community Housing, said that a "spot response" is not enough. Many communities have not mobilized around concerns about neighborhood drilling the way that the University Park residents did, she said, but still face risks.
"We don't have the luxury of time to address this fossil-fueled health and climate crisis by shutting down one oil well at a time," said Martha Dina Argüello, co-chair of the coalition, in a statement.
Twitter: @AlpertReyes
Sign up for Essential California for news, features and recommendations from the L.A. Times and beyond in your inbox six days a week.
You may occasionally receive promotional content from the Los Angeles Times.