Gloria Allred has resignation 'gifts' for Mayor Bob Filner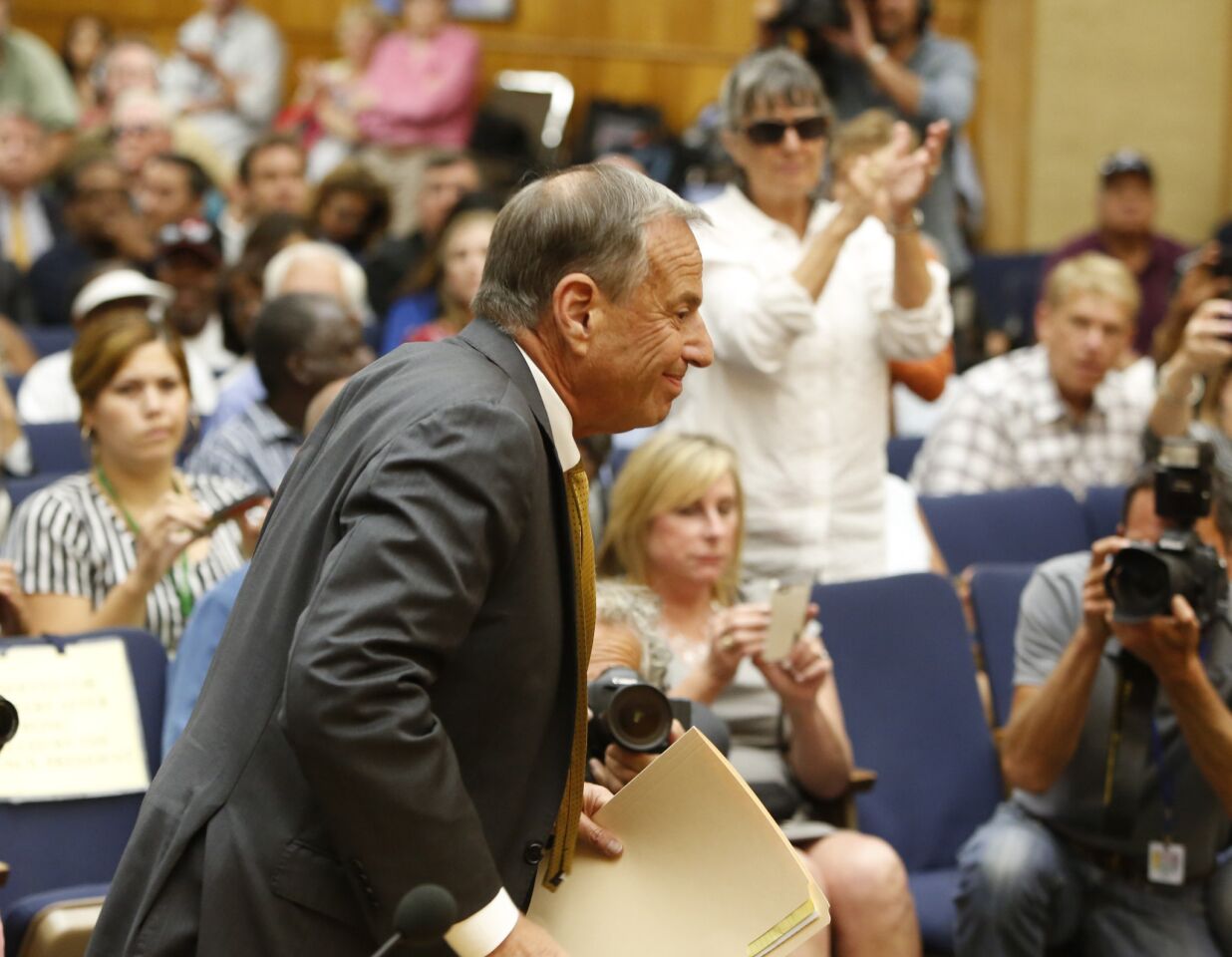 Bob Filner enters the San Diego council chambers to announce that he is resigning as mayor as his supporters applaud in the background. He was publicly accused of sexual harassment by many women.
(Don Bartletti / Los Angeles Times)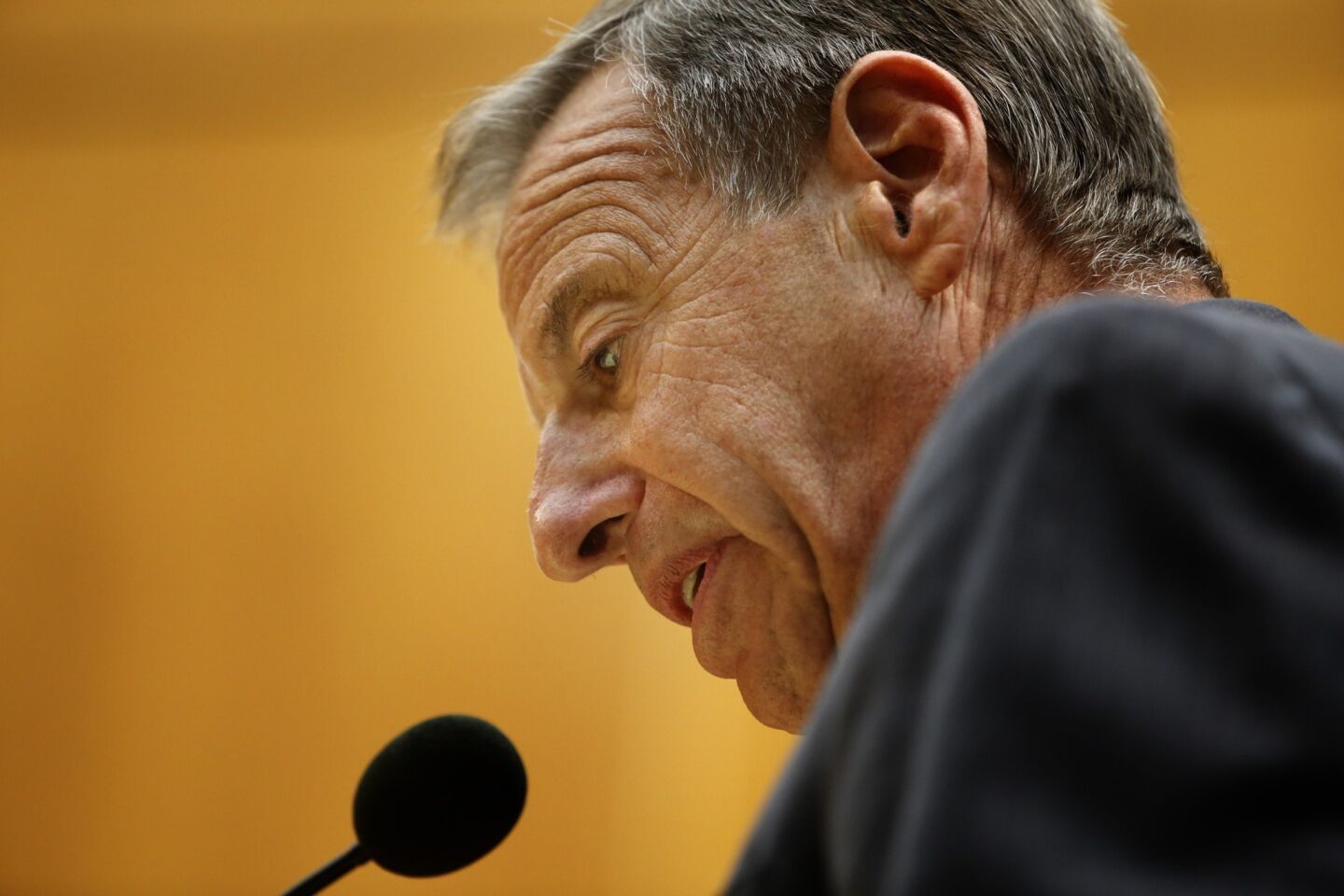 In the San Diego City Council chambers Bob Filner announces he is resigning as mayor.
(Don Bartletti / Los Angeles Times)
As Bob Filner addresses the City Council, the official San Diego city statement is projected on a screen.
(Don Bartletti / Los Angeles Times)
San Diego City Council President Todd Gloria, right, listens to public comment about Mayor Bob Filner during a special meeting in the council chambers. Later in the afternoon, Filner appeared and announced his resignation, with Gloria appointed interim mayor.
(Don Bartletti / Los Angeles Times)
SAN DIEGO -- Attorney Gloria Allred, who filed the sexual harassment lawsuit that led to the resignation of Mayor Bob Filner, had three "gifts" for him Friday as his resignation becomes effective at 5 p.m.
The first gift, Allred told a morning news conference, is a wallet-sized, laminated card providing the legal definition of sexual harassment. Filner should consult the card whenever he approaches a woman, Allred said.
The second gift is a mirror: so Filner can look at the person most responsible for his disgraceful exit as mayor of San Diego.
And the third gift, Allred said, is a card with the salutation, "I look forward to seeing you soon in deposition."
The lawsuit Allred filed on behalf of Irene McCormack Jackson, Filner's former director of communications, is still under mediation, the attorney said. The first goal, she said, has been accomplished: Filner's resignation.
"The second goal is justice for Irene," Allred said.
Also at the news conference, which was dubbed a "going-away party," were two other women represented by Allred who have accused Filner of sexual harassment: city employee Peggy Shannon and nurse Michelle Tyler.
Shannon thanked the public for being supportive when she went public with her accusation that Filner kissed her, asked for dates and made sexual comments. Tearfully, she said that she wanted to thank "God, who has given me the strength to come forward."
Of Filner, she said, "I was a victim and now I'm a survivor."
Tyler has alleged that Filner harassed her when she met him at City Hall to ask for his help in dealing with the Department of Veterans Affairs on the case of former Marine Katherine Ragazzino, who was wounded in Iraq. Ragazzino was also at the news conference.
Ragazzino thanked Rep. Scott Peters (D-San Diego) for helping her with the VA.
As a closer, Allred read a message from Filner's ex-fiancee, Bronwyn Ingram, expressing hope that Filner's successor has a "progressive vision for San Diego."
ALSO:
9th Circuit panel upholds California foie gras ban
Photos of kids holding guns, flashing gang signs found in sweep
Murder on the 210? Police are stumped by mysterious freeway death
Twitter: @LATsandiego
tony.perry@latimes.com
---
The stories shaping California
Get up to speed with our Essential California newsletter, sent six days a week.
You may occasionally receive promotional content from the Los Angeles Times.