Almond board to drought-weary Californians: We're not wasting water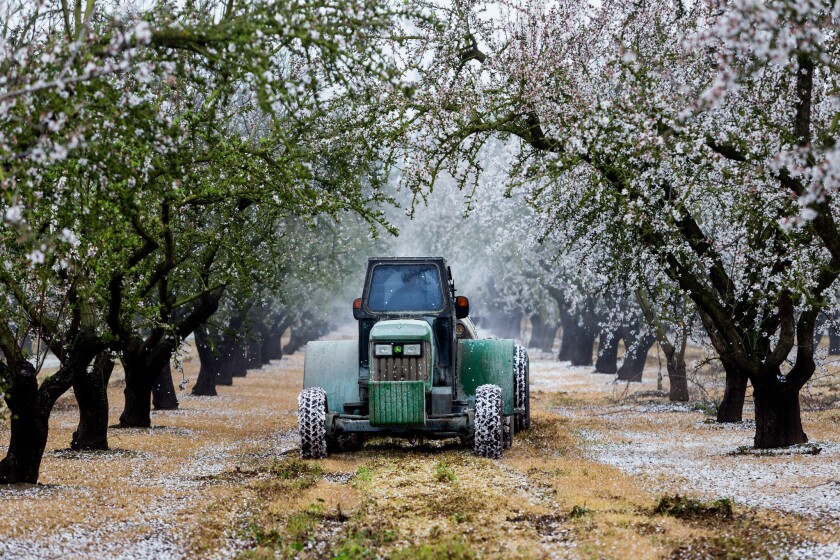 Leaders of California's almond industry struck back Thursday at critics who have branded it a prime culprit in the state's four-year drought.
In a conference call with reporters, officials with the Almond Board of California rattled off supportive statistics and said the almond industry has been misrepresented.
"There's the perception out there that somehow we're just wasting water, and that's as far from the truth as can be," said board Chief Executive Richard Waycott. "We're talking about food production here. … We're taking our natural resource and creating something for the human diet, and doing it as efficiently as we can."
After Gov. Jerry Brown declared a state of emergency early in 2014, various media outlets reported that growing a single almond requires one gallon of water.
That statistic has made almonds a "favorite target of the media," said Bob Curtis, associate director of Agricultural Affairs for the almond board. All foods take water to grow, he said, and many require more water than almonds on a per-ounce basis.
Almonds take up about 12% of California's irrigated farmland but use only 8% of the state's agricultural water, Curtis said. "We're using less than what you would say is our fair share."
The amount of water needed to grow each pound or ounce of almonds today is about two-thirds of what it was 20 years ago, Waycott said.
Water policy experts, too, have come to almonds' defense.
"For farmers, [almonds are] one of the highest-value commodities," Ellen Hanak, director of the Water Policy Center of the Public Policy Institute of California, told The Times' Michael Hiltzik. Therefore, she said, "the value of the water used on almonds is higher than on most crops."
In a recent column, Hiltzik reported that almonds are a high-value crop with a 2013 harvest worth $5.8 billion, second only to milk and ahead of grapes.
"I don't care if they're growing almonds," Peter H. Gleick, president of the Pacific Institute, told Hiltzik, "if they're not overpumping groundwater and not contaminating water supplies."
Almond board officials said California's Mediterranean climate makes it an ideal place to grow the nut. About 940,000 acres are used to grow almonds, Curtis said. The Times previously reported that the nut was the No. 1 state agricultural export in 2012.
Twitter: @ByMattStevens

---
For reporting and exclusive analysis from bureau chief John Myers, get our California Politics newsletter.
You may occasionally receive promotional content from the Los Angeles Times.