Some want the death penalty for the mountain lion P-45. Others say 'respect where you live'
State officials said Monday that a mountain lion known as P-45 is strongly suspected of breaking into two ranches in the hills above Malibu over the weekend and killing nearly a dozen alpacas and a goat.
Days after a mountain lion known as P-45 is believed to have killed 10 alpacas at a ranch in the Malibu hills, a team of wildlife advocates Wednesday installed a battery of powerful LED lamps to keep the big cat out of the crosshairs of a hunter with a state permit to kill him.
To deter the 5-year-old male lion from returning to feed on the carcasses, the group flooded the area with intense, multicolored beams.
"We call this action 'Lights of Life,' " said Fauna Tomlinson, a spokeswoman for the nonprofit Project Coyote. "That's because we're trying to save the lives of big cats, livestock and pets, all at once."
The wildlife advocates are on a race against the clock. On Monday, the California Department of Fish and Wildlife issued a so-called depredation permit for P-45, which allows for the lion to be killed within 10 days.
The permit was issued to Victoria Vaughn-Perling, the owner of the 10 dead alpacas. She has been living in fear of being attacked herself by the lion, according to her attorney, Reid Breitman.
"She wants that lion out of her life," Breitman said. "Her main wish is to have it trapped and relocated. If that's not possible, however, her only alternative is to kill it."
This latest in a series of mountain lion attacks over the last year — and the highly publicized effort to hunt down the culpable cougar — has pitted neighbor against neighbor, disrupting the rhythms of life for humans and wild predators alike in the rural communities tucked in the Santa Monica Mountains.
P-45 is a threat to every creature on four legs. Now, as a result, people are scared and liable to do irrational things.
— Wendell Phillips, attorney
The tensions play out at community gatherings and homeowner meetings, on social media forums and in these secluded leafy enclaves where some children no longer play outdoors after sundown.
Neighbors even whisper of illegal schemes to put bounties on the heads of some of the 10 to 15 lions estimated to roam the 275 square miles around the Santa Monica Mountains.
"It's come to this: We are about one attack away from mountain lions being shot on sight," said Wendell Phillips, 67, an attorney who lives near Vaughn-Perling who added that he has lost half a dozen of his own alpacas to P-45 over the last year.
"P-45 is a threat to every creature on four legs," Phillips said. "Now, as a result, people are scared and liable to do irrational things."
Phillips said he has obtained two depredation permits in the last year and recalled a recent confrontation with a cougar he believes was P-45: "I waited three nights in a row before P-45 showed up. He was taking another bite out of one of my alpacas when I took a shot and the bullet bounced off his head."
The lion survived and took refuge in the surrounding hills.
Vaughn-Perling, who has largely stayed out of public view, is haunted by P-45's frequent raids on local livestock. Over the last eight months, the same puma is believed to have killed an estimated 65 captive animals in an area west of Mulholland Highway, her attorney said.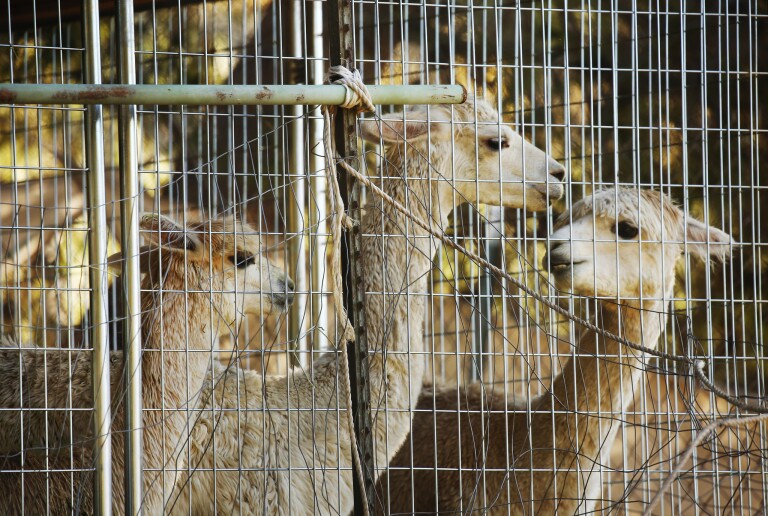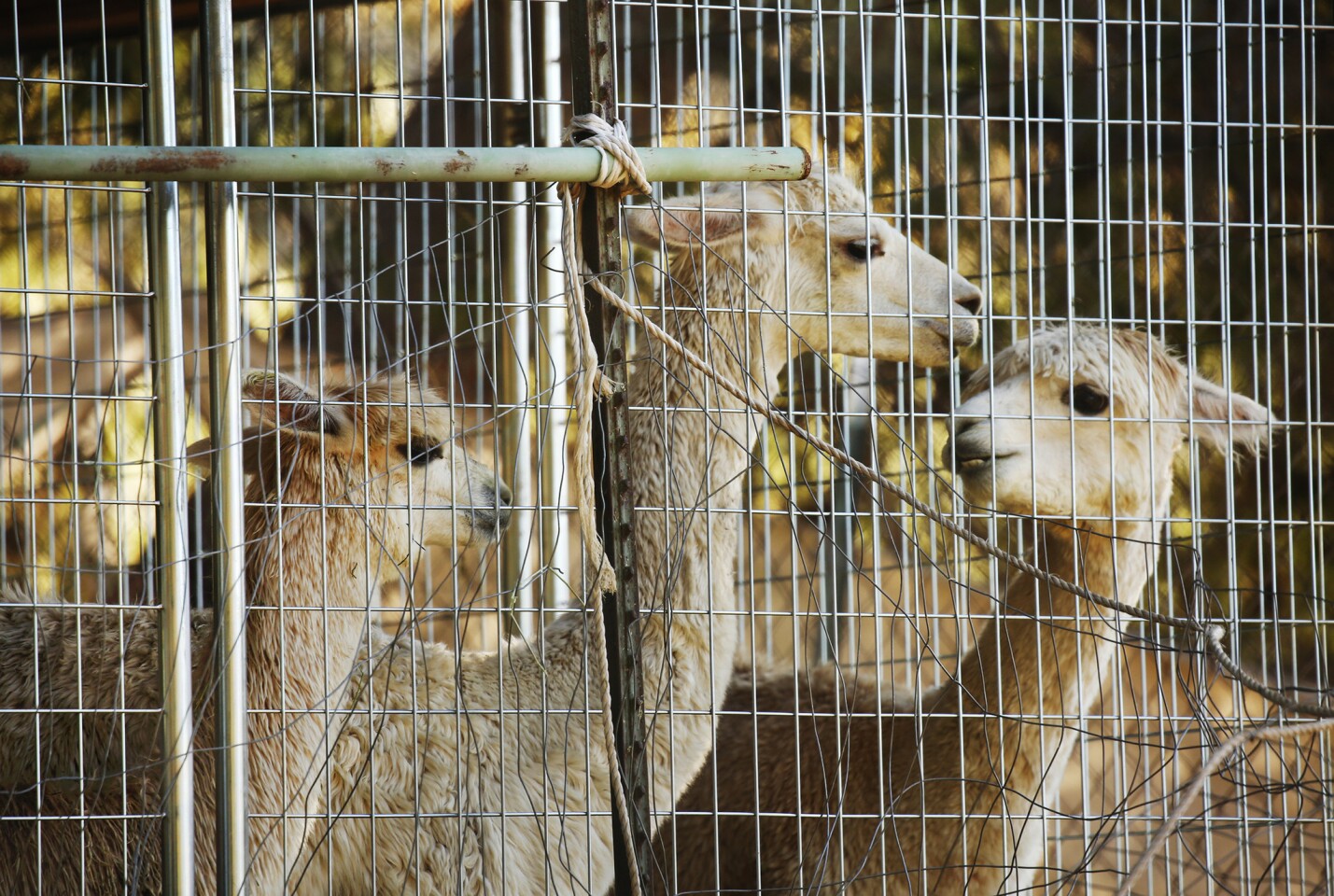 Alpacas are secured in a fenced area of a property along Mulholland Highway in Malibu where mountain lion P-45 is suspected of carrying out his weekend attacks.
(Al Seib / Los Angeles Times)
The property along Mulholland Highway in Malibu where P-45 is suspected of killing 11 alpacas.
(Al Seib / Los Angeles Times)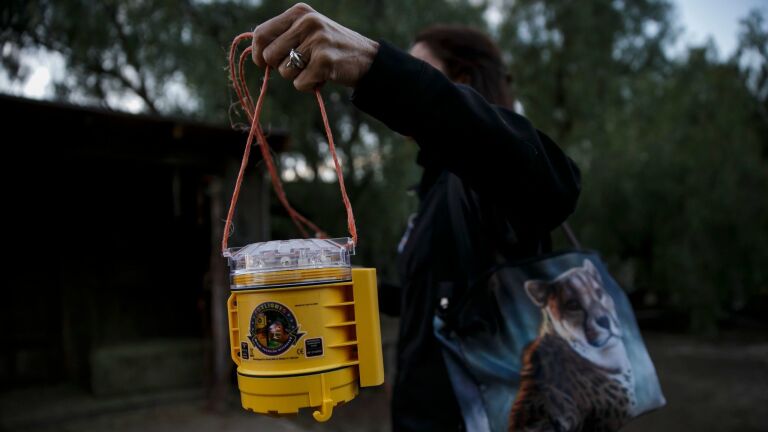 Fauna Tomlinson holds up an LED device designed to deter mountain lions.
(Marcus Yam / Los Angeles Times)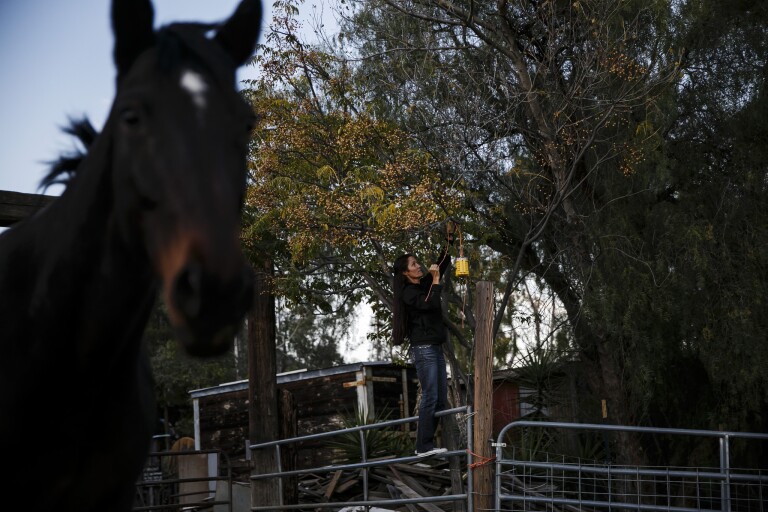 Fauna Tomlinson installs an LED device designed to deter mountain lions.
(Marcus Yam / Los Angeles Times)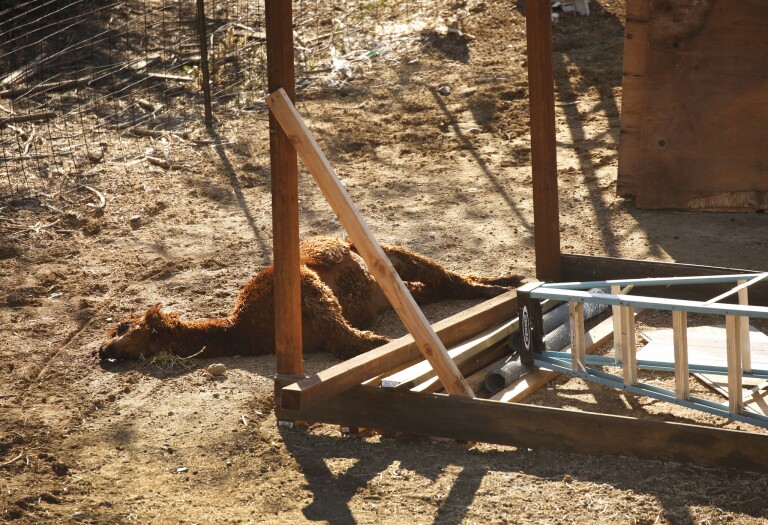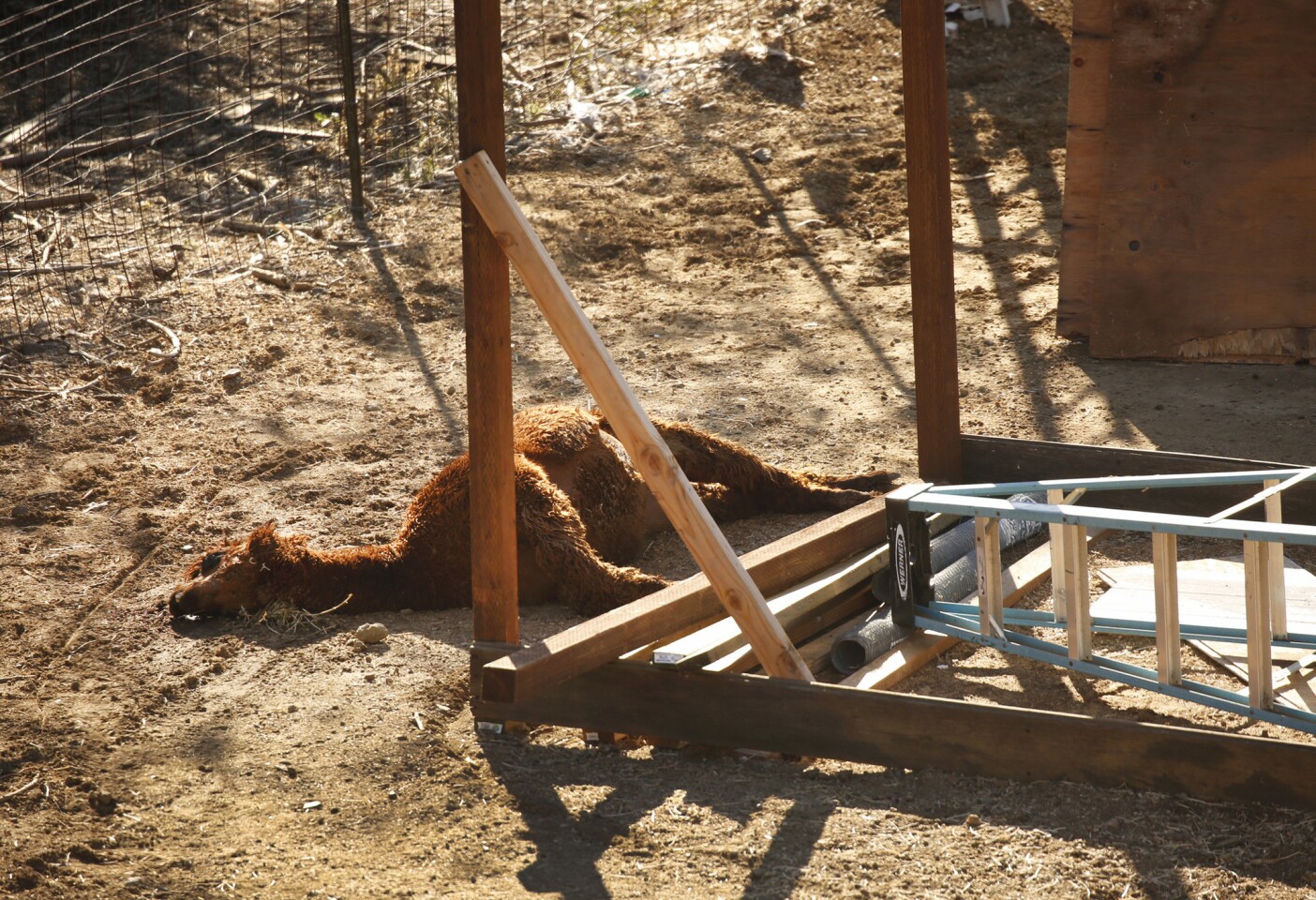 A dead alpaca on the property along Mulholland Highway in Malibu where mountain lion P-45 is suspected of attacking.
(Al Seib / Los Angeles Times)
"It is only a matter of time when someone will get a kill permit, and successfully kill P-45," Vaughn-Perling said late Wednesday.
Last year, the state issued 265 permits to kill mountain lions that posed a threat to humans or livestock, resulting in 107 of the predators being taken.
Yet Ruth Gomez, who raised alpacas at her eight-acre Malibu ranch for nearly two decades before selling her last one this week, said she never had lions invade. To ward off predators, she used larger llamas as guardians, along with a pack of loud, powerful dogs and motion-sensing lights.
"We know that the cougars like to hunt in stealth, so we made it noisy and bright," Gomez, 73, said. "We would never kill a cougar. That's stupid."
Some said they were less troubled by the cougar's weekend spree -- which left a total of 11 alpacas and a goat dead on two ranches — than by the human response.
"We're on edge about the people who may have a hunting license and could shoot at people," said Mollie Helfand, who has lived in her Agoura home for more than 20 years. "That scares everybody more than an elusive mountain lion."
Helfand said she knows mountain lions traverse her property from the GPS data generated by collars on the local lions. It's not uncommon to also see deer and bobcats.
"We live in nature — that's our choice," said Helfand, 55. "We're supposed to understand and respect where we live."
To spare P-45's life and bring the hunt to an end, a coalition of wildlife groups including the National Wildlife Federation, the Mountain Lion Foundation and Project Coyote struggled Wednesday to reach a compromise. The groups offered to pay for upgrades that would make Vaughn-Perling's alpaca enclosures lion-proof and for a guardian dog trained to ward off nocturnal predators.
"It's a moral obligation for people who love wildlife," said Lynn Cullens, executive director of the Mountain Lion Foundation, "to also show compassion to people who have lost cherished animals and now live in fear themselves."
As Phillips gazed out at the lights illuminating the rolling hills, he said that with a week left on the kill permit, he also hoped a solution could be reached soon.
After all, the shooter faced a daunting decision: whether to pull the trigger on the big cat, now one of only three breeding male lions in all of the Santa Monica Mountains.
Phillips acknowledged that Vaughn-Perling had asked him to dispatch P-45.
"The hunter, in this particular case," he said, weighing his words carefully, "really does not want to take that shot."
ALSO
L.A.'s mountain lions could be near extinction in 50 years
In Julian, a project to protect both livestock and mountain lions
To avoid conflict, L.A. mountain lions choose separate hunting grounds
---
The stories shaping California
Get up to speed with our Essential California newsletter, sent six days a week.
You may occasionally receive promotional content from the Los Angeles Times.