Horses, chickens, pigs and a bull: a menagerie of 770 pets have been displaced by the Sand fire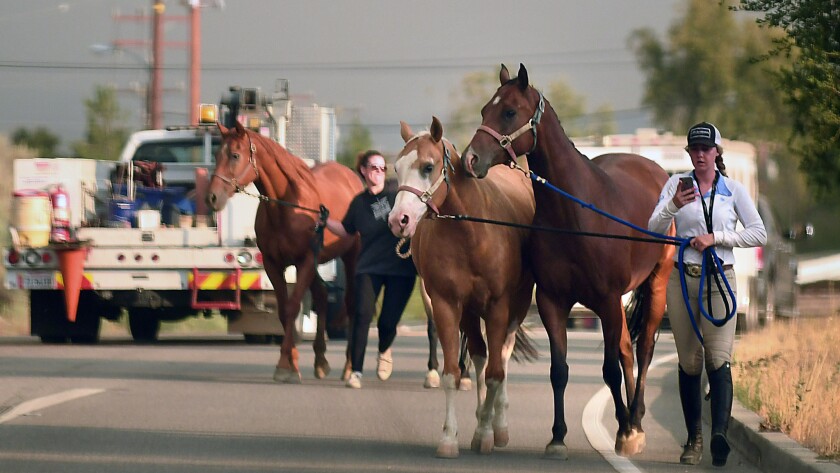 Some of those forced to evacuate from the Sand fire fled by car or truck. Others had to crawl, hoof or strut.
Just ask Ulf Wadeborn, a horse trainer at Middle Ranch, who worked with scores of volunteers to empty the equine boarding facility overnight Friday into Saturday morning as the flames glowed in the distance.
Wadeborn, 63, and other volunteers brought dozens of trailers to ferry away the horses.
"They walked in and out of the trailers like pros," he said of the herd. "There was not one horse that didn't want to go in the trailer."
Such are the challenges when a wildfire ravages the hills around the Santa Clarita Valley, where homes and ranches comprise one of the nation's largest urban equestrian communities. Here, having a horse as a pet is as ordinary as owning a cat or dog, and special zoning rules have allowed residents to keep a stable near their homes.
As many as 10,000 horses are kept in the communities near the blaze, including Sunland, Tujunga, Shadow Hills, Lake View Terrace, Kagel Canyon, Agua Dulce and Acton, according to ranch owners.
Since the fire broke out in the rugged terrain above the San Fernando Valley, it has burned 35,155 acres and destroyed at least 18 structures. The blaze remained 10% contained as of Monday night. And although many people were allowed to return to their homes late Monday, an estimated 20,000 residents were under an evacuation order at the peak of the blaze.
The number of animals displaced by the blaze is less clear, but officials with the Los Angeles County Department of Animal Care and Control said they knew how many were showing up at shelters set up by authorities for the fire. Evacuated were 345 horses, along with 165 goats, 111 chickens, 33 pigs and even a Brahma bull. All told, nearly 770 pets were put in eight shelters, under the watchful eye of owners, volunteers and county animal workers, officials said.
At the Hansen Dam Equestrian Center in Sylmar, one of the animal shelters, Kayla Partridge held a thick blue rope Monday afternoon as she led Ansel, a 25-year-old Warmblood horse, to a grassy area. The horse gave a short snort and neigh, then paced around.
"He's old," Partridge said, patting him and pulling the rope to calm the horse, who is owned by a friend. "You would think that would make him better. But like all old people, he's pretty curmudgeonly."
Wearing a tie-dye shirt and sun hat, Partridge, 64, walked with Ansel while she was at the equestrian center to take care of her 22-year-old Andalusian horse, Disco. Both horses were evacuated from Middle Ranch, the same facility that Wadeborn, the trainer, helped evacuate.
As soon as Holly Simpson heard about the fire, she drove to Middle Ranch, where she keeps her Rhinelander horse, named Enya, and Jami, a Warlander horse.
"I knew they had to be moved," Simpson said.
She said she was happy to see the equestrian community respond so quickly — although speed was the only option with such a fast-moving wildfire, animal workers said.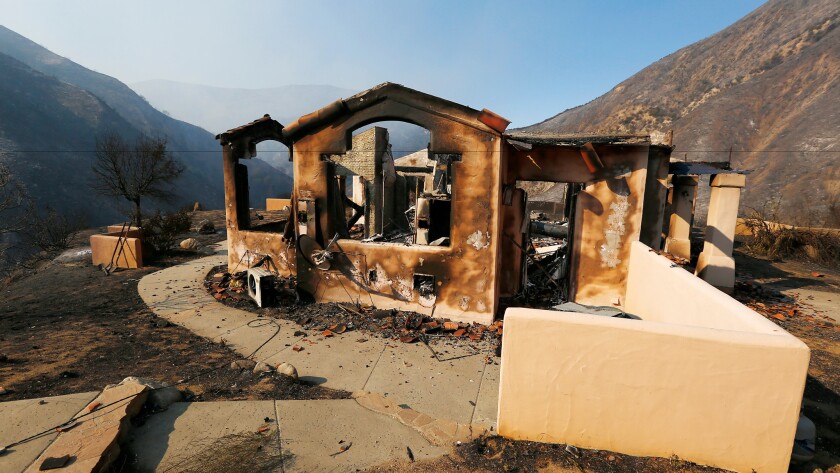 Susan Hartland, the executive director of Wildlife Waystation, said that during the 2009 Station fire staff and volunteers had been given 48 hours to evacuate the tigers, camels, lions and others at the animal sanctuary in the hills above Lake View Terrace.
With the Sand fire, they had just two hours, she said.
More than 20 staff and volunteers began evacuating the brood about 10 p.m. Friday, loading up all but 50 of the 400 animals at the sanctuary. Many animals had to be sedated as they were being transported, Hartland said. And some of the chimps and bears had to be left behind.
"You can only hope for the best," she said.
It was not until about 3 a.m. Saturday when she and members of the sanctuary were allowed to return and check on the animals. The fire didn't reach the sanctuary, and all of the animals were safe, she said.
"It was short of a miracle," Hartland said. "We were lucky."
The fire still poses a threat to the animal care facility. Although the blaze most likely will not burn in their direction, winds could drive embers into the area and once again threaten the sanctuary, which will be celebrating its 40th anniversary in September.
Back at the equestrian center at Hansen Dam in Sylmar, it was unclear when owners would be allowed to return their animals to their usual homes. Partridge was still trying to settle Ansel, her friend's stubborn horse.
"Your choices are pee, poop and drink," she told him. "There's really no sense in trying to speak to a horse."
She smiled and led the horse back to his stall.
For more news in California, follow @LATvives and @MattHjourno.
ALSO
As firefight continues, ashes float like dirty snowflakes and firefighters serve breakfast to evacuated
Six O.C. residents charged in a stabbing death over a love triangle
Judge: Yorba Linda residents can't use a referendum to void water rate hikes
---
UPDATES:
8:54 p.m.: This article was updated with details of the evacuation from the Wildlife Waystation.
5:55 p.m.: This article was updated with more current statistics on the number of animals in shelters from the Sand fire.
This article was originally published at 5:15 p.m.
---
The stories shaping California
Get up to speed with our Essential California newsletter, sent six days a week.
You may occasionally receive promotional content from the Los Angeles Times.