Housing activists raise alarm about turning over apartments for short stays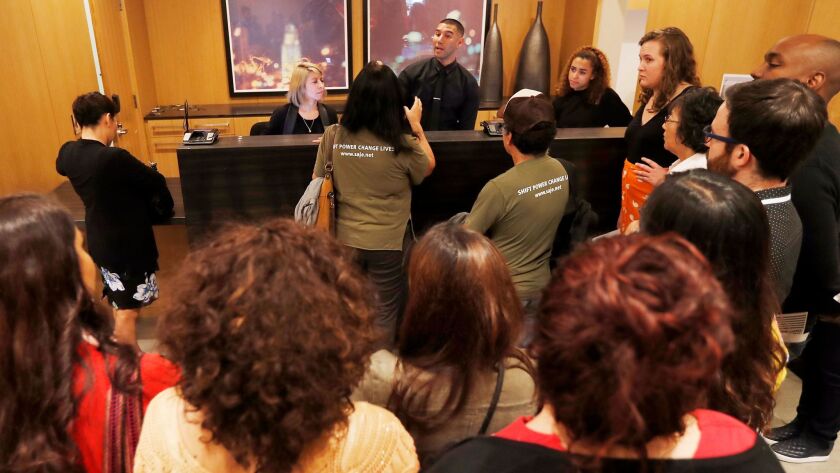 Flanked by cameras, the activists marched into the glossy lobby of the downtown building and demanded to speak to the general manager.
The Olive Street building, they argued, had been approved by the city as condominiums and then turned into an "illegal hotel." The website for Level Furnished Living advertises luxury suites that rent for hundreds of dollars a night. After a string of people recounted their housing woes, they handed over a letter for company executives.
"They need to know that they're operating illegally," said Susan Hunter, an L.A. Tenants Union activist clad in a red shirt urging "Universal Rent Control Now."
But the company that owns the downtown tower says it has every right to rent out its rooms to travelers, thanks to a little-known provision in city law. Earlier this year, the building department gave Onni Group permission to use part of the building as a "transient occupancy residential structure."
The term was first introduced to city codes decades ago, meant to cover "extended stay hotels" that provided rooms with kitchens, unlike hotels or motels. Building owners in commercial or high-density residential zones also can get city permission to convert apartment buildings for "transient occupancy" and rent them out for short stays.
The claims made by the hotel workers union and other housing activists, who have called on the city to investigate whether Onni is breaking the law, are "completely inaccurate and misleading," said Mark Spector, senior development manager of the Onni Group, which also owns the building that houses The Times.
Spector said the company was serving an "underserved market" through the rentals. "Downtown Los Angeles has an unmet demand for the business traveler or families that are staying for a medium-length period of time but want the amenities of home," Spector said in an email.
The obscure provision, which has drawn little attention in the past, has alarmed some tenant activists who argue that it could exacerbate the housing crisis. They fear that as Mayor Eric Garcetti and other politicians clamor for more apartments, real estate developers could capitalize on the push for housing, then start using those units for night-to-night guests.
And they are especially alarmed that Onni did not have to undergo a public hearing to change how its downtown building was used, a fact that planning officials attribute to its zoning.
The Olive Street building is "a classic example of gaming the system to maximize profits," said Larry Gross, executive director of the Coalition for Economic Survival, which advocates for renters. "And they're doing it on the back of L.A. residents who need housing."
Planning officials are unsure how many buildings have gotten the unusual label, but the Olive Street building is not alone.
At the Metropolitan, a glassy tower across from the Hollywood offices of Netflix and Sunset Bronson Studios, travelers wheel luggage into the lobby and punch codes into keypads to get into their rooms. The storied building on a palm-tree-studded stretch of Sunset Boulevard is advertised online as an "apartel" with furnished rooms that offer showstopping views.
It is also home to a dwindling number of tenants, some of whom have complained about a revolving door of temporary visitors. More than a decade ago, Los Angeles officials agreed to allow hotel rooms at the Metropolitan to be converted into apartments, saying it would help provide housing.
This year, the city approved a dual use for the building, allowing the 52 units to be rented either as apartments or for shorter "transient occupancy" stays. Jerry Neuman, a representative for the Metropolitan project, argued that it would provide needed units for both long-term and short-term residents, serving the unique needs of Hollywood.
"It doesn't take away from housing stock — it allows transient use as well," Neuman said, adding that the entertainment industry often brings in workers who need somewhere to stay for a short period. "And when those units are no longer necessary for transient occupancy, they are readily available as apartments."
Hunter challenged the decision, arguing it would displace renters and improperly create a new "hybrid" use that could be exploited by other developers in the future.
To get city approval, "they'll say, 'We're in desperate need because of this housing crisis,' " Hunter said. "And then they'll turn around and make it a hotel."
The Central Los Angeles Area Planning Commission, whose members are appointed by Garcetti, denied her appeal but imposed a long list of requirements on the project, including 24-hour security and a manager on site. It also stated that existing renters with active leases, including month-to-month leases, could not be displaced or evicted without just cause.
But the company does not have to renew leases when they expire, as long as it gives people a mandated amount of time to relocate. Recently, some renters got a warning that their tenancy would be terminated within 60 or 90 days, depending on whether they sought an extension. One of the affected tenants said he had lived in the building for five years.
"Isn't this displacing tenants?" Hunter said.
Renters later got a second notice that they would get an additional four months to relocate after the termination date — and could move to other floors in the Metropolitan that will not house temporary guests. Neuman, who did not know how many legal notices had been issued, said they had gone to tenants whose leases had expired.
He rejected the idea that tenants were being displaced by short-term rentals, pointing out that at a building like the Metropolitan that does not fall under rent-stabilization rules, "a landlord can decide not to renew a lease at any time."
"This project has followed every rule in the book," he said.
Other renters say they fear they could be next. "People go to the manager and he says, 'Oh, are you still living here?' " said Chris Dusendschon, who has lived at the Metropolitan for eight years. "My greatest hope is to just stay in my home."
Los Angeles soon could impose new restrictions on the little-known phenomenon: Under a draft ordinance that would legalize and regulate renting out homes for short stays, the city would prohibit residential buildings from being converted into "transient occupancy residential structures" in order to protect housing.
As it stands, the draft rules do not explicitly prevent apartment buildings from obtaining a dual use for short- and long-term stays, but the planning department is examining that issue as the regulations are hammered out, its spokesman, Yeghig Keshishian, said.
Twitter: @AlpertReyes
---
Must-read stories from the L.A. Times
Get the day's top news with our Today's Headlines newsletter, sent every weekday morning.
You may occasionally receive promotional content from the Los Angeles Times.