Metro narrows the options for a light-rail line from downtown L.A. to Artesia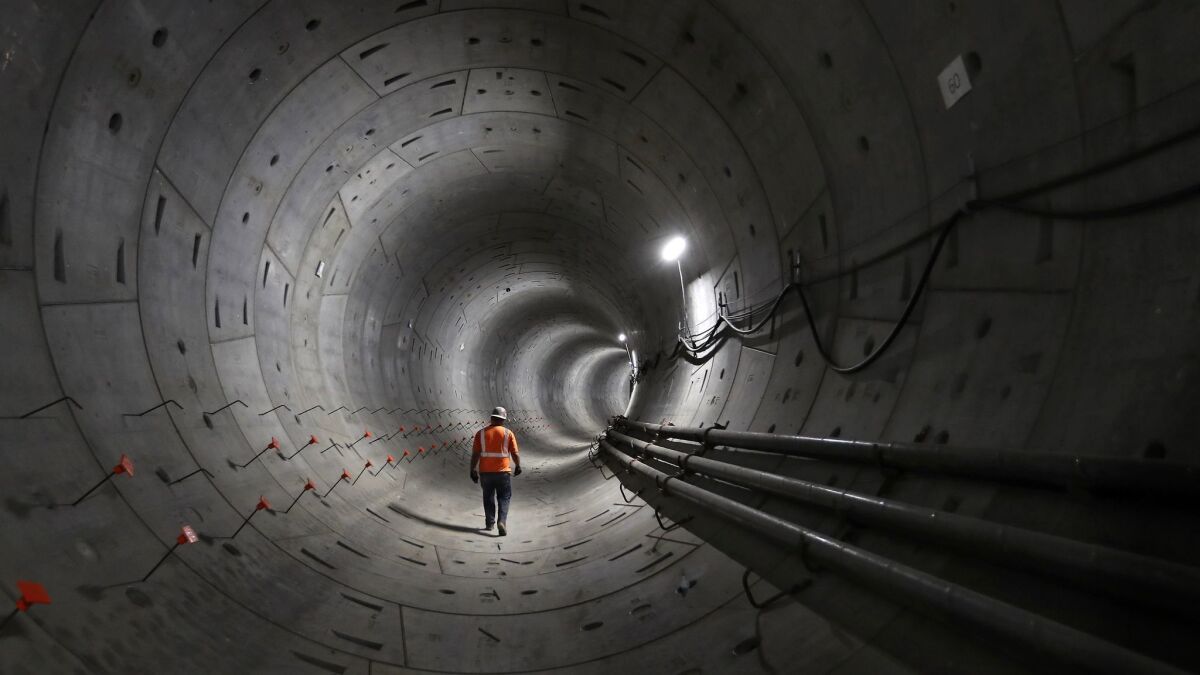 Los Angeles County transportation officials on Thursday chose two possible routes through downtown for a light-rail line to Artesia that could attract tens of thousands of riders a day.
During more than two hours of public testimony, dozens of residents from Little Tokyo and cities along the route — including Bellflower, Cerritos and Paramount — urged the Metropolitan Transportation Authority to make it easy for working-class riders to reach downtown's transit hubs without changing trains.
Metro's directors unanimously backed two routes that would run underground through downtown and terminate in the Civic Center, the Financial District or at Union Station. The high cost and high risk of digging in downtown will probably leave the project with a funding gap of about $1.8 billion.
South of downtown, the line would follow the path of the Blue Line to the Slauson station in Florence-Firestone, then branch off to the south and the east, with potential stops in Vernon, Huntington Park, Bell, Cudahy, South Gate, Downey, Paramount, Bellflower, Cerritos and Artesia.
"There's incredible economic need for these cities to be connected to the rest of the system," said Metro director and Long Beach Mayor Robert Garcia. "I want to make sure we are hearing their voices."
The 20-mile line has secured $4 billion in funding, including $1.4 billion from Measure M, the sales tax increase approved by county voters in 2016. The estimated completion date for the line is 2041, but Metro hopes a private-sector company could pay for a portion of the project to start service by the 2028 Olympics.
The new line is informally called the West Santa Ana Branch, after the Pacific Electric Railway right-of-way where Metro trains will someday run. Decades ago, streetcars carried riders to many of the same cities as the new proposed route, but service continued farther south, to Santa Ana.
The first alignment that will receive additional study would run along Alameda Street, adding a station at 7th Street in the Arts District and connecting to the Blue, Gold and Expo lines at 1st Street in Little Tokyo. The line would terminate at a plaza in front of Union Station.
The $5.8-billion alignment has the highest estimated ridership of the route options, with an estimated 81,500 daily trips. Of those trips, 27,000 would otherwise be made by car, Metro Deputy Executive Officer Laura Cornejo said. The route would also serve the burgeoning Arts District.
The other route would run north on Alameda and curve west beneath 7th Street, stopping twice in the South Park area before terminating at the Pershing Square or Metro Center stations. That alignment carries a similar $5.8-billion price tag and would attract up to 78,500 daily trips.
More rail options in the southern half of downtown will be beneficial for South Park, the fastest-growing portion of the neighborhood, said Ellen Riotto, the executive director of the South Park Business Improvement District.
"The priority is connecting people to their final destinations," Riotto said. "The challenge is predicting where those destinations will be by the time the line is up and running."
At the urging of dozens of speakers, Metro's directors eliminated an option that would have elevated the rail line through the eastern half of Little Tokyo, bifurcating the neighborhood. The area has endured a decade of noise, dust, street closures and traffic during construction of the eastern extension of the Gold Line and now the Regional Connector subway project, residents said.
David Ikegami said his family has had ties to Little Tokyo since his grandfather immigrated to the United States in 1914 and worked to rebuild their fortunes after he was sent to an internment camp during World War II.
The family's business, a warehouse on Jackson Street that houses a wholesale toy and gift importer, could be devastated by years of construction and a rail line bifurcating the neighborhood, he said.
"After much suffering, our community is now thriving," Ikegami said. "Please do not destroy it."
Metro's directors also eliminated an option that would have truncated the rail line in the Arts District, despite urging from residents, business owners and Metro director and Los Angeles County Supervisor Hilda Solis.
The route would have brought a much-anticipated rail station to the Arts District but also would have forced many riders to transfer to reach Union Station or other downtown stops. The proposed route had a smaller price tag of $4.5 billion and would have carried 40% fewer daily trips than Metro's chosen downtown alignments.
"We talk a lot about getting people out of their cars and using Metro," said Metro director and county Supervisor Janice Hahn, who represents Downey, Paramount, Bellflower, Cerritos and Artesia. "If we're serious about achieving that goal, we need to make sure we build projects that are actually convenient for our riders.
"We're going to have a hard time convincing people to get out of their cars and use public transportation if they have to transfer multiple times and go out of their way to their final destination," she added.
Los Angeles Mayor Eric Garcetti said the Arts District could also still see another train station, telling the public speakers that Metro's board is "very committed to making sure that we get Arts District stops, plural."
A host of upgrades to accompany the debut of the Wilshire Boulevard subway extension, including a new rail yard on Santa Fe Avenue, would make it possible for Metro to add a subway station along the Los Angeles River in the Arts District at a fraction of the typical cost of a new line.
That station could be finished within four to five years, a much shorter timeline than the Artesia line, Garcetti said.
For more transportation news, follow @laura_nelson on Twitter.
---
Life is stressful. Our weekly mental wellness newsletter can help.
You may occasionally receive promotional content from the Los Angeles Times.