Lee Baca was 'heartbeat' of county jail conspiracy, federal prosecutor says as trial opens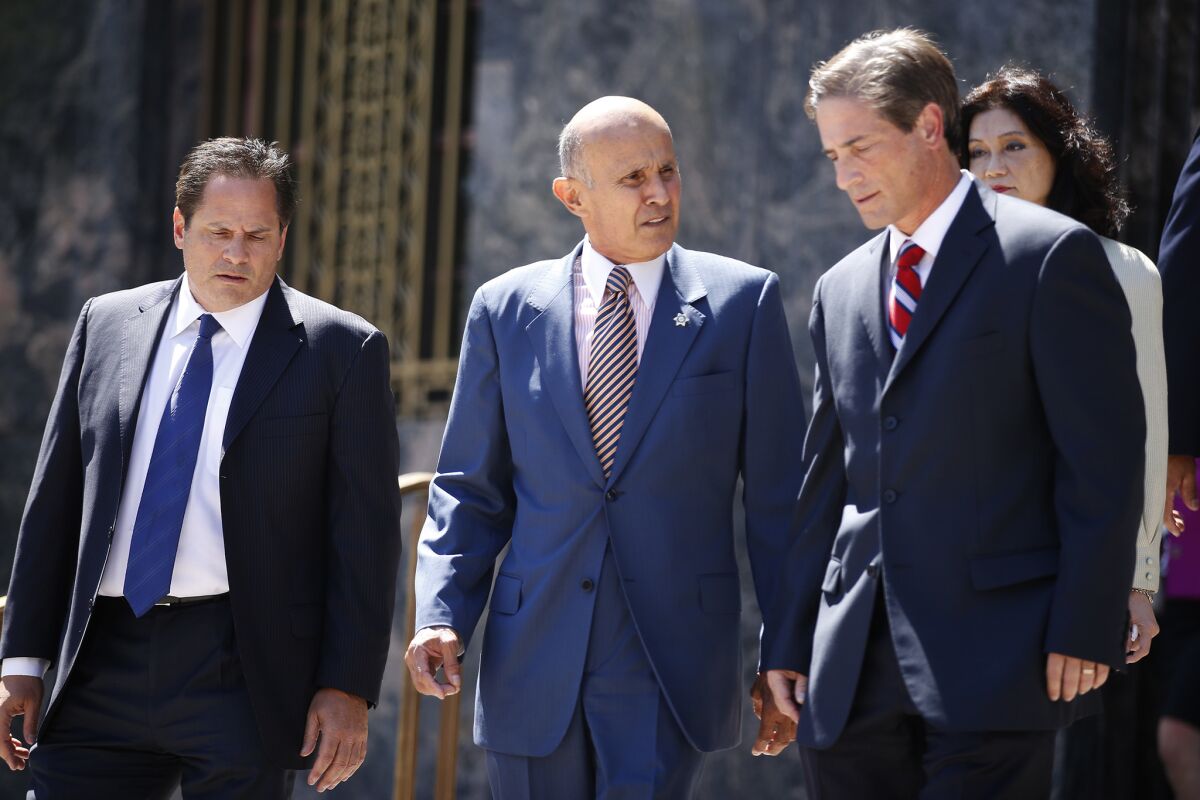 For 15 years, Lee Baca helmed one of the largest police forces in the nation, entrusted with the safety of a population larger than that of many states and a budget in the billions of dollars.
As the elected sheriff of Los Angeles County, he commanded 18,000 sworn and civilian employees and oversaw as many inmates in the county's seven jails.
On Wednesday, though, his defense to federal criminal allegations of obstruction of justice came down to this: He didn't know what was going on in his own department.
Baca, his attorney told jurors in opening statements of his public corruption trial, didn't know his deputies were hiding an inmate from federal authorities by changing his name and moving him from jail to jail. He didn't know a federal grand jury had requested testimony from the inmate, who had been helping an FBI investigation into abuse and corruption in the lockups. He didn't know about a new internal policy preventing FBI interviews of inmates, orders for deputies not to cooperate with federal investigators, or a surveillance operation his deputies were conducting on the home of an FBI agent, attorney Nathan Hochman said.
"Sheriff Baca didn't know," he said, telling the jury there was no evidence of the former sheriff "agreeing, condoning, authorizing or knowing" of the conspiracy to obstruct the federal investigation.
Baca's defense was in direct contrast with a prosecutor's contention that the ex-sheriff was, in fact, the "heartbeat," the "leader" and the "driving force" of a conspiracy that took place over six weeks in the summer of 2011. Baca's second-in-command and eight other sheriff's officials have already been convicted of charges related to what prosecutors say was a plot to stop federal investigators from investigating corruption, beatings and other civil rights abuses in the jails run by the Sheriff's Department.
"Mr. Baca was at the top of this conspiracy," Assistant U.S. Atty. Brandon Fox told jurors.
Fox said emails sent by then-Undersheriff Paul Tanaka at the time were evidence of just how involved Baca was in the steps taken by his subordinates once they had found out about the federal investigation.
"Sheriff popped in looking for an update. This case is consuming his entire thought process," Tanaka wrote in August 2011, Fox told the jury.
The prosecutor also told jurors that they would hear testimony that after a meeting with Baca, Tanaka told his subordinates: "Never seen the Sheriff this mad. We're going to do whatever he wants done."
Hochman, however, said that it was Tanaka who ran the show.
"He operated his own agenda. He had people who were loyal to him, not Sheriff Baca," the lawyer said.
The opening statements set the stage for the trial of the 74-year-old Baca, one of the most prominent and powerful public figures to face criminal prosecution in California in decades.
Baca faces charges of obstruction of justice and conspiracy — crimes that almost certainly would send him to prison for several years if he is convicted.
The allegations date to 2011, when deputies discovered a phone that had been smuggled to the inmate who was working as an FBI informant. The inmate had been feeding agents information as they investigated allegations that sheriff's deputies beat inmates and received bribes to sneak in contraband.
Baca, Fox said, repeatedly turned a blind eye to allegations about abuse of inmates and was outraged by the FBI's efforts to investigate his jails, telling his federal counterparts: "I'm the goddamn sheriff, these are my goddamn jails."
The prosecutor told jurors it was at the sheriff's direction that his deputies conspired to keep the inmate informant from his FBI handlers, thwarted attempts to get the inmate to testify before a grand jury, and threatened and intimidated an FBI agent at her home to get federal investigators to back off.
The former sheriff has also been charged with making false statements to federal investigators during a 2013 interview in which he claimed he had not been aware of the plot to obstruct the FBI as it unfolded and played no role in it. U.S. District Judge Percy Anderson has ruled that the lying allegations will be decided in a later trial. Jurors in that case are expected to hear testimony that the sheriff may have been affected by the early stages of Alzheimer's disease.
Fox noted that while the FBI investigation continued despite the Sheriff's Department's efforts to impede it, and that several deputies have been convicted of civil rights violations for jail beatings, there may have been additional cases that will never come to light because of the conspiracy.
"The world will never know the full impact of this obstruction," he said. Baca, the prosecutor said, was culpable as "the one who was ultimately abusing the power entrusted in him by the citizens of Los Angeles County."
Baca, in a charcoal suit and striped tie, calmly watched with brows knitted and hands folded on his legs.
Hochman, his attorney, emphasized to jurors that the former sheriff was not on trial for any civil rights charges for allowing abuse and corruption in his jails. He said the sheriff had vast responsibilities and that overseeing Men's Central Jail was a small fraction of his job.
Baca's focus upon learning of the FBI's investigation was to get to the bottom of how the phone had been smuggled into the jail, and find out just how compromised the facility and his deputies were, the attorney said.
"Others went beyond that agenda, and that was wrong," he said.
Hochman pointed out various steps the progressive lawman took to improve oversight of the jails during his tenure, which ended when he stepped down in 2014. The lawyer said Baca partnered with the ACLU to install a jail monitor and created the Office of Independent Review, a civilian watchdog group that reviewed internal discipline of employee misconduct.
The attorney noted that Fox had referred to a vague "they" more than 50 times in his opening statement, and accused the government of unfairly lumping Baca in with actions of his subordinates.
"This case is not about 'they' — it is about Sheriff Baca," he said.
Following the opening statements, jurors heard from government witnesses who described efforts to alert Baca to the widespread abuses by deputies in the jails and the sheriff's failure to make significant reforms. While not directly related to the charges, prosecutors are trying to establish that Baca had a motive for wanting to thwart the FBI investigation.
Two of the witnesses, Mark Rosenbaum and Peter Eliasberg, worked for years to draw attention to jail conditions as attorneys for the American Civil Liberties Union. Both testified about imploring the sheriff in letters and at meetings to take concrete steps to address inmate beatings and how they ultimately lost faith in Baca's willingness to do anything.
"No," Eliasberg said bluntly when Fox asked if he agreed with Baca's description of the ACLU and Sheriff's Department as partners on combating deputy misconduct in the jails.
Partners, Eliasberg explained, work together to solve problems. "I didn't get the sense they took it seriously," he said.
For more news on the federal corruption trial of Lee Baca, follow us on Twitter: @vicjkim and @joelrubin
ALSO
Search for remains ends at Oakland warehouse with fire death toll at 36
In diverse California, a young white supremacist seeks to convert fellow college students
Nearly two dozen complaints had been filed against site of deadly Oakland fire, records show
---
UPDATES:
6:50 p.m.: This article was updated with additional details from the day's trial.
This article was originally published at 12:20 p.m.
---
Life is stressful. Our weekly mental wellness newsletter can help.
You may occasionally receive promotional content from the Los Angeles Times.