Bakersfield detective pleads guilty to bribery, drug possession: 'I got lost for a while'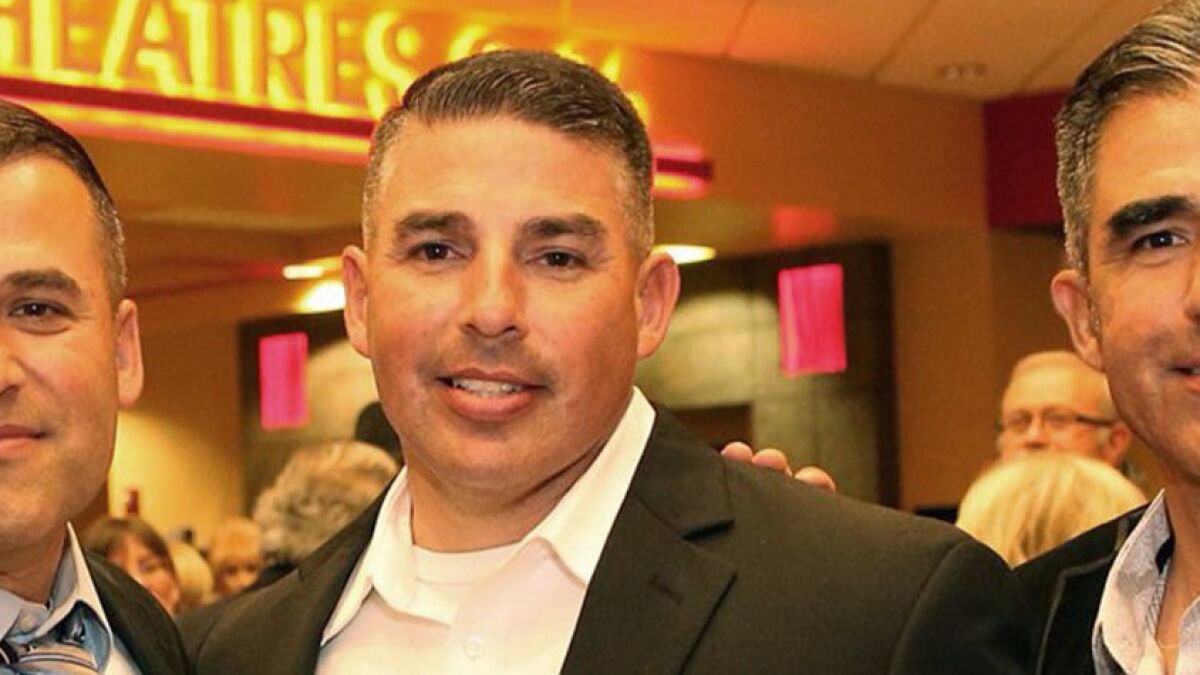 A member of the famed McFarland High School cross-country team that won the state championship and was later depicted in the Disney film "McFarland, USA," pleaded guilty Tuesday to federal charges of bribery and drug possession arising from his career as a Bakersfield police detective.
His former police partner also announced Tuesday that he had accepted a plea deal in connection with the alleged crimes.
Damacio Diaz — one of the three Diaz brothers depicted in the 2015 Disney film about the victorious Central Valley team — admitted to lying on his tax returns and accepting bribes from an informant in exchange for information about police during a three-year period starting in 2012, according to the U.S. attorney's office in Sacramento.
Diaz also admitted to stealing nine pounds of methamphetamine during a Sept. 20, 2012 traffic stop, prosecutors said.
Diaz and his partner were assigned to oversee the investigation into two men from Yakima, Wash., who had 10 pounds of methamphetamine, but Diaz entered into evidence only one pound of methamphetamine. The two officers sold the rest of the illegal substance and pocketed the money, authorities said.
When it came time to file his tax returns for 2012, Diaz omitted additional income of nearly $98,000, according to his plea agreement.
"The defendant attempted to take advantage of the trust placed in law enforcement officers for his personal gain," said Phillip A. Talbert, the acting U.S. attorney for the Eastern District of California. "Law enforcement officers who accept bribes put the public and other law enforcement officers in danger."
After entering his plea, Diaz spoke to reporters outside the federal courthouse in Fresno, apologizing to his wife, the officers of the Bakersfield Police Department and the community he felt he had wronged.
"A few years ago, I got myself into a situation where we began to cross the line," the Bakersfield Californian reported. "I got lost for a while…. I did things I should not have done."
He said that he hoped his knowledge of the Police Department would help federal investigators uncover wrongdoing in the 400-officer force.
Diaz's former partner in the Police Department, Patrick Mara, held a news conference with his lawyer to say that he had accepted a plea deal in connection to the case.
See more of our top stories on Facebook >>
His attorney, Fred Gagliardini, said his client would plead guilty to one charge that carried a potential life sentence in prison. He declined to discuss additional details about the plea agreement.
"Four years ago I put myself in a compromising situation and I said yes when I should have said no. Things snowballed out of control pretty rapidly," Mara told reporters. "As far as why I didn't come forward sooner…. I was ashamed of my actions and my decisions."
Diaz was arrested in November following a 17-year career with the Bakersfield Police Department. At the time of the crimes, Diaz was working with the Drug Enforcement Administration Task Force and the Southern Tri-County Task Force of the Central Valley High Intensity Drug Trafficking Area. According to a 16-count indictment handed down last year, Diaz had access to sensitive undercover information, which he revealed to a convicted felon.
Diaz is scheduled to be sentenced by Judge Lawrence J. O'Neill on Sept. 26. He faces up to life in prison and a $10-million fine.
ALSO
He got high and killed his wife. A lawsuit claims edible marijuana is to blame
Prosecutors fight to stop San Bernardino shooter's family from getting $250,000 insurance payment
Her blood was 'drained' from her: Canadian heir charged with torture killing of girlfriend in WeHo
For more California news, follow me @MattHjourno. E-mail me at matt.hamilton@latimes.com.
---
Life is stressful. Our weekly mental wellness newsletter can help.
You may occasionally receive promotional content from the Los Angeles Times.