L.A. housing measure has an unexpected foe: tenant activists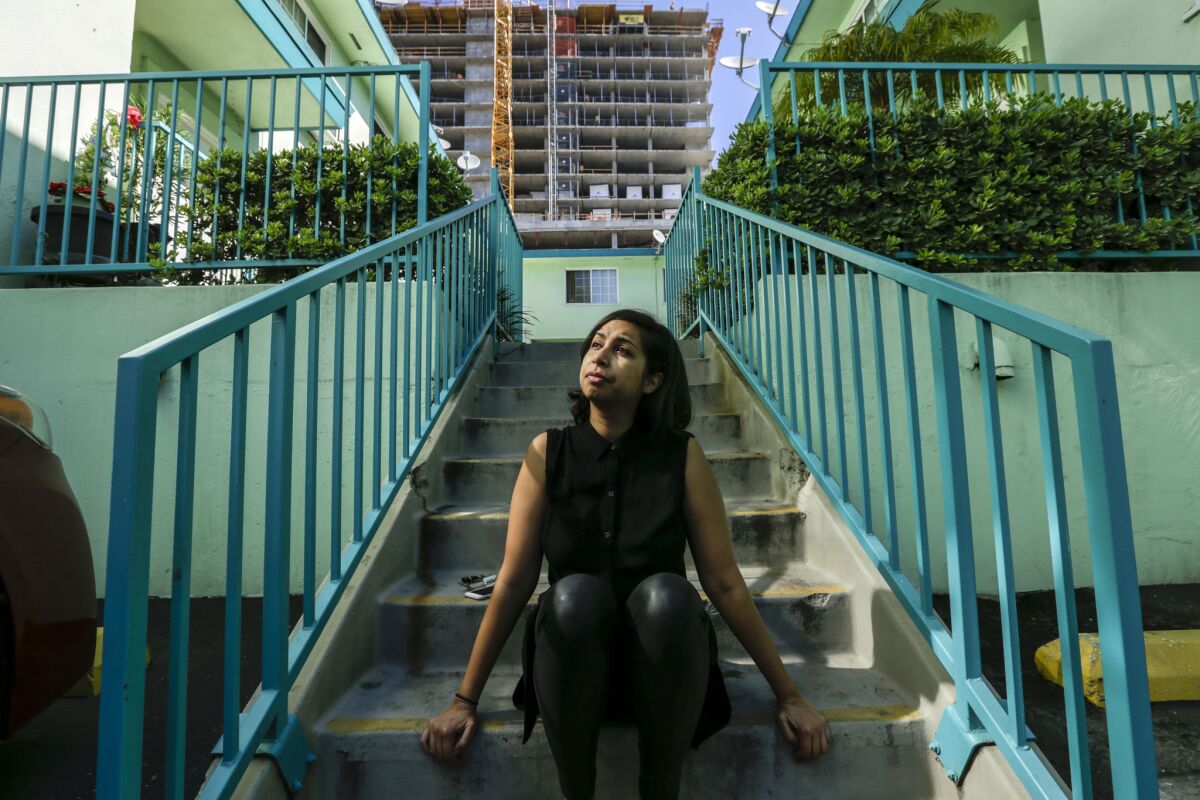 When labor unions and community groups teamed up to back a November affordable housing ballot measure, their plans drew a predictable set of opponents.
The ballot measure, called Build Better L.A., would impose new requirements for affordable housing on real estate developers who seek to build projects bigger than city rules ordinarily allow. Business groups such as the Los Angeles Area Chamber of Commerce said the proposal would end up making it harder and costlier to build needed housing, pointing to labor requirements they said would favor unions.
Now the Build Better L.A. initiative has a new and unexpected foe: tenant activists.
At a Tuesday news conference, the L.A. Tenants Union railed against the ballot proposal, arguing that it would fuel luxury housing rather than truly affordable apartments. Renters hoisted signs that read "Affordable for Who?" outside a Hollywood apartment building that is targeted for demolition to make way for a bigger project that would include restaurants, shops and hundreds of housing units. Activists said more renters would face displacement if the new measure is passed, despite promises to protect affordable housing.
"Build Better L.A. is expediting displacement in our communities and we need to protect the tenants who are going to be affected," said tenant union member Elizabeth Blaney.
The proposed rules would require some developments that seek zoning changes or amendments to the city general plan to either provide affordable housing or pay additional fees, according to an analysis by City Atty. Mike Feuer. Building projects funded by the city's Affordable Housing Trust Fund would also have to follow new hiring and wage requirements.
Feuer also noted that the proposal would limit L.A.'s ability to restrict amendments to the general plan — a city document that guides development — for real estate developments that meet affordable housing, transit and labor requirements.
The L.A. Tenants Union argued that wording would make it easier and faster to build new, more expensive developments without providing enough housing for the poor and displaced. Tenants ejected to make way for such developments would not have a guaranteed right to return, the group said.
See the most-read stories this hour >>
"We don't want to accept breadcrumbs that are being thrown at us," Blaney said.
Backers of Build Better L.A. say the concerns are unfounded. Laura Raymond, campaign director for the Alliance for Community Transit-Los Angeles, argued that Build Better L.A. would not take away any city discretion over big projects. She said the wording that had worried the tenant activists was meant to address any future restrictions on general plan amendments, not alter the existing process.
The proposed measure has had firm support from several other groups that represent renters, including Strategic Actions for a Just Economy and the Coalition for Economic Survival. Larry Gross, executive director of the coalition, said that tenants don't have a guaranteed right to return except in specific circumstances — something that the measure would not change — and that the new requirements would help protect affordable housing.
Big developments can be built either way, Gross said. Without the housing and labor requirements imposed by Build Better L.A., "they're doing it anyway — and we're not getting these things."
Tuesday's event was held jointly with the Yucca-Argyle Tenants Assn., whose members raised concerns about how displaced tenants would fare if their Hollywood building is torn down. Sejal Patel, who has lived in the building for five years, said she earned too much to qualify for affordable housing but couldn't afford the planned new units either.
Bob Champion, whose company is developing the new project, said Tuesday that the firm plans to replace all of the affordable units that exist in the building and offer them to the current tenants. Like the tenants, he opposes Build Better L.A. — but said his worry was that it would destroy jobs for building companies that aren't unionized.
The L.A. Tenants Union, a newer player on the political scene, formed last year as renters across the city reeled from evictions and displacement. Its concerns about luxury development echo similar arguments raised by backers of the Neighborhood Integrity Initiative, another upcoming ballot measure that targets bigger developments. That measure would restrict "mega developments" and curb the ability of city lawmakers to alter planning rules for individual projects.
Members of the L.A. Tenants Union said it has not yet taken a position on the Neighborhood Integrity Initiative, which backers now aim to put on the ballot in March. Sasha Ali, a tenant at the Argyle Avenue building, has spoken publicly at a Neighborhood Integrity Initiative event but said she and the Argyle tenant group had not endorsed it either.
Times staff writer David Zahniser contributed to this report.
Twitter: @LATimesEmily
ALSO
L.A. County to pay $10 million to man whose murder conviction was overturned
California father dies in failed attempt to save his daughter, 6, from drowning in Hawaii
Family of teen fatally shot by undercover CHP officers files legal claim, saying he was unarmed
The stories shaping California
Get up to speed with our Essential California newsletter, sent six days a week.
You may occasionally receive promotional content from the Los Angeles Times.