Backers say L.A. affordable housing measure is headed for November ballot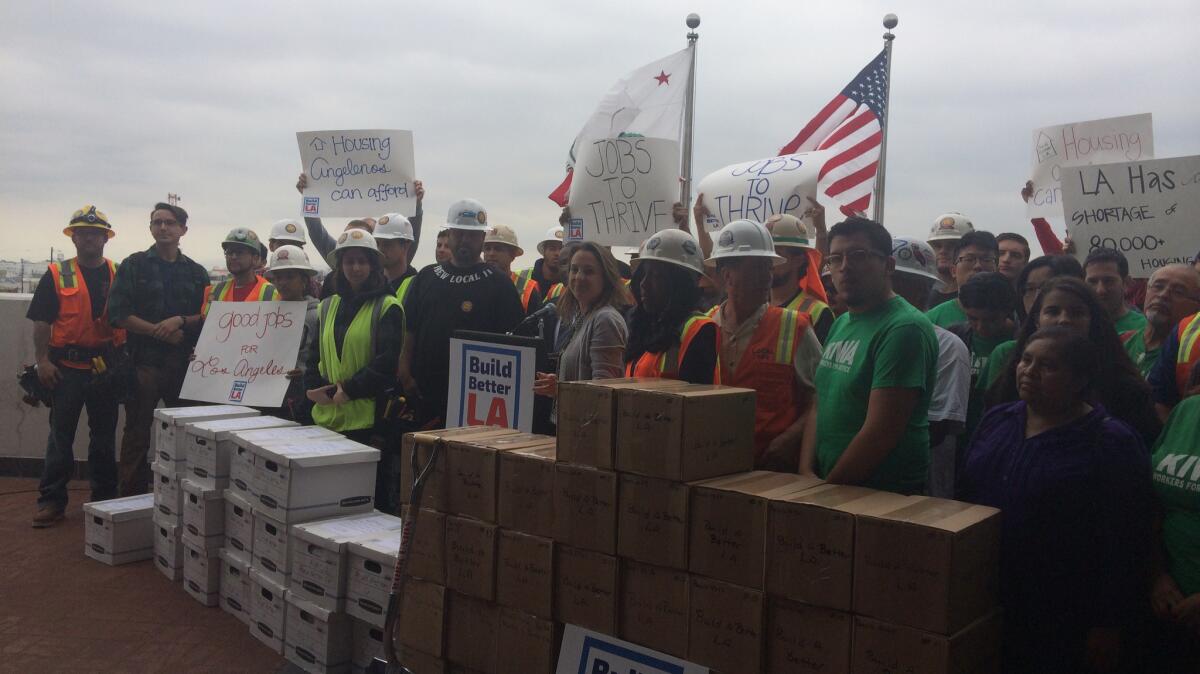 A coalition of labor unions and housing advocates said Monday it had gathered nearly 100,000 signatures for a ballot measure that would force real estate developers to provide affordable housing when they want to build bigger projects than city rules would otherwise allow.
The plan, dubbed Build Better L.A., needed to get roughly 62,000 valid signatures to qualify for the November ballot. Labor activists and their allies said Monday that they were confident that they had far surpassed that number, putting them on track for the fall election.
Los Angeles voters will "have the opportunity to vote on a measure that'll bring L.A. more homes people can afford and good local jobs they can rely on," said Rusty Hicks, executive secretary-treasurer of the Los Angeles County Federation of Labor.
See more of our top stories on Facebook >>
The proposed ballot measure would impose new requirements on building projects that seek exemptions from city planning and zoning rules, including those that limit building height or density.
In addition to requiring affordable housing, backers said, the ballot measure also seeks to ensure that a percentage of construction jobs on such projects go to local residents.
The Build Better L.A. plan was originally slated to go head-to-head with another local ballot measure targeting bigger developments – the Neighborhood Integrity Initiative, which would restrict "mega-developments" and curb the ability of the City Council to alter planning and zoning rules for individual projects.
But backers of the Neighborhood Integrity Initiative decided earlier this year to aim for the following March, arguing that their proposal would get buried during the busier November race.
Interested in the stories shaping California? Sign up for the free Essential California newsletter >>
Hicks said that if the Neighborhood Integrity Initiative passed next year, it would dramatically restrict development – including the kinds of projects that they were seeking to nurture.
"That's obviously something that we're not supportive of," Hicks said. Earlier during the Monday press conference, the labor leader drew a distinction between the two campaigns, saying, "This is not the coalition of no. This is the coalition of moving this city forward."
Champions of the Neighborhood Integrity Initiative, in turn, have derided Build Better L.A. as a "wolf in sheep's clothing" that would worsen traffic and congestion.
"This Build Better L.A. measure will fuel the city's development frenzy," said Westwood community leader Sandy Brown, a Neighborhood Integrity Initiative supporter, in a statement released to reporters.
The union plan has also triggered opposition from business groups that argue it would make it harder to build needed housing.
Gary Toebben, president and CEO of the Los Angeles Area Chamber of Commerce, said while they were teaming up with labor to oppose the Neighborhood Integrity Initiative, "we are on opposite sides on this one."
"It will significantly increase the cost of housing," Toebben said, mentioning a requirement in the measure that a minimum percentage of workers come from apprenticeship programs run jointly with labor.
The City Clerk must now examine the signatures and determine whether the proposal has enough valid signatures to move forward.
ALSO
Is L.A.'s housing market really as unaffordable as it seems?
Instead of a parade, Glendale honored its veterans with affordable housing
Can Eva Longoria and a little Hollywood glitz help ease the working class housing crisis?
Follow me on Twitter at @LATimesEmily
Sign up for Essential California for news, features and recommendations from the L.A. Times and beyond in your inbox six days a week.
You may occasionally receive promotional content from the Los Angeles Times.