L.A. backs requirements that could freeze out Wells Fargo from city contract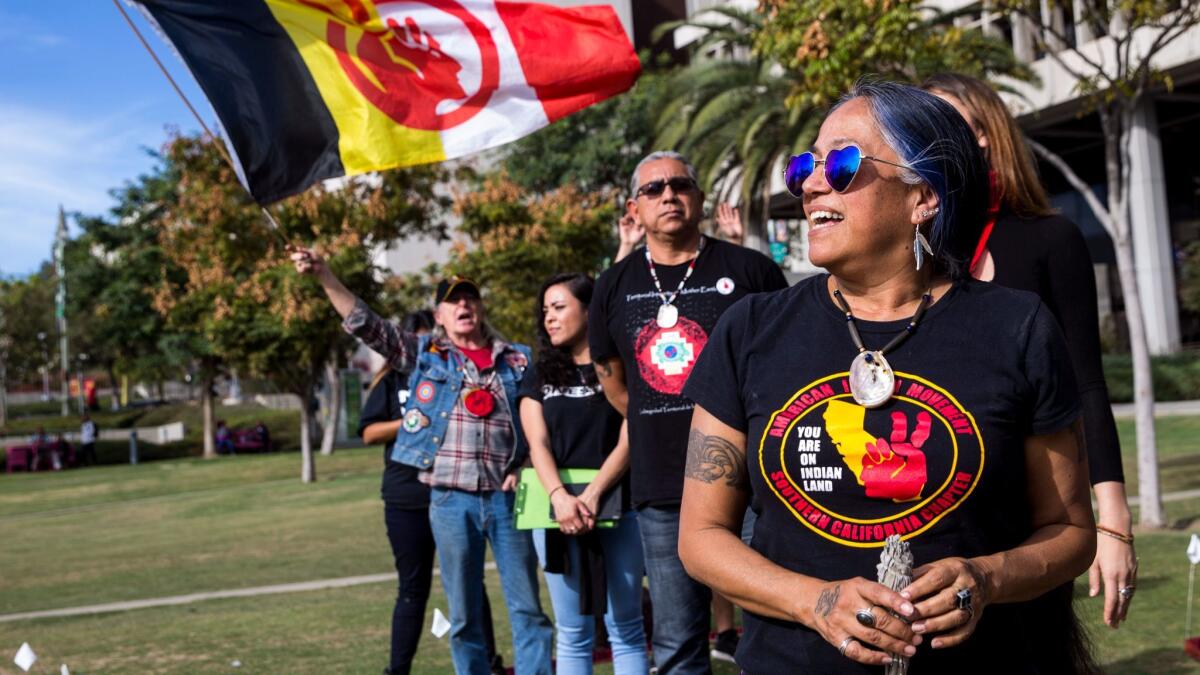 Los Angeles lawmakers pressed forward Wednesday with new requirements that likely would prevent Wells Fargo from hanging on to a multimillion-dollar contract with the city.
The decision is the latest fallout from the scandal surrounding Wells Fargo, which admitted to creating as many as 3.5 million accounts without customer permission. Last year, it agreed to pay $185 million in fines and penalties to regulators, including the office of Los Angeles City Atty. Mike Feuer, who sued the bank following a Times investigation into its sales practices.
"Together this council must take a stand against corporate greed, unfair business practices and a pervasive atmosphere that has poisoned the trust of Angelenos as well as millions of Americans across this great country," said City Councilman Mitch O'Farrell, who asked city staffers to examine divesting from Wells Fargo earlier this year.
Wells Fargo is currently the primary bank serving the city, according to its finance office, and held an average daily balance of roughly $94.5 million for the city during the last budget year. That contract to provide financial services expires next summer, and the city is seeking new proposals from banks vying to get the deal.
The new agreement, which lasts five years and can be extended, has an estimated value of roughly $4 million annually, according to Todd Bouey, assistant director of the city finance office. To get the city contract, financial companies will be judged not only on their services and pricing but also on "social responsibility."
That includes punitive action from regulators and how banks are rated under the Community Reinvestment Act, which encourages banks to operate and lend in low-income and minority communities.
Under the city criteria, which mandate a rating of "satisfactory" or better, Wells Fargo would not be able to get the L.A. contract with its current rating, according to city officials. Wells Fargo was downgraded earlier this year by regulators, partly because of its sham accounts scandal.
It is unclear how quickly that rating could be updated, but it appears unlikely that it would happen before banks must turn in their proposals for the city contract next year. At the Wednesday meeting, the City Council voted to move forward with those requirements for companies seeking the city contract.
Activists with the Divest LA campaign, who had pressed the city to stop doing business with Wells Fargo over its "predatory practices" and its financial involvement in the Dakota Access Pipeline project, hailed the decision as a major victory that could spur other cities and institutions to follow suit.
"This is the people's moment to take down these destructive corporations that have continued to put profit over the good of the community," Divest LA lead organizer Trinity Tran said.
When asked about the decision, company spokesman Paul Gomez said in a statement that "Wells Fargo values our long-held relationship with the city of Los Angeles, and we're proud to have helped the city save money for its taxpayers by working to streamline the city's financial systems. … We are deeply invested in helping the city continue working toward a strong, prosperous future."
The City Council also voted to draft a new law that would impose similar requirements on any future banking contracts, mandating that the city give lower scores to banks if they have flouted state or federal regulations.
Under the proposed rules, L.A. also would require banks to reveal if they have been the target of enforcement actions by regulatory agencies or the courts, affirm that they have rules to protect whistleblowers and certify that illegal and "predatory" practices are not used as the grounds for paying or promoting employees.
In addition, financial institutions would have to certify whether they set sales goals for consumer financial services and whether they use sales to decide what employees are paid or whether they are promoted, a requirement championed by Councilwoman Nury Martinez.
In an impassioned speech, Martinez denounced the financial industry for preying on "vulnerable people" through "their crappy loans and their charging of unnecessary fees, their fraudulent opening of accounts without even knowing their names."
The new rules would apply to banks that either are seeking or already doing business with the city. If a bank fails to follow the rules, the city could have cause to terminate its contract, Bouey said.
The proposed requirements expand on an existing "responsible banking" ordinance that requires banks doing business with the city to provide detailed reports on the loans they have provided in each community. The council voted to draft the new rules, which now will be drawn up by city lawyers before they come back to the council for final approval.
Earlier this year, the California Bankers Assn. and other business groups argued that some requirements under the proposed law could be unnecessarily burdensome, saying that agencies such as the Consumer Financial Protection Bureau already make information about enforcement actions available to the city.
"Adding more paperwork just causes more of a headache and can end up costing consumers more," said Stuart Waldman, president of the Valley Industry and Commerce Assn.
Los Angeles already had started to loosen its ties to Wells Fargo before Wednesday's vote: The city has suspended all purchases of debt-related securities associated with Wells Fargo, and the bulk of its $45 million in Wells Fargo bank securities holdings will expire within months and not be renewed, according to the finance office.
Other cities, including New York and San Francisco, as well as states, including California and Illinois, have vowed to cut off some business ties to Wells Fargo.
Last year, California Treasurer John Chiang said his office no longer would go through Wells Fargo to buy or sell securities, a move quickly echoed by Chiang's counterpart in Illinois. In New York City, officials in May moved to block the bank from selling municipal bonds and said they would not sign a new banking contract with Wells Fargo until its CRA rating improves.
The most recent government body to go after the bank for its sham-accounts practices is the Navajo Nation, which this week sued the bank in federal court in New Mexico.
The suit claims that Wells Fargo, the only major bank with branch locations within the massive Navajo Nation, pressured or duped elderly tribal members and those who did not speak English well into opening bank accounts they did not need. The tribe is seeking more than $50 million in damages, restitution and penalties.
Times staff writer James Rufus Koren contributed to this report.
Twitter: @AlpertReyes
ALSO
It's been a year since the Wells Fargo scandal broke — and new problems are still surfacing
Navajo Nation sues Wells Fargo claiming it was targeted for fake accounts
Wells Fargo, accused of signing up customers for unneeded insurance, could face sanctions from state
Sign up for Essential California for news, features and recommendations from the L.A. Times and beyond in your inbox six days a week.
You may occasionally receive promotional content from the Los Angeles Times.