Bell corruption: Attorney wants Rizzo to give the inside story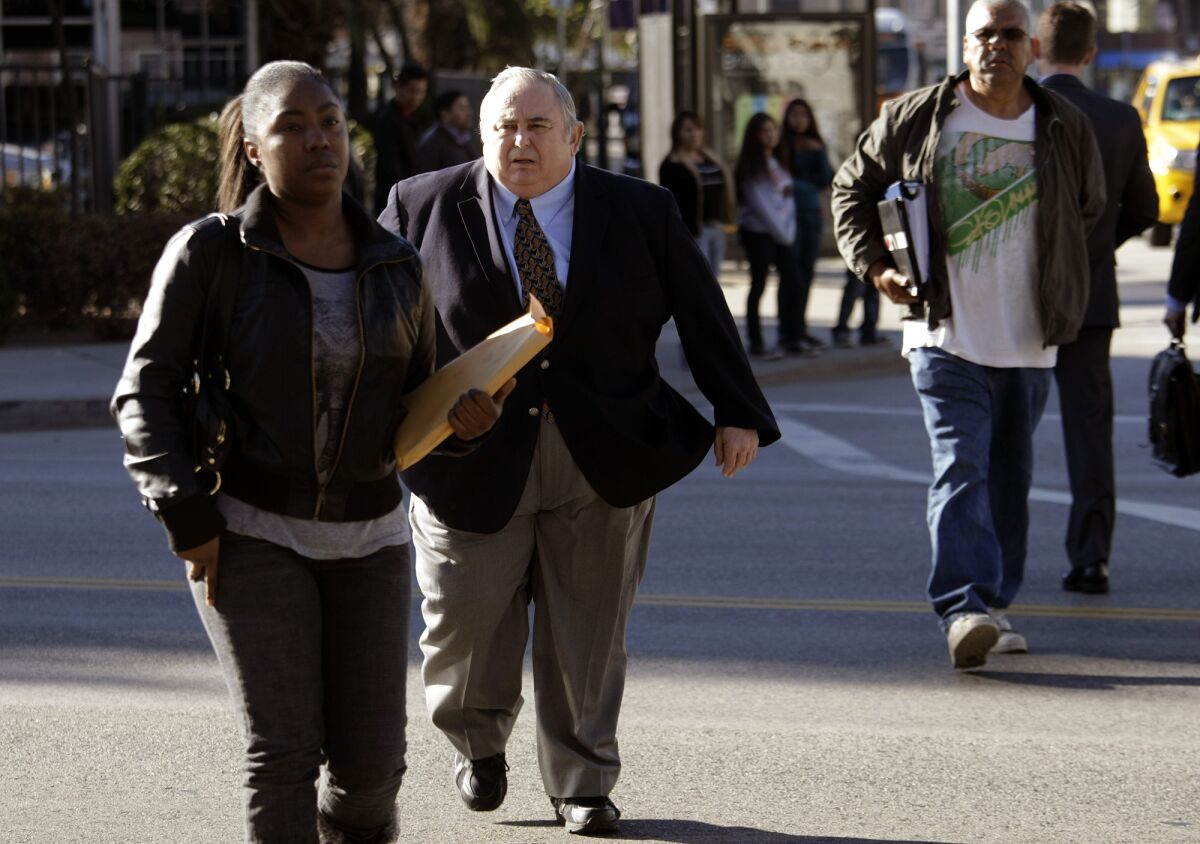 Will Robert Rizzo, the former city administrator who nearly bankrupted Bell while enriching himself and other city officials, finally be forced to give the inside story of the city's corruption?
In court Friday, the attorney for the city's former second-in-command asked that his client's sentencing be delayed until a week after Rizzo's so that he can interview Rizzo, who is set to be sentenced to a lengthy prison sentence March 12.
Defense attorney Harlan Braun reminded L.A. County Superior Court Judge Kathleen Kennedy that Rizzo had agreed to cooperate in the case against Angela Spaccia when he pleaded no contest to 69 felony corruption charges last year.
Kennedy did delay Spaccia's sentencing date until Feb. 26 because the probation report was not ready but took no steps to compel Rizzo to talk with Spaccia's attorney.
"Yes, it may be very interesting to find out what Mr. Rizzo has to say about all kinds of things from a curiosity standpoint," Kennedy said.
However, the judge said, after sitting through trials for Spaccia and six former Bell council members, "I don't believe the court is in the position that it needs to know any more of what Mr. Rizzo needs to say."
Rizzo, who avoided trial by pleading, has given no detailed answers about what happened in the small southeast L.A. County city he led for 17 years.
The only information he has provided is contained in a 4 1/4 page single-spaced summary of an interview he gave to the district attorney's office. The interview took place Oct. 16, a few days before Spaccia's trial on 11 corruption charges.
According to a copy obtained by The Times, prosecutors focused on Spaccia's misdeeds. Max Huntsman, one of the prosecutors, told The Times they were trying to learn if they had missed anything important as they prepared for trial.
Spaccia, who testified for seven days, was convicted last month and taken to jail. Prosecutors have asked for a sentence of 12 years and eight months. In court Friday, she was dressed in an orange jail-issued jumpsuit and was restrained with handcuffs.
Rizzo is free on $2-million bail. When he pleaded, Kennedy said she would sentence him to 10 to 12 years in prison.
Prosecutors have not asked Rizzo how the corruption started, details of conversations nor whose idea it was, and he was not questioned about others suspected of wrongdoing but who were never charged. Rizzo also was not asked about the five former Bell councilmembers who were convicted but who face retrial on counts on which the jury could not reach a verdict.
Braun said he would like to interview Rizzo prior to Spaccia's sentencing because his answers may allow the court "to decide relative culpability."
"One of the questions we want to explore with Mr. Rizzo is who did what when," Braun said.
Braun told the judge he would contact Rizzo's attorney to set up an interview.
Outside the courtroom, Rizzo's attorney said Braun had missed his chance to talk to his client, since Rizzo had agreed not to invoke the 5th Amendment against self incrimination if called as a witness by either side during Spaccia's trial.
James Spertus contends that Spaccia was the brains behind the corruption. Braun said that was ridiculous.
Later Friday, Braun sent Spertus an email asking that he make Rizzo available as soon as possible for an "eight-hour interview."
Spertus said that Braun was trying to "manufacture" the need for the interview and said he would not agree to the interview
"Mr. Braun is free to subpoena Mr. Rizzo to testify at the sentencing hearing if the judge concludes it's relevant information," Spertus said.
Braun said that if Rizzo doesn't agree to the interview, he will tell the judge that he is not complying with his agreement to cooperate.
Twitter: @gottliebjeff
The stories shaping California
Get up to speed with our Essential California newsletter, sent six days a week.
You may occasionally receive promotional content from the Los Angeles Times.