Sex, betrayal, rage mark testimony in death of Bell Gardens mayor
Bell Gardens Mayor Daniel Crespo at an event in November 2013.
(KTLA)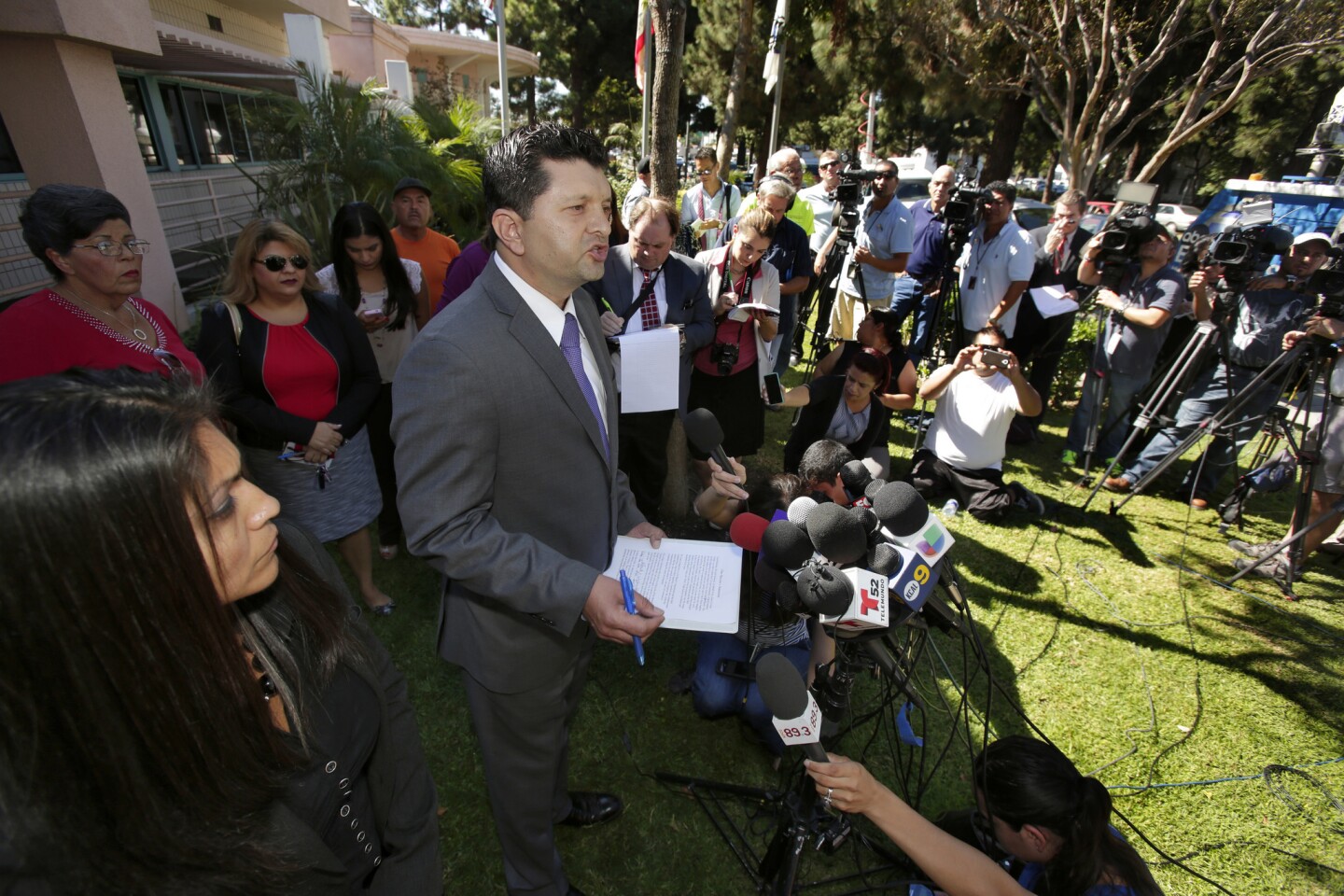 Attorney Eber Bayona, representing Levette Crespo, right, and attorney Claudia Osuna, far left, representing Crystal Denise Crespo and Daniel Crespo address a press conference in Bell Gardens.
(Irfan Khan / Los Angeles Times)
Standing outside the police station in Bell Gardens, William Crespo speaks to media denying the abuse allegations against his slain brother, Bell Gardens Mayor Daniel Crespo.
(Irfan Khan / Los Angeles Times)
Flowers at the Bell Gardens City Hall in memory of slain Mayor Daniel Crespo.
(Irfan Khan / Los Angeles Times)
A Crespo family photograph shows Daniel Crespo, his daughter, wife Levette, and son Daniel Crespo Jr.
(Courtesy Crespo family)
A small memorial sits near the front gate of the Bell Gardens complex where Mayor Daniel Crespo was shot and killed allegedly by his wife, Levette, according to officials.
(Robert Gauthier / Los Angeles Times)
Members of the media gather outside the home of slain Bell Gardens Mayor Daniel Crespo, a day after he was shot and killed.
(Robert Gauthier / Los Angeles Times)
Friends of the Crespo family embrace in the lobby of the Bell Gardens police station after the shooting death of the city's mayor, Daniel Crespo.
(Gina Ferazzi / Los Angeles Times)
A police officer sets up a perimeter around the Bell Gardens home of Mayor Daniel Crespo where he was shot Tuesday.
(Luis Sinco / Los Angeles Times)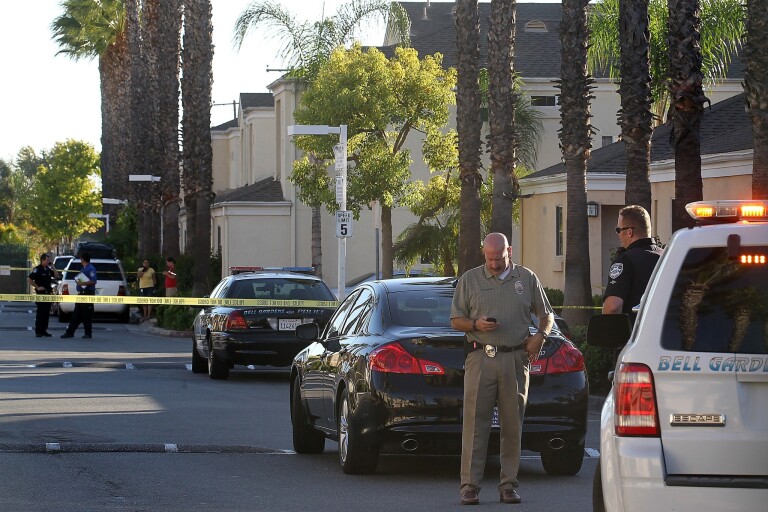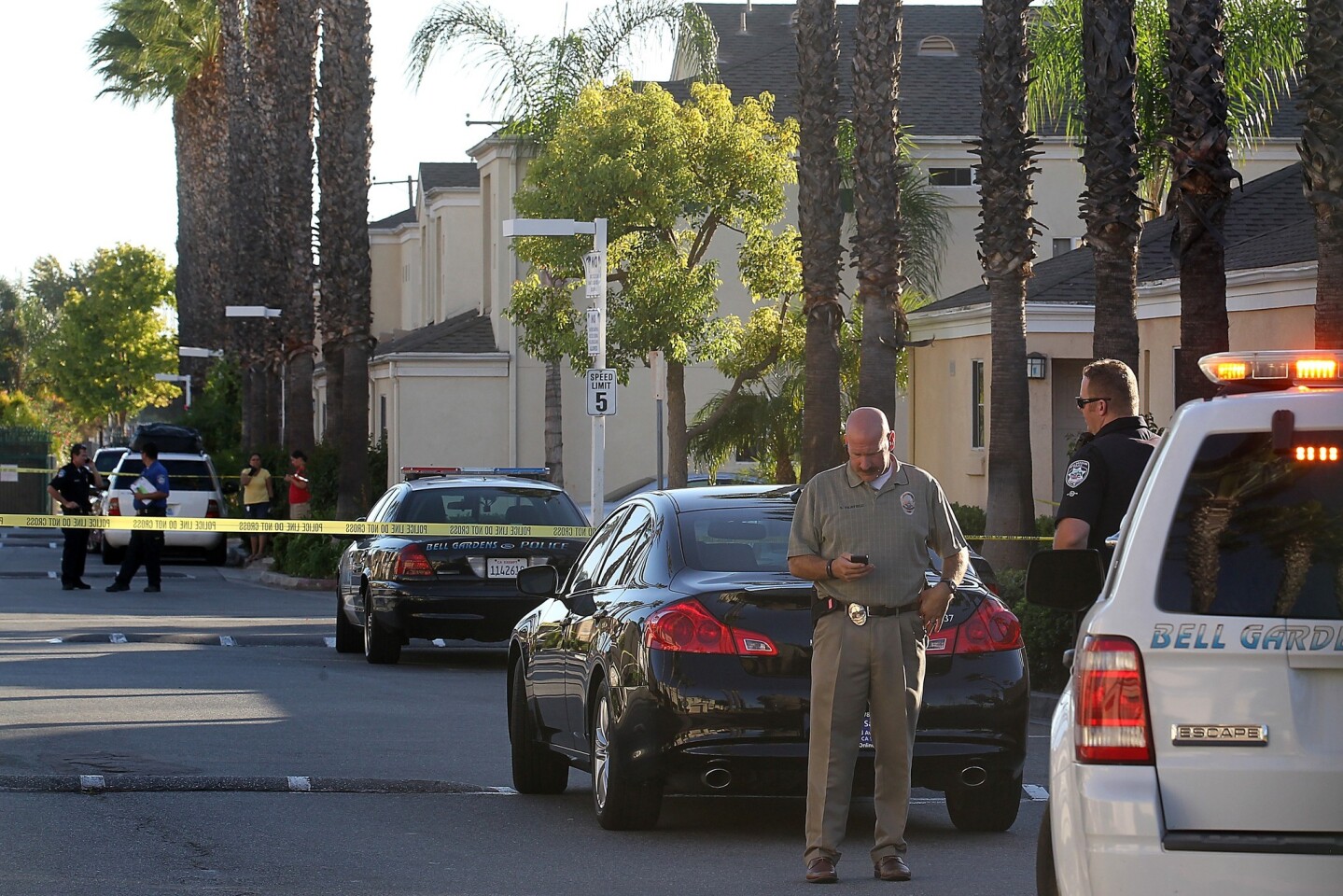 Police officers outside the home of Bell Gardens Mayor Daniel Crespo.
(Luis Sinco / Los Angeles Times)
Residents of a gated community in Bell Gardens where Mayor Daniel Crespo was shot mill around their residential compound.
(Luis Sinco / Los Angeles Times)
Police at the scene of the shooting. Daniel Crespo was a probation officer in addition to serving as mayor.
(KTLA)
He was hardly discreet about his affairs.
Daniel Crespo, the mayor of Bell Gardens, bought one girlfriend a ring during a trip to Las Vegas for a faux wedding. He sent his wife an audio recording of him bragging to a co-worker about his dalliances. He rented out a six-bedroom home he owned, but kept one room empty so he could rendezvous there with women on his lunch breaks and after work.
His wife, Lyvette, called the room his "man cave" and knew about the affairs, which were often the subject of angry and threatening texts, a prosecutor told grand jurors last month.
Grand jury transcripts made public Monday provide new details about the mayor's tumultuous marriage to his childhood sweetheart, his numerous infidelities and the criminal case prosecutors have made against his wife in his fatal shooting last year.
During the hearing that led up to the indictment, Deputy Dist. Atty. Beth Silverman told grand jurors that Lyvette and Daniel Crespo had a "very rocky … very difficult, dysfunctional relationship," the court papers show.
Silverman said Daniel Crespo was obsessive about recording himself and his conversations with others, and one recording captured an exchange with his wife
in which he asked: "Why would you threaten to shoot me?"
"Well, if you cheat, that's what I would do," Lyvette responded, the prosecutor told grand jurors.
Last month, after hearing from prosecutors and numerous witnesses, the grand jury indicted Lyvette Crespo on a charge of voluntary manslaughter with an allegation that she was armed with a handgun at the time of the crime. Voluntary manslaughter is defined as killing without prior intent and during a sudden quarrel or in the heat of passion.
Lyvette Crespo, 43, has pleaded not guilty.
Her lawyer, Eber Bayona, has insisted that the killing was justifiable and in defense of Lyvette Crespo and her son. The lawyer said Lyvette Crespo had suffered decades of abuse by her husband and was trying to protect her son when she opened fire.
Asked to comment on the transcripts, Bayona said his client was frustrated by the affairs but also found that they brought a respite from the abuse.
"It was a welcome relief when Daniel Crespo was off entertaining other women for his wife because she wouldn't be suffering abuse," he said.
The couple's son, Daniel Jr., testified before the grand jury that moments before the shooting, his father punched him in the face, knocking him down the stairs, the court papers show. He said he got up, ran down the remaining stairs to the interior door of the family's garage. As he reached it, he looked back and saw his mother on a landing above his father on the stairs.
"That's when I saw him get shot," Daniel Jr. testified. "I heard three gunshots and then saw him fall."
He told grand jurors his father was abusive to his mother and his sister. On one occasion, he witnessed his sister being choked against a closet by their father. On another, he said, his father punched his mother in the face while they were driving home from church, believing that she had looked at another man.
Daniel Jr. said he told a school counselor about the abuse in 2011.
He testified that his father's violence toward his mother escalated in 2014 and said he remembered noticing her face was bruised a month before the shooting.
A Bell Gardens police officer testified that immediately after the shooting, Daniel Jr. told him that his mother had shot his father and then screamed, "No more!" Another officer testified that in explaining the shooting, Lyvette — who was shaking and crying — told him, "He was hurting us."
Silverman, the prosecutor, told grand jurors that the Bell Gardens mayor mistreated his wife.
"He goes out at night, he comes home, he treats her, like … a secretary," Silverman said. "He treats her like she's his housekeeper."
Nevertheless, she said Lyvette repeatedly goaded her husband, showing that she did not fear for her own safety. "She is extremely angry with her husband, and possibly with very good reason," Silverman said.
Silverman and another prosecutor presented the grand jury with texts between the couple, including some in which Lyvette appeared to threaten her husband, according to the transcripts.
"I'll find out who … u got flowers for. Has to be a bell gardens whore," read one of the messages sent to Daniel Crespo's phone number months before the shooting.
"It better [be the] last time U threaten to shoot me in [the] head!!!" came the reply from Daniel Crespo's phone.
"People don't like to be played with or be made a fool," she responded, according to the court papers. "I've put up with a lot of.... Don't play with me."
Silverman read texts she said were exchanged between the pair on the day of the shooting, the transcripts show. In the texts, Lyvette warned her husband about boasting of his affairs to his co-workers, the prosecutor said.
"Rot in hell," he responded in a profanity-laden text. "You will regret it."
After another brief exchange, he wrote to her at about 2 p.m.: "When I get home, let's see how you will respond.... With the rage I have, woman, you shouldn't be pushing my buttons."
The shooting occurred about half an hour later.
The 46-year-old mayor, who also worked as a probation officer, was shot with his own 9-millimeter pistol, authorities said. In an anguished 911 call after the shooting, Daniel Jr. told a dispatcher: "He hurt me. He hurt me. He's on the floor dying. He hurt me."
For more news, follow @marisagerber and @lacrimes.
---
The stories shaping California
Get up to speed with our Essential California newsletter, sent six days a week.
You may occasionally receive promotional content from the Los Angeles Times.