HUD Secretary Ben Carson tours women's homeless center on skid row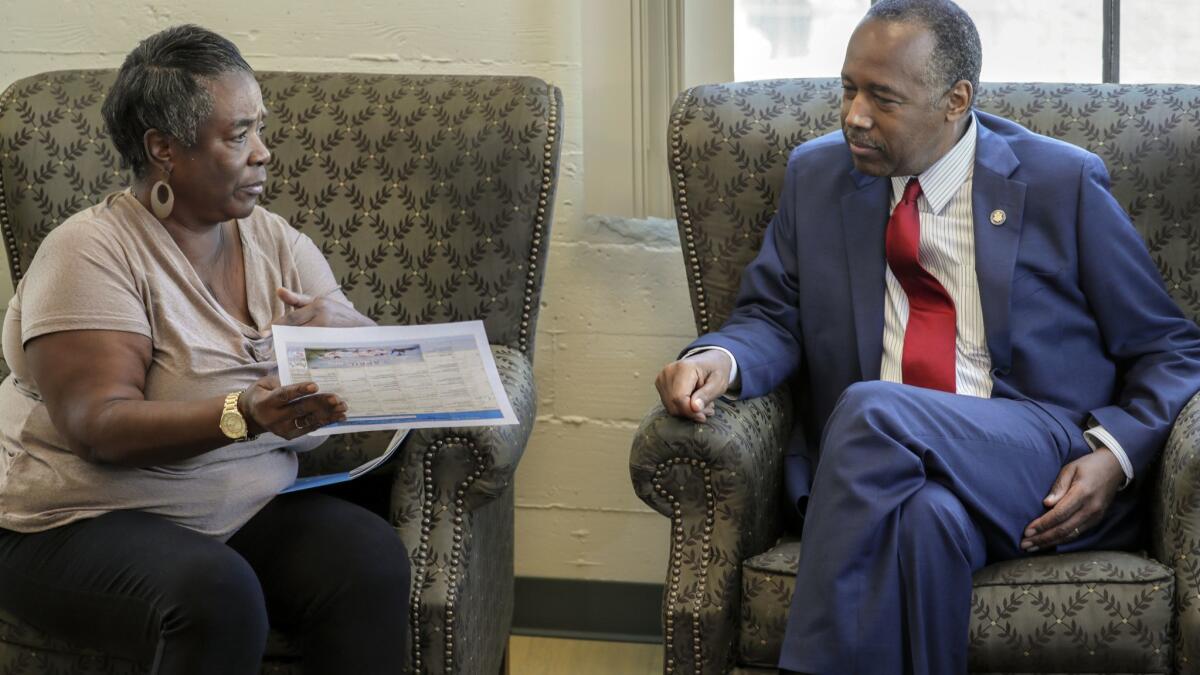 Housing and Urban Development Secretary Ben Carson toured a homeless women's center on L.A.'s skid row Tuesday as part of a fact-finding trip to local public-private partnerships and faith-based programs tackling homelessness and job training.
Carson, whose agency provided a record $109 million last year to L.A.'s battle with one of the nation's worst homelessness problems, also met with county and business homelessness leaders and stopped at a faith-based drug treatment residential center in Echo Park.
The Dream Center Foundation visit, which included a sweep through a men's dorm and discussions with leaders, was closed to the media for logistical reasons, a Carson aide said.
It was Carson's first trip to skid row, 50 blocks lined with tents and shanties filled largely with African Americans, a sight he said "you cannot forget."
"I can't imagine how anybody could walk through an area like this and not have their heartstrings tugged," he told reporters before a brief meeting with Denise Smith, a former crack addict who now volunteers in the Downtown Women's Center health program.
Carson attributed the heavy black presence on skid row to a lack of education. He praised the Dream Center for surviving entirely on private funds and the Downtown Women's Center for relying on volunteers, and preached fiscal conservatism and local solutions over reliance on the federal government.
"In this country a person regardless of their background can pretty much write their own ticket if they get a good education," Carson said. "And the educational facilities particularly in black communities are not up to par."
The HUD chief said his agency is pushing education as part of its community development mission.
Carson later stopped by Los Angeles Trade-Technical College, a lead agency for a HUD-designated "promise zone," which offers competitive advantages in securing grants for public-private education, job training and life-skills programs in South Los Angeles.
The college has partnered with a community group to recruit out-of-school youths to get their high school diplomas and construction certificates, said Leticia Barajas, Trade-Tech's vice president for innovation. Carson also spoke with students studying electric cars, emission systems and other transit technologies.
"Keep up the good work," the secretary told the students. "We're proud of you."
Twitter: @geholland
Sign up for Essential California for news, features and recommendations from the L.A. Times and beyond in your inbox six days a week.
You may occasionally receive promotional content from the Los Angeles Times.