Berkeley files reveal housing violations, no mention of balcony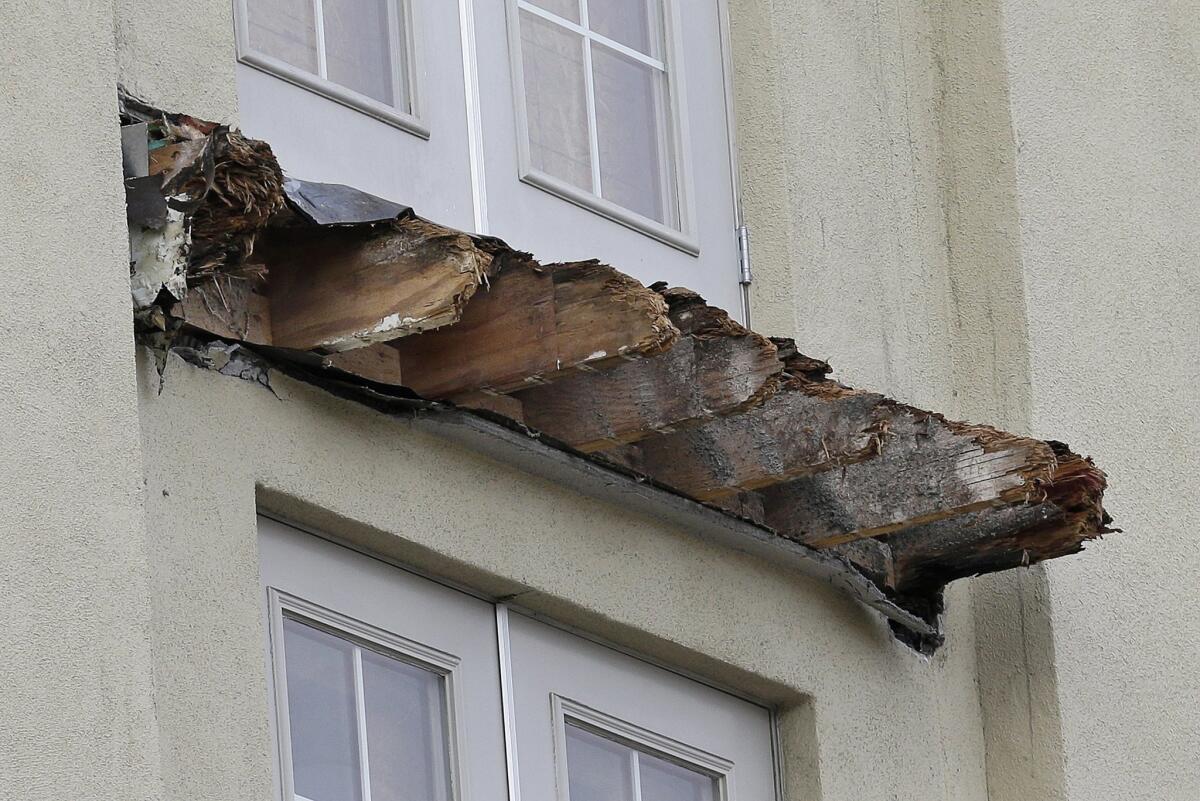 Reporting from Berkeley —
Newly released city inspection files show a handful of housing code violations at the Library Gardens apartment complex in recent years, but no indication of rotting wood that apparently caused Tuesday's balcony collapse that killed six and injured seven.
Building permits also released by the city Friday did not mention any of the building's four balconies or waterproofing inspections during construction.
Many experts believe the balcony failed because the wood beams supporting the deck had rotted from exposure to water.
"Once again, I fail to find any mention of waterproofing," said Gene St. Onge, a civil and structural engineer in Oakland who is not connected to the investigation. "There simply is no regulatory mechanism for assuring that a new building is waterproofed correctly, but there certainly should be."
The apartment complex's housing code violations included holes in walls, trip hazards from damaged floors, loose metal strips in doorways, inoperable ceiling fans in laundry rooms and missing or inoperable exit signs throughout the building.
The majority of violations were found during a random September 2013 city inspection of several low-income and affordable housing units in the complex. The five violations were fixed by January 2014, according to city records.
Berkeley requires owners to "self-certify" the safety of their rental property each year, but the actual checklists are not turned in to the city. Tenants can ask the city to conduct its own inspection, which could result in official housing code violation citations.
Otherwise, city workers said, units are not inspected annually unless they are among properties the city Housing Code Enforcement office picks at random.
Inspection files at Library Gardens show that even when city inspectors arrive, their reviews are sometimes cursory or after the fact.
In March, one tenant reported a leak and repeated flooding in her unit. When an investigator arrived two weeks later, the leak had been repaired and no violation was recorded.
In May 2014 a tenant complained that an elevator had been out of service for three days, and residents using wheelchairs had been unable to leave the building.
When an inspector arrived a week later, a building assistant manager said the elevator had been operating "as of several minutes before."
No violation was recorded, but the complaining tenant told an inspector that she was still "concerned about the safety" of residents using wheelchairs.
In one case, a complaint did lead city inspectors to find violations: they spotted a "large" rectangular hole in the wall at the base of a staircase near an exit door and a broken electric light at a wheelchair ramp in 2011. Both violations were fixed within two months.
Wednesday, the day after the balcony collapse, the director of the city housing code enforcement asked Library Gardens management to submit copies of safety inspections for all 174 apartments in the complex by the next day, according to records released Friday.
Managers of the apartment complex placed notices on the doors of multiple tenants in Library Gardens on Thursday announcing their units would undergo a "required annual inspection" on Friday.
"In the five-plus years I've lived at Library Gardens, only one 'annual inspection' of my apartment has been announced and carried out," said a resident who spoke anonymously, citing concern about retribution.
Several residents said such inspections are infrequent.
There was no immediate response from Library Gardens' national management company, Greystar, based in South Carolina.
Other Greystar-managed buildings in Berkeley also had tenant complaints but no major code violations. A resident of one apartment building complained last October that she was without heat, but she had moved by the time a city inspector arrived in mid-November. Another tenant had been trapped in an elevator and the inspector referred the matter to the state, city files show.
Berkeley housing code enforcement officials told The Times that since April, the office has cited four property owners for failing to inspect rental units. The fine for each was $200.
The city, meanwhile, has opened a center for families of the victims to gather and is assisting them in making arrangements to return the bodies of those killed back to Ireland, "including navigating through any bureaucracy," said city spokesman Matthai Chakko.
javier.panzar@latimes.com
paige.stjohn@latimes.com
Twitter: @jpanzar @paigestjohn
Sign up for Essential California for news, features and recommendations from the L.A. Times and beyond in your inbox six days a week.
You may occasionally receive promotional content from the Los Angeles Times.