UC Berkeley opens 'universal' locker room with space for transgender students, people with disabilities and members who want more privacy
UC Berkeley opened a universal locker room for transgender or non-binary students and those who want more privacy. (UC Berkeley)
UC Berkeley opened an expansive "universal" locker room Wednesday, creating a space for transgender or non-binary students and those who want more privacy or need disability accommodations.
The 4,500-square-foot locker room, part of the campus' Recreational Sports Facility, is the first of its kind in California and one of only a handful in the country, the university said.
The $2.7-million facility houses private rooms for changing and showering, including 400 lockers, 16 individual changing rooms, seven private showers, five private toilets and four shared sinks.
The idea for a universal space was borne out of conversations with students who said they felt uncomfortable having only a traditional choice of locker rooms.
"This resource is really important to students on campus," said Brigitte Lossing, Berkeley's interim director for recreational sports.
And it was students who spearheaded — and funded — the project.
In 2015, Berkeley students passed a "wellness referendum" that imposed a $146 fee each year, Lossing said. The fee is tied to inflation and is now $160, the university said. Money from the fee goes into a fund for "innovative mind-body services" that "address the concerning rise of mental health complications on campus and provide new support for minority student groups."
Some students felt so alienated by the lack of accommodations that they avoided using the recreational center, Lossing said — not only transgender or non-binary students, but also those with disabilities, body-image concerns or religious restrictions.
The school's goal is to figure out how to "get people here who don't feel comfortable," she said.
Ben Perez, manager of Berkeley's Campus Access Services, said the new locker room is important because it "pushes the societal envelope." Perez graduated from the university in 2013. He recalled feeling as though the locker room wasn't the place for him while he was a student.
"I just didn't feel like it was a spot I would or should go," said Perez, who uses a wheelchair because of a spinal cord injury. "I would change at home, then come use workout facilities and then go straight home to change or shower post-workout.… I felt like, why even bother if there's not going to be a space that really works for me?"
Perez said he appreciates that the idea of a universal space included people with disabilities.
"We don't yet know for whom it will be the most beneficial, but it will be beneficial to somebody and that will include students with disabilities," Perez, 29, said.
Hung Huynh said he uses the gym at least five times a week. The 21-year-old said he is proud of the new locker room because it fosters diversity and inclusion.
"Not just gender binaries, but people with disabilities, people who are anxious to change around others," said Huynh, who is part of the university's student government. "I also think this is a model we can replicate around other parts of campus and other institutions can replicate this as well."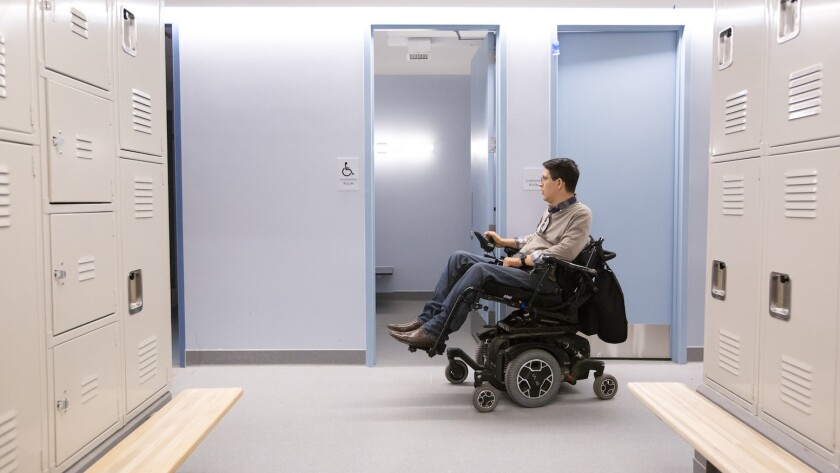 For inspiration, Berkeley looked to the University of Arizona, which built a similar locker room in 2017. Lossing visited the Arizona facility last fall while Berkeley was still designing its own.
The university began considering the idea of a universal locker room in 2013, she said, when an opportunity arose to build a small fitness center near the campus stadium. That gym served as the "initial spark" and marked the first time the school provided an all-gender locker room.
"It was a little experiment," Lossing said.
The new universal locker room serves "a much wider population," she said, because it is part of the university's main gym, where members can access the pool, basketball court and group fitness classes.
"It's not just today's student," Lossing said. "We are building for the future. This is the norm. This is today's standard."
Juniperangelica Cordova, a transgender student majoring in ethnic studies, said she is excited to have a space where she feels it is safe to change before or after a workout.
"I have played sports my whole life," Cordova, 21, said. "But I was always really nervous because of the idea of locker rooms being gendered and my body not really matching either discouraged me."
Now, Cordova says, she can fully take advantage of university resources — just like her peers.
"For people who may not be transgender, restrooms and locker rooms are assumed to be available at any time of the day," she said. "This allows students to focus on their wellness and their health without worrying about the details of their safety."
For more California news follow me on Twitter: @sarahparvini
---
For reporting and exclusive analysis from bureau chief John Myers, get our California Politics newsletter.
You may occasionally receive promotional content from the Los Angeles Times.