Family and friends use drones in search for missing college student
Jeanne Pepper Bernstein, mother of missing OC student, discusses events surrounding his disappearance. (Video by Maria Alejandra Cardona / Los Angeles Times)
Jeanne Pepper Bernstein has been searching for her 19-year-old son since he went missing in Lake Forest last Tuesday. On Sunday afternoon, she had a message for him.
"If there's any way you can come home, whatever has happened, wherever you've been, whoever you've talked to — it doesn't matter," she said in an interview with The Times. "We love you so much that we would give up everything we have to have you back."
As she offered her wrenching plea, family and friends used drones to canvass the Foothill Ranch area of Lake Forest, where authorities believe Blaze Bernstein was last seen by a friend in Borrego Park. Meanwhile, Orange County sheriff's investigators were "actively following leads" to solve his mysterious disappearance.
Sheriff's officials said Blaze Bernstein, a pre-med student at the University of Pennsylvania, never returned to his parents' home in Foothill Ranch late Tuesday night after visiting the park with a friend.
The friend told investigators that he went into a restroom at the park and when he came out, Blaze Bernstein was gone, said Carrie Braun, a spokeswoman for the Sheriff's Department. The friend last saw him about 11 p.m. Officials don't believe foul play was involved and said the friend is not a suspect in the disappearance.
Blaze Bernstein left belongings behind — including his keys, wallet, credit cards and eyeglasses — when he left his parents' home to see the friend "without saying goodbye — we didn't even hear him leave," said his father, Gideon Bernstein.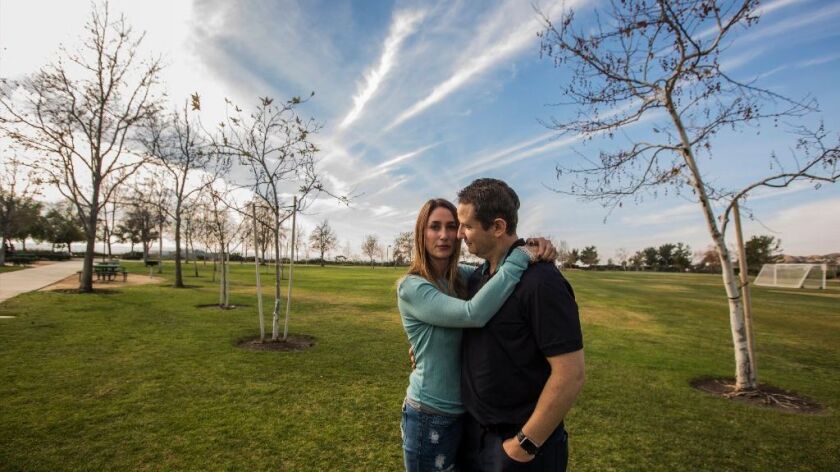 Pepper Bernstein felt something was off the next afternoon, when Blaze, the oldest of three children, didn't show up for a dentist appointment. She'd hoped to have lunch with him before driving with him to the appointment. When Blaze didn't come home, she and her husband assumed he would meet her at the dentist.
The teenager was scheduled to catch a flight back to Pennsylvania early Sunday, Pepper Bernstein said, though there's no sign he returned on his own. She said her son was excited to return to school. Over the weekend, she found a note on his computer describing how important it was to be an optimist. Blaze, she said, managed his stress with school by cooking and writing.
"He's a phenomenal, unique, interesting person," she said. "Blaze was like any normal kid his age at an Ivy League school."
Before leaving home, Blaze Bernstein had been in lengthy communication with his friend on social media apps that do not leave a permanent record, authorities said.
Blaze Bernstein was described as white, 5 feet 8, 130 pounds, with brown hair and blue eyes. He was wearing a dark-colored jacket, a dark-gray long-sleeved top and white Adidas sneakers when he disappeared, authorities said.
Search efforts were expected to continue Monday. Sheriff's investigators are urging anyone with information about Bernstein's whereabouts to call (714) 647-7000.
---
The stories shaping California
Get up to speed with our Essential California newsletter, sent six days a week.
You may occasionally receive promotional content from the Los Angeles Times.