Bikini-clad baristas must cover up, federal appeals court says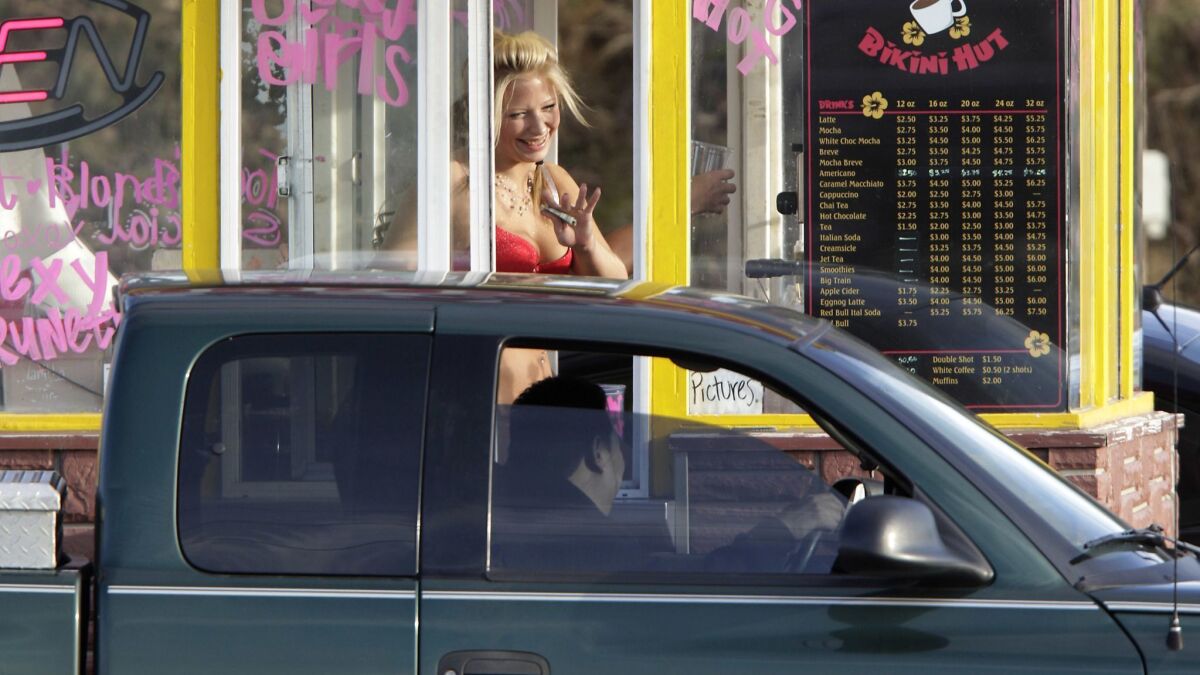 Reporting from San Francisco —
A federal appeals court on Wednesday upheld two city ordinances in Washington state requiring bikini-clad baristas to wear more clothing.
The unanimous decision by a three-judge panel of the U.S. 9th Circuit Court of Appeals represented a victory for cities in their efforts to curb businesses that use scantily dressed female employees to attract customers.
The ruling by the San Francisco-based court came in a case brought by Hillbilly Hotties, a bikini barista chain, and several female employees.
They sued the city of Everett, Wash., over two ordinances passed in 2017 requiring workers at coffee stands and similar establishments to cover up.
A district judge blocked the laws on constitutional grounds, ruling that the ordinances were vague and violated free-speech rights.
In lifting the injunction Wednesday, the 9th Circuit said the dress-code and lewd-conduct laws were sufficiently clear and that any message of female empowerment the women intended to send would be lost on their customers.
Bikini barista stands have operated in and around Everett since at least 2009, the court said.
The women's "attire is significantly more revealing than a typical bikini," the court noted, because some employees wear little more than pasties over their breasts and G-strings.
After receiving nearly 40 complaints, Everett, located north of Seattle, passed the ordinances, which apply to coffee stands, fast-food restaurants, delis, food trucks, coffee shops and drive-through businesses.
The baristas who challenged the laws argued they were so vague that they would be difficult to enforce.
Disagreeing, the 9th Circuit wrote: "All an officer must determine is whether the upper body (specifically, the breast/pectorals, stomach, back below the shoulder blades) and lower body (the buttocks, top three inches of legs below the buttocks, pubic area and genitals) are covered."
"A person of ordinary intelligence reading the ordinance in its entirety will be adequately informed about what body areas cannot be exposed or displayed," Judge Morgan Christen, an Obama appointee, wrote for the panel.
The court also found that wearing G-strings and pasties did not amount to conduct protected by the 1st Amendment in the context of retail establishments whose employees are in close contact with the public.
The challengers had argued that they were sending a message of female empowerment and confidence by working nearly naked.
Joining Christen in the decision were 9th Circuit Judge Sandra S. Ikuta, appointed by President George W. Bush, and U.S. Judge Jennifer Choe-Groves, an international trade jurist and Obama appointee.
Earlier this year, the City Council of American Canyon, Calif., upheld a decision to revoke a license for a drive-through coffee shop "Bottoms Up Espresso," part of a chain of stands the council called bikini cafes.
The workers in that chain of drive-through kiosks are not allowed to wear thongs or pasties, but must work in bikinis on two days and be scantily dressed on other days.
Twitter: @mauradolan
---
The stories shaping California
Get up to speed with our Essential California newsletter, sent six days a week.
You may occasionally receive promotional content from the Los Angeles Times.