Filner sex scandal gets weirder with 'Blurred Lines' parody
Bob Filner enters the San Diego council chambers to announce that he is resigning as mayor as his supporters applaud in the background. He was publicly accused of sexual harassment by many women.
(Don Bartletti / Los Angeles Times)
In the San Diego City Council chambers Bob Filner announces he is resigning as mayor.
(Don Bartletti / Los Angeles Times)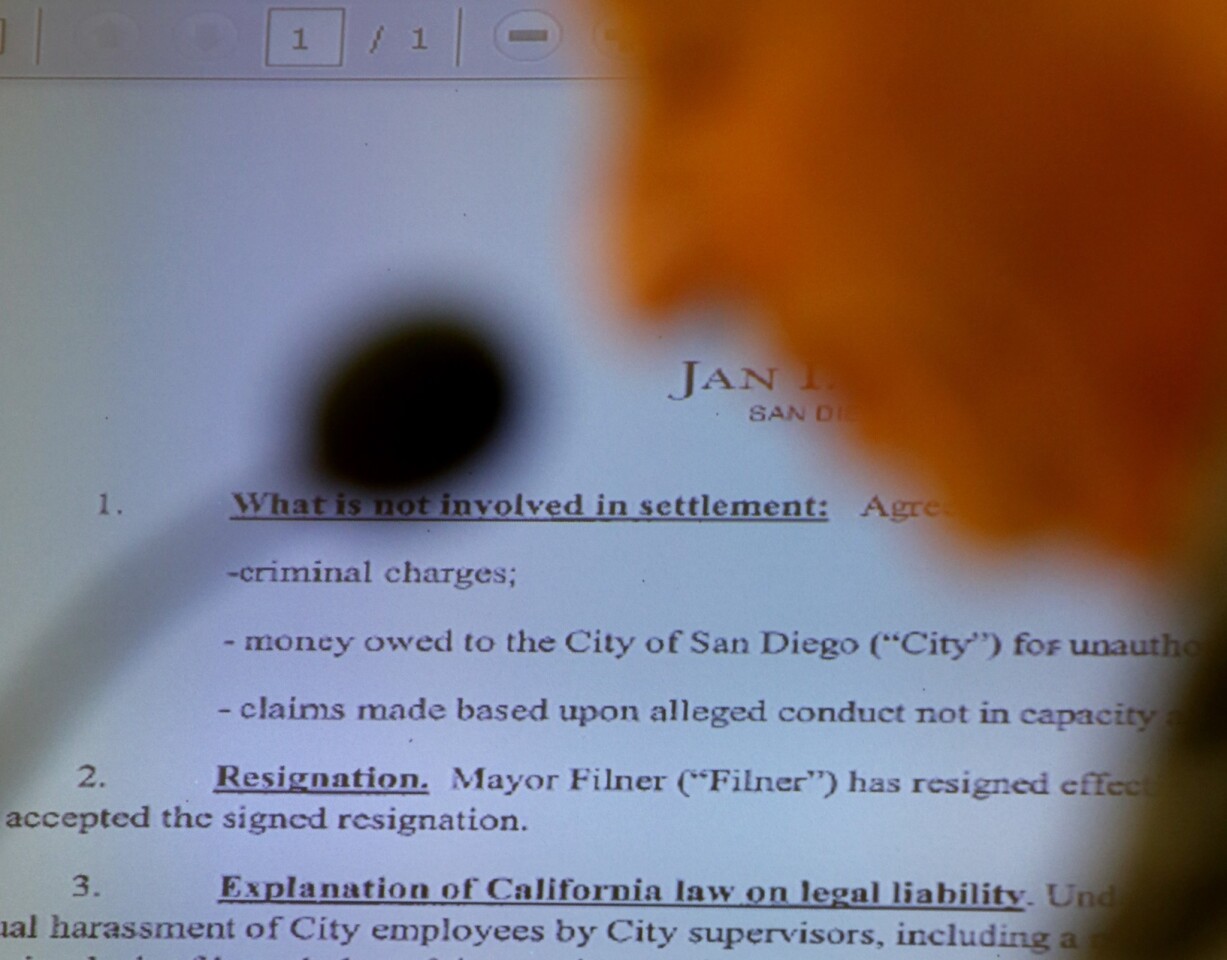 As Bob Filner addresses the City Council, the official San Diego city statement is projected on a screen.
(Don Bartletti / Los Angeles Times)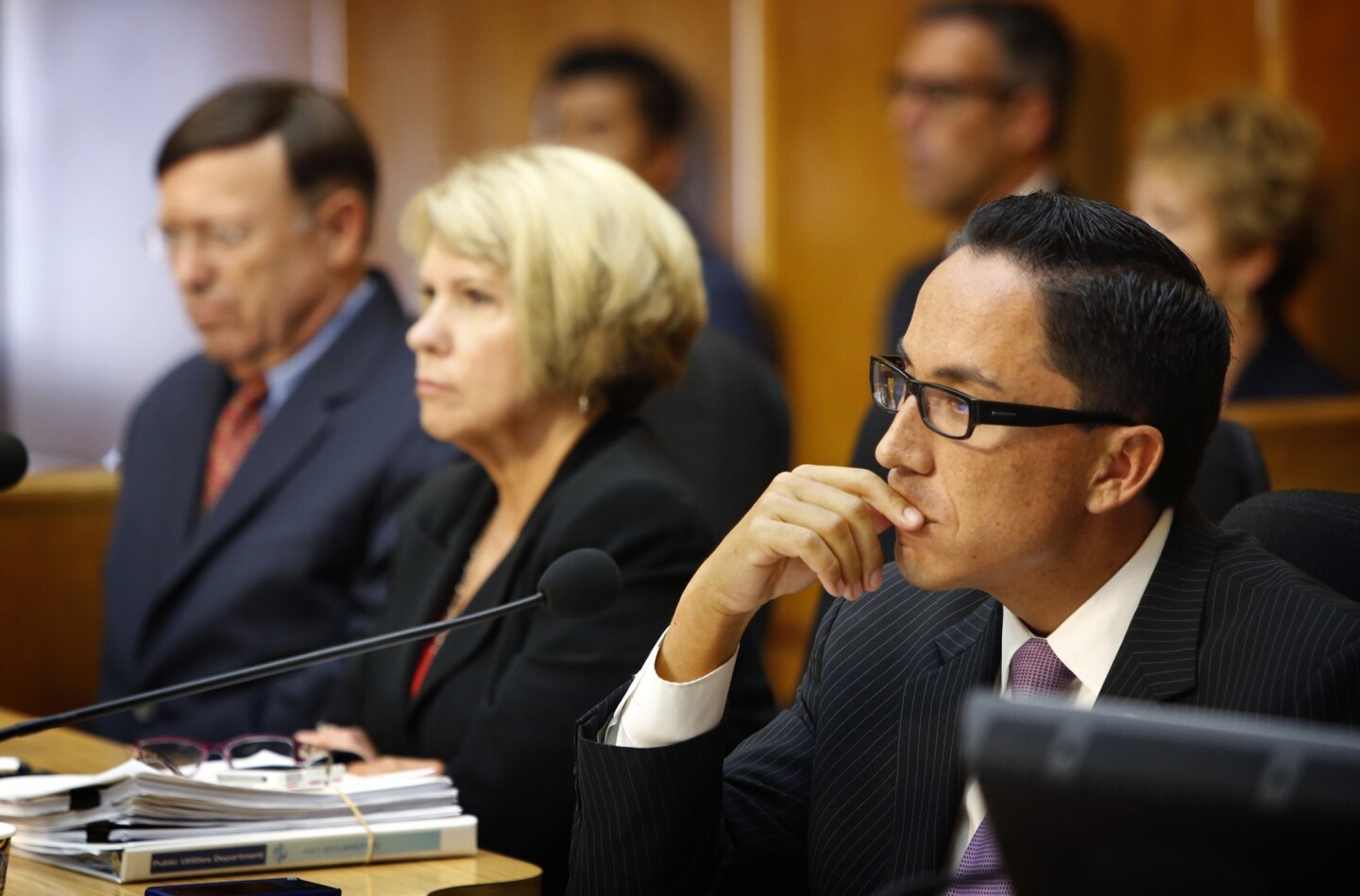 San Diego City Council President Todd Gloria, right, listens to public comment about Mayor Bob Filner during a special meeting in the council chambers. Later in the afternoon, Filner appeared and announced his resignation, with Gloria appointed interim mayor.
(Don Bartletti / Los Angeles Times)
How to unpack the layers of irony when "journalists" at the web TV operation run by San Diego's largest newspaper decided to spoof "Mayor Headlock's" predicament with a remake of Robin Thicke's chart-topping music video "Blurred Lines"?
First of all, as you know, San Diego Mayor Bob Filner has been accused by a baker's dozen or so of women of making unwanted sexual advances, including putting some in headlocks, kissing them, coming onto them and generally acting more like a drunken fraternity boy than a 70-year-old career politician. So we really don't need to delve into all of that.
And you may not have been paying attention to Thicke's big summer hit, but the music video for the bouncy tune features Thicke and the rapper T.I. in black suits, with the fabulous Pharrell Williams in a silver and gold lamé suit. The problem for me and a lot of other women is that it also features three gorgeous young models, naked but for thongs, prancing around. It is not suitable for work.
There is a cleaned-up, second video, that features the models as well, but in this version they are only practically naked, not actually naked.
The juxtaposition of fully clothed men with naked women triggers all kinds of feelings about power differentials and exploitation, and the uncensored video does not bear up well under much feminist scrutiny. Neither, especially, do the lyrics, which celebrate a "good girl" who "wants it."
But hey, it's a bouncy summer song and it's fun to sing along to, and there's a whole lot worse out there.
Why, though, would the staff of U-T TV in San Diego think it funny or appropriate to make their own version of the song, replacing "Blurred Lines" with a message to Filner to "Resign"?
U-T TV is a webcast venture by the owner of the UT-San Diego newspaper, formerly the San Diego Union-Tribune. The paper has suffered in the last decade along with the rest of the newspaper industry, so you have to give a little credit to its owners, John Lynch and Doug Manchester, for making a $3.5 million bet to increase their potential ad revenue by putting 24-hours of original programming on their homepage.
Too bad so much of it is beyond cheesy.
I came across the video in a piece about "The Three Most Absurd Media Moments of the Filner Scandal" by Voice of San Diego Managing Editor Sara Libby, who called out U-T TV for that atrocious video. She also knocked Gloria Allred for undermining the seriousness of her press conference with a nurse who claimed Filner had made unwanted sexual advances by urging that an over-the-top warning sign be posted outside Filner's office, and Hooters, for putting up a sign barring Filner from the breast-centric restaurant chain because it respects women so much.
U-T TV, of course, changed the lyrics of "Blurred Lines." ("Elevator head locks/ When you get your creep on/ Sloppy gross tongue kisses/ What the heck is up with your face.")
But it did not change the sexual dynamic much. The men are fully clothed, including one whose head has been replaced with Filner's head, and the women show skin in various ways – one wears a very tight, very short skirt, and one is in a blouse with a neckline so low the top half of her boobs hang out.
You still expect to see that on local TV these days – the unremarkable-looking men with the gorgeous women beside them—but U-T TV has taken it to a whole new depth. Insisting the mayor resign for demeaning women, the station has chosen to demean women to get its message across. Or the women have chosen to demean themselves. Same diff, in my book.
Oh, and one of the men in the video, Scott Kaplan, host of the U-T TV's mid-morning show "Scott and Amber," (Amber Mesker is the one in the super low-cut blouse), was fired from his sports radio job last year after calling a sports analyst a "beast," an "animal," a "monster" and a "Sasquatch of a woman." Libby mentioned it and I easily found that information online at the U-T San Diego, which also reported that Kaplan had made a confidential settlement in 2004 with a woman who sued him in after he called her a "skank" on his radio show. (She was not a public figure; she had had his improperly parked car towed.)
Anyway, as Ron Burgundy would say, "You stay classy, San Diego."
ALSO:
Sex offender 'person of interest' in federal investigator's death
Two believed dead after plane crash, fire in Northern California
Hannah Anderson: Teen may be fielding online questions about ordeal
Twitter: @robinabcarian
---
The stories shaping California
Get up to speed with our Essential California newsletter, sent six days a week.
You may occasionally receive promotional content from the Los Angeles Times.