Critics frustrated by 'road diets' launch effort to recall L.A. Councilman Mike Bonin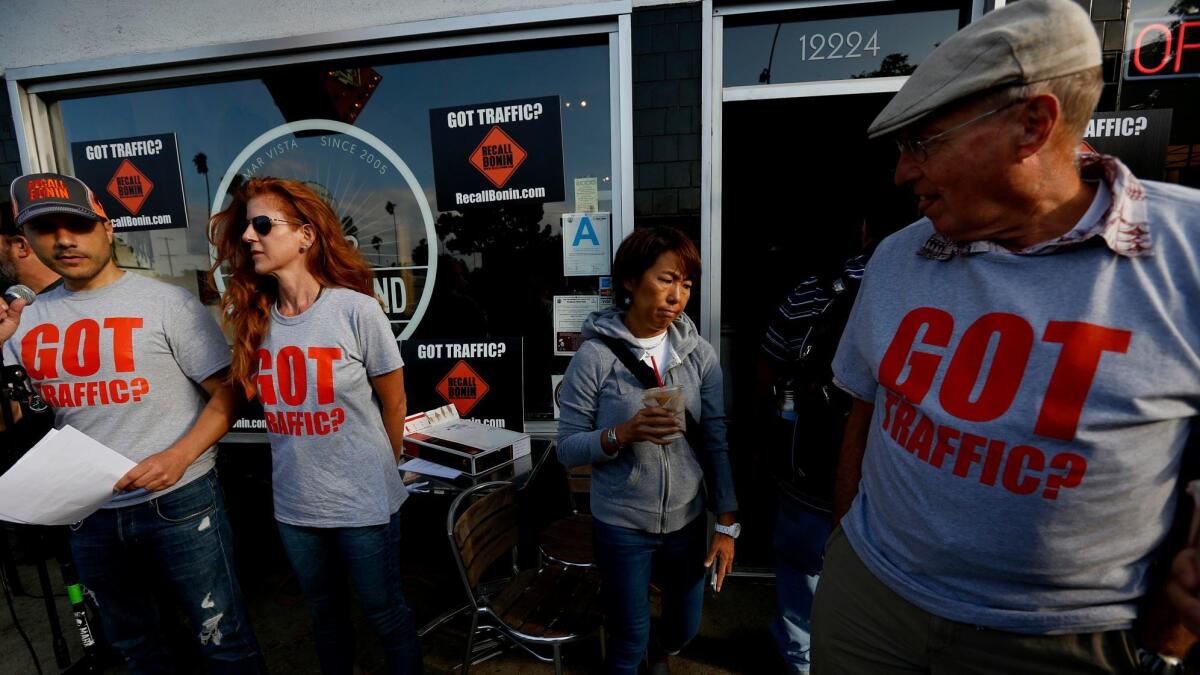 Four months after Los Angeles officials eliminated more than 9 miles of Westside traffic lanes in an attempt to reduce fatal collisions, critics have launched an effort to recall City Councilman Mike Bonin, who supported the street projects.
Clad in "Got Traffic?" shirts, proponents of the recall gathered along a newly narrowed stretch of Venice Boulevard in Mar Vista, saying they hoped to oust Bonin from office to spark more public outreach and restore eliminated traffic lanes on four streets in his Westside district.
"We are members of a community fighting to preserve a way of life," said Alix Gucovsky of Venice, a recall campaign organizer.
The recall attempt is also a referendum of sorts for two city programs to eliminate traffic fatalities and shift drivers to other transportation options by adding hundreds of miles of bicycle and bus-only lanes.
Those plans, called Mobility Plan 2035 and Vision Zero, will both require eliminating some vehicle lanes in an effort to reduce driver speeds.
On Thursday, Bonin responded to the recall effort by pointing out that he won reelection in March with 71% of the vote.
"I am confident the vast majority of my constituents approve of what we have done together," Bonin said in a written statement. "My job is to represent their interests and values, and not be distracted by right-wing radio hosts, or by my former opponents and their supporters, who have been calling since election night for a recall that would cost the taxpayers of Los Angeles millions of dollars."
The recall effort follows months of outcry over lane reductions on Vista del Mar, Pershing Drive and Culver, Jefferson and Venice boulevards in June. The Vista del Mar project, which has since been reversed, has prompted two lawsuits.
The narrower streets could spare about 16 people each year from severe injuries in car crashes, officials said.
Recall organizers said they will formally begin the effort to oust Bonin next month. The city charter bars recall efforts during the first three months of an elected official's term.
To trigger a special election, recall proponents would need to collect more than 26,000 signatures — or 15% of the registered voters in Bonin's district. Organizer Alexis Edelstein said the campaign aims to raise at least $200,000 to hire professionals to help with the signature effort.
The primary and general elections triggered by a successful recall drive could cost at least $1.8 million, City Clerk Holly Wolcott said.
Sam Woolsey, 43, of Mar Vista, said he supported the recall effort because cut-through traffic has picked up on his quiet street as drivers seek to avoid congestion on Venice.
"They're driving through narrow streets where my kids are playing," Woolsey said. "It's just not safe."
For more transportation news, follow @laura_nelson on Twitter.
ALSO
L.A. has been sued again over traffic lane reductions in Playa del Rey
L.A. reverses course on lane reductions that 'most people outright hated'
Editorial: Selfish motorists are fighting L.A.'s street safety projects. City Hall needs to find the courage to fight back
Sign up for Essential California for news, features and recommendations from the L.A. Times and beyond in your inbox six days a week.
You may occasionally receive promotional content from the Los Angeles Times.