Report of migrant caravan members possibly trying to cross border illegally prompts temporary closure of some U.S. port of entry lanes
Reports of a possible attempt by migrant caravan members to rush illegally through the San Ysidro Port of Entry prompted the temporary suspension of operations there early Monday, officials said.
U.S. Customs and Border Protection officials received reports from multiple sources, including individuals in the Mexican government, of "groups of persons from the caravan gathering in the city of Tijuana for a possible attempt or attempts to rush illegally through the port of entry," the agency said in a statement.
Those reports prompted CBP officials to temporarily suspend processing for all northbound vehicle traffic at the border crossing, as well as northbound pedestrian processing at the Pedestrian East facility, at about 3:15 a.m.
Lanes were closed for about three hours to install additional port hardening materials, including jersey barriers and concertina wire. After the response, the agency said, no unusual activity materialized at the border crossing.
"CBP will not allow for the unlawful entry of persons into the United States, at or between our ports of entry," said Pete Flores, director of field operations in San Diego. "Waiting until a large group of persons mass at the border to attempt an illegal crossing is too late for us; we need to be prepared prior to when they arrive at the border crossing."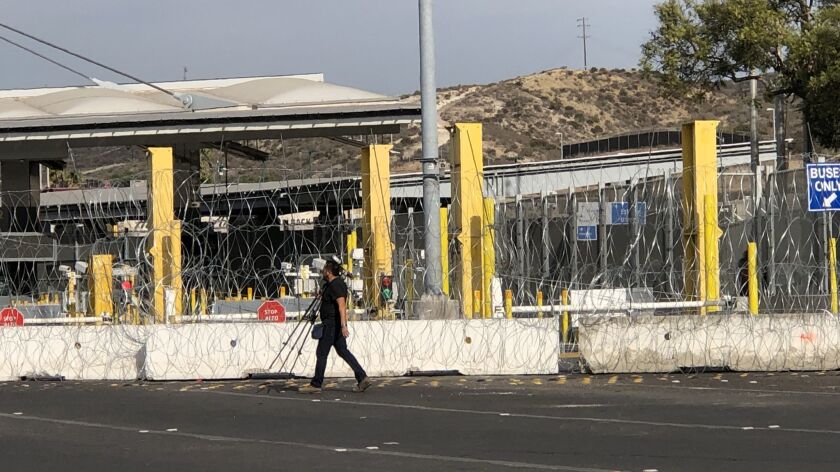 In recent days, thousands of Central American migrants have descended on Tijuana, prompting an outcry from residents in the border town and U.S. officials.
On a call to news media Monday, Department of Homeland Security officials estimated that there were close to 6,000 people in Tijuana waiting to enter the U.S., most of them members of the caravan. The combination of all groups trying to reach the U.S. totals between 8,500 and 10,500 people, according to officials.
More than 500 criminals have been identified as traveling with the caravan flow, according to U.S. officials, who would not detail how those people had been identified.
CBP has deployed almost 600 additional officers and 250 Border Patrol agents to areas of the border where the caravans are headed, DHS officials said. Additionally, thousands of Marines and soldiers are assisting the Border Patrol in Texas, Arizona and California by strengthening defenses and building temporary encampments near dozens of border entry points.
Late Sunday night and into Monday morning, officials received information about potential waves or groups of individuals communicating about an incursion into ports of entry, DHS officials said on the call. As a precaution, the Mexican government deployed some resources to the Otay Mesa and San Ysidro ports of entry because they were receiving the same information, officials said.
Officials suspended operations to put additional control measures in place. Although lanes reopened about three hours later, eight lanes remained shut down. Previously CBP had been operating with 23 vehicle lanes, but on Monday it was operating 15.
Alejandro Tamayo, who lives in Tijuana and works in Los Angeles, said it typically takes him 30 minutes to cross the border. On Monday morning, he waited in line more than three hours.
Tamayo noticed several traffic barriers blocking multiple Sentri lanes, or Secure Electronic Network for Travelers Rapid Inspection lanes, that are meant for quicker access to the border.
Mexican officials had also added tall, wall-like barriers that appeared to be made of metal to block a few general lanes.
Tamayo said that aside from the additional barriers, all was business as usual at the border. There were, however, an unusual amount of Mexican officials patrolling the area, he said.
"I was surprised to see that," he said. "You don't normally see that many Mexican federal officials."
alejandra.reyesvelarde@latimes.com
Twitter: @r_valejandra
---
UPDATES:
1:30 p.m.: This article was updated with information from a call with news media by DHS officials.
9:45 a.m.: This article was updated with additional information from CBP.
8:30 a.m.: This article has been updated with more details about the changes at the port of entry and comments from Alejandro Tamayo.
This article was originally published at 7:45 a.m.
---
The perils of parenting through a pandemic
What's going on with school? What do kids need? Get 8 to 3, a newsletter dedicated to the questions that keep California families up at night.
You may occasionally receive promotional content from the Los Angeles Times.